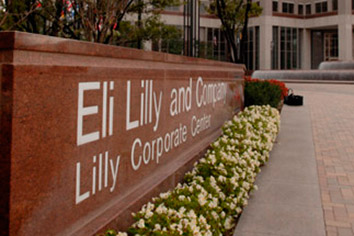 The Lebanon City Council on Monday night approved an agreement that would reserve water and wastewater for a $2.1 billion Eli Lilly and Co. development in Boone County.
The city council voted 6-0 to approve a memorandum of understanding between Lebanon Utilities and the Indiana Economic Development Corp. to pre-allocate 864,000 gallons per day of water and 864,000 gallons per day of wastewater for Lilly once construction is complete.
The project to construct two new manufacturing sites is expected to take up about 600 acres of a 980-acre assemblage of land east of Interstate 65 and north of Lebanon.
Jeff Jacob, an attorney representing Lebanon Utilities, said Lilly hopes to break ground in December 2023. The IEDC will look to receive zoning approval by June.
"Suffice to say, given the size and scope of the proposed [Lilly] project, the request has been to allocate that capacity in advance of the planning process," Jacob said.
The memorandum of understanding says the IEDC will pay Lebanon Utilities about $7.9 million for water availability fees and approximately $13.4 million for wastewater availability fees within 90 days.
Lilly's project is part of a larger innovation district area—the LEAP Lebanon Innovation and Research District—which would largely be west of I-65 and situated between Hazelrigg Road and State Road 32. LEAP is short for Limitless Exploration/Advanced Pace.
The IEDC has identified at least 7,000 acres in Boone County for the large-scale research and innovation park due to its location between Indianapolis and Purdue University and its proximity to I-65.
The agreement to provide water and wastewater services for the Lilly project is separate from an idea that state officials are exploring to tap into the aquifer along the Wabash River in Tippecanoe County to serve the innovation district.
That plan, which would take years to complete, would involve transporting as much as 100 million gallons of water a day through a 35-mile pipeline.
The state is currently seeking to bring in roughly 5 million to 10 million gallons of water per day from Citizens Energy to support the first phase of the LEAP development.
Lilly was the first company to announce plans to build at the LEAP project site. The Indianapolis-based drugmaker said in its May 25 announcement that the project will create up to 500 jobs, along with up to 1,500 temporary construction jobs.
The planned facilities will increase Lilly's manufacturing capacity for active ingredients and new drug modalities, such as genetic medicines, seen as a promising way to deliver treatments for a wide range of diseases.
Lilly employs more than 36,000 people worldwide, including more than 10,400 in Indiana.
Correction: A previous version of this story misstated the amount of water and wastewater that will be pre-allocated for the Eli Lilly and Co. project in Boone County. You can see more IBJ corrections here.
Please enable JavaScript to view this content.