Even with most of the seats empty, the roar of fans could be heard outside Hinkle Fieldhouse on Friday afternoon as Virginia Tech hit a three-pointer in the final seconds to send the game into overtime.
The matchup between the Hokies, a 10-seed, and the seven-seeded University of Florida was the first NCAA Men's Basketball Tournament game to be played at the fieldhouse since 1940. Florida won the game 75-70 in overtime.
Attendance inside the fieldhouse was limited to only 14% capacity—or about 1,250 spectators—to keep fans socially distanced and comply with COVID-19 protocols, but the limited number of fans did not seem to ruin the March Madness experience.
"It's different because of the limited crowd, but Hinkle is just a great place to see a game," Dallas resident James Whikman said. "It's a shame we can't fill it up, because of the pandemic, but we appreciate just being able to get in at all."
Whikman, who has attended March Madness games for 36 straight years but had not seen a basketball game at Hinkle before Friday, said he still feels like he got the full experience of the fieldhouse.
"Especially in the daytime as the sun comes in through the windows and gets on the court. It's just very cool," Whikman said. "There are very few arenas that I've been to that are like this."
Matt Pascal, a student at the University of Florida, said the game started slow, but excitement filled the air by the end.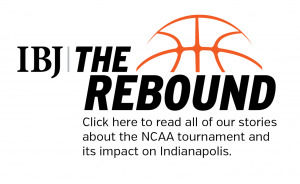 "The atmosphere really picked up, and it didn't feel like there was a limited amount of fans in there," Pascal said.
Keith Troisi, an Indianapolis resident who was rooting for Virginia Tech, said "it felt a little magical" when Nahiem Alleyne hit the three-pointer to tie the game and take it to overtime.
He said part of the draw of going to the game was the historical venue, which is featured in the movie "Hoosiers" and is nearly 100 years old. Troisi said he had never been to a game at Hinkle Fieldhouse before Friday.
"I wish I could have seen it full," Troisi said.
Michelle Stark, another Virginia Tech fan from the Indianapolis area, also had never been to Hinkle Fieldhouse for a game and described it as "a huge opportunity."
"You feel the culture and the history here, definitely," Stark said. "It's Indiana. What better place to watch basketball."
Fans said they felt safe and had plenty of space inside the venue, and complimented the city of Indianapolis for pulling off this historic feat.
"It wouldn't bother me if they did the whole tournament in Indianapolis every year," Whikman said. "There's so many cool facilities."
IBJ reporter Mickey Shuey contributed to this report.
Please enable JavaScript to view this content.