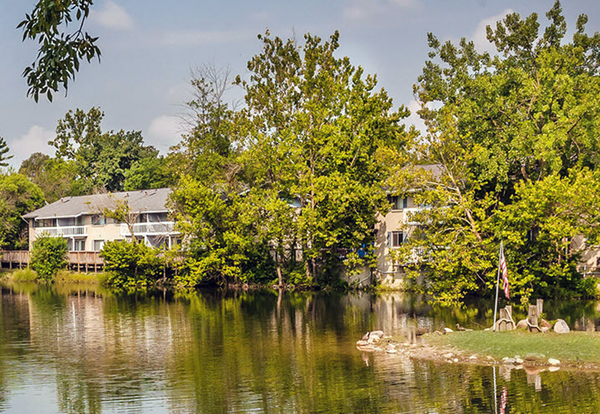 A local apartment owner and property management firm plans to spend $7 million to spiff up a 26-acre, north-side complex it purchased in late August.
The Ardizzone Group expects to make "extensive upgrades" at 336-unit Harbour Pointe, which sits just east of the intersection of Fall Creek Parkway and Keystone Avenue, along Binford Boulevard. The group bought the complex for $20.8 million from the Neil family, which had owned it for 30 years.
The improvements will focus on deferred maintenance issues, windows and patio doors, the complex's HVAC system, lighting updates and kitchen upgrades. No structural changes are expected for the complex, which was built in 1970.
Taylor Ardizzone, a minority owner and senior vice president for the company, said the company was drawn to Harbour Pointe not only to build its portfolio but because it had some flexibility to handle upgrades.
"We're certainly trying to grow our portfolio," he said. "But we're not trying to do deals just to do deals. Given where our portfolio (stands) right now, it's strategic from the standpoint that there's an immediate operational upside and we can get to the interiors on our (own) schedule."
The company expects to begin upgrades in the next 18 months, addressing about 60 units every 30 days over a five-month period. Renovations will include both occupied and vacant units, and the firm plans to use its in-house construction wing for the work.
"Since we own a construction company, we can move pretty quickly," Ardizzone said.
While average rent for the property sits around $700 today, Ardizzone said he expects that to increase to about $890 per month following the upgrades. The layouts for Harbour Pointe range from one-bedroom, one-bathroom units to two-bedroom, one-and-a-half bathroom units.
The property received 14 offers and was subject to "intense buyer competition," said George Tikijian, executive managing director for Cushman & Wakefield's Indianapolis multi-family office.
Tikijian, who represented the seller, said the property sold above the $19 million asking price after several rounds of offers.
The Ardizzone Group secured a construction loan for the complex, giving it the flexibility to improve management and operations early on, Taylor Ardizzone said.
The firm owns and manages seven apartment complexes in Indianapolis and two in Cincinnati.
In 2008, the firm paid $82 million to buy 1,885 apartment units from Denver-based Apartment Investment & Management Co., or AIMCO. The sale included the 404-unit Brookwood Apartments at U.S. 31 and Thompson Road and the two-building office complex that fronts the apartments.
Its local properties also include 10 West near 10th Street and Country Club Road; Oakbrook Village near West 59th Street and Georgetown Road; and Reflections, at Harcourt Road and West 79th Street. Its most recent local purchase was Wyckford Commons, a 248-unit property on which the firm spent $12.3 million.
The Ardizzone Group is a part of Ardizzone Enterprises, started in 1959 by Tony Ardizzone to provide construction services for multi-family housing projects.
Please enable JavaScript to view this content.