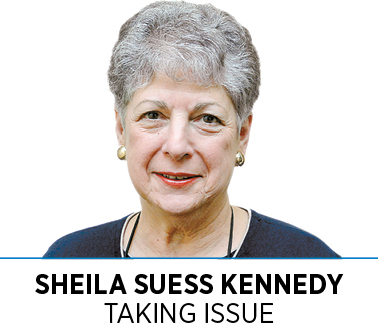 Given the chaos and "in your face" antics of President Trump and his Keystone Kops administration, it is understandable that most citizens have fixed their exclusive attention on Washington and the daily dismantling of our federal government.
That's a mistake.
As we approach Indianapolis' municipal elections this November, it is important to remind ourselves that state and local governments matter—a lot. Unfortunately, because the Star, like so many general-circulation newspapers, no longer provides thorough coverage of state and local government, many voters fail to recognize their importance.
Most voters do recognize that the mayor and City-County Council will be responsible for providing important municipal services like public safety and infrastructure. There's less recognition of local government's other functions. Take, for example, the role of cities in combating climate change—something we tend to think of as a federal responsibility.
When the president announced America's withdrawal from the Paris accords, Piers Forster, director of the Priestley International Centre for Climate at the University of Leeds, shared his hope that Trump's dismissal of climate science would be ignored by "the individual citizens, businesses and states that make up the U.S.A.," and that those "citizens, businesses and states would increase their ambition to decarbonize."
Granted, the efficacy of state and local enforcement of environmental laws is limited, especially since many significant (and politically connected) violators are national companies doing business in several states. But local environmental activity isn't entirely toothless.
Cities have widely varying authority to enact environmental measures, depending upon the degree of home rule they enjoy (unfortunately, in Indiana, cities and towns have very little) and many municipalities have moved aggressively to encourage environmentally sound behaviors. Recently, the Brookings Institution reported that corporations and philanthropies have been pouring millions of dollars into city-level initiatives, on the theory that solutions in urban areas—on issues like economic development, clean energy and resilience—might prompt action on the national level.
Unfortunately, as the report also notes, the Trump administration is using these initiatives to justify draconian cuts to a number of programs those local governments depend upon.
Nevertheless, around the globe, cities are actually having a dramatic impact on climate change. In the absence of federal leadership, what cities do—from recycling to energy sources—becomes critically important.
The next mayor of Indianapolis will set the agenda on the environment and numerous other elements of our communal lives. How livable will our city be? How clean? Will there be adequate public transportation? Will there be jobs for the people who need and want them, and will our economic development efforts prioritize the interests of the businesses already here? Will the city move aggressively to ensure the availability of affordable housing? What about its approach to food deserts? Will our parks be safe and well-maintained? Will the city's capacity for planning and zoning be adequate?
A few months before the last municipal election, the Center for Civic Literacy and the Indianapolis Public Library sponsored a series of panels focused on the issues facing Indianapolis. The programs were titled "Electing Our Future."
This November, voters will once again go to the polls to choose our city's leadership. Turnout for these off-year elections has historically hovered somewhere between low and abysmal, despite the fact that we are, in a very real sense, electing our future.
Our federal government is broken. That makes it more important than ever to get local governance right.•
__________
Kennedy is a professor of law and public policy at the Paul H. O'Neill School of Public and Environmental Affairs at IUPUI.
Please enable JavaScript to view this content.