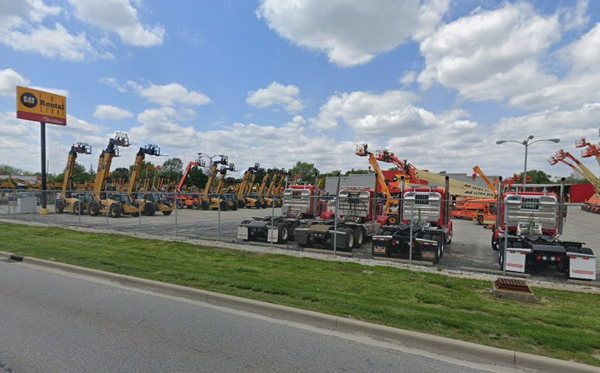 An Indianapolis-based construction equipment rental company plans to expand a west-side location to include a former Kmart along West Washington Street.
MacAllister Machinery will add to the footprint of its existing rental operations at 6870 W. Washington St. by buying the vacant Kmart property directly to the east, at 6780 W. Washington St.
According to filings with the city, MacAllister plans to use the Kmart building for office space, smaller inventory and some interior showrooms. The on-site parking lot will house a wide variety of larger rental equipment offered by the store.
The company's current operations along West Washington Street span about 6.5 acres, with the purchase of the Kmart parcel adding another 8 acres.
MacAllister is under contract to purchase the Kmart property from current owner Mandell Family Investors LLC, which has owned the site since buying it from a firm tied to Kmart in August 2018 for $800,000.
When the store closed in January, it was the last remaining Kmart in Indianapolis. The 151,000-square-foot building, constructed in 1975, has been on the market for the past several months.
MacAllister specializes in Caterpillar-brand heavy machinery, including trucks, pavers, dozers, drills, shovels and excavators. It also carries lifts, booms and other personnel carriers, along with specialty hand and power tools.
Most of MacAllister's larger inventory will be displayed in the parking lot of the former Kmart, in an area that will be fenced in to prevent public access outside of normal business hours.
A spokeswoman for the company said MacAllister plans to keep some of its equipment at its current location, but will likely transition its offices and other indoor components to the Kmart building.
The company last week received approval from the city's Metropolitan Development Commission to expand its operations to the Kmart property, when it granted a use variance for the land that allows it to store large construction equipment on the site.
MacAllister officials didn't respond to questions about the total cost of the expansion before IBJ deadline.
The company employs about 80 people at its current west-side site, and may hire additional workers after the expansion.
The west-side store is the headquarters for MacAllister's rental store operations. It has 25 such stores in Indiana and Michigan, including three locations in Indianapolis, one in Fishers and one in Westfield. The company was founded in 1945, and its main headquarters is at 6300 Southeastern Ave. in Indianapolis.
In addition to its standard rental stores, McAllister has an agricultural arm offering tractors, combines and other heavy-lifting farming and agricultural equipment. The company also has railroad machinery and outdoor divisions.
A timeline for when the company plans to expand operations to the property has not yet been made public.
Please enable JavaScript to view this content.