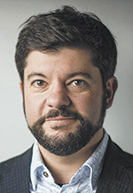 SmarterHQ, an Indianapolis-based marketing software firm that has raised more than $42 million in venture capital since its founding in 2010, has been acquired by New York City-based tech firm Wunderkind.
Financial terms of the deal, announced Tuesday, were not disclosed.
SmarterHQ officials could not be reached for comment Tuesday morning.
An outside spokesman for the company said SmarterHQ plans to expand its existing operations in Indianapolis. The company has 24 employees in Indianapolis and another 19 in Austin, Texas., for a total of 43. It reported having 80 employees in 2018.
SmarterHQ's automated software helps companies tailor their marketing messaging based on a customer's past and expected behavior. Its multichannel approach includes emails, texts, and web and print advertising.
The company has scored major investments from Spring Lake Equity Partners, Battery Ventures and Simon Venture Group, the investment arm of Simon Property Group. Its VC haul of $13 million in 2017 was the fourth largest of the year in Indiana.
The company was ranked 15th among the city's fastest-growing companies in 2018, with annual revenue growing from $3.8 million to $7.2 million over a three-year span. It has qualified for the Inc. 5000 list for the past five years.
"Joining forces with Wunderkind will add fuel to everything SmarterHQ does," SmarterHQ CEO and President Michael Osborne said in written remarks. "Combining the flexibility of SmarterHQ with the massive scale of Wunderkind's identification technology will make everything we do more impactful, together."
Wunderkind, a digital marketing company known as BounceX until earlier this year, is particularly interested in SmarterHQ's ability to aggregate customers' in-store, online and in-app data and leverage it across channels.
SmarterHQ has clients in the retail, travel and hospitality, and financial services industry, including Sam's Club, Bloomingdale's, Omni Hotels, Cars.com, Santander Bank and Hilton.
"SmarterHQ will speed Wunderkind's ability to ship new, high-impact products for enterprise retailers and will be immediately integrated into Wunderkind's SMS (short message service) platform," the company said.
Wunderkind, founded in 2012, said it has annual revenue of more than $100 million for the last two fiscal years. It said it was "tracking toward double-digit growth this year despite the negative economic impacts of COVID-19."
The company has raised more than $44M in growth capital and is backed by Battery Ventures, Primary Venture Partners, Cross Creek Advisors, and Contour Venture Partners.
"We went on the offense after COVID hit and turned a trying time into a year of explosive growth, both for us and our clients," Wunderkind CEO and founder Ryan Urban said in written remarks. "Ultimately we're in the business of revenue. And this acquisition will allow us to drive a lot more revenue for enterprise retailers and will strengthen our partnerships with the major marketing clouds."
Please enable JavaScript to view this content.