Listening to music and discovering new artists is fun for Tobi Lynn—but it's also her job.
Lynn, 53, is an Indianapolis native and radio host who's spent most of her career in Los Angeles and Washington, D.C. While in Washington, she built the college indie station XMU for the internet music company XM.
This January, facing a recurrence of breast cancer and recently laid off from Los Angeles alt-rock station KYSR-FM 98.7, Lynn moved back home to Indianapolis.
Since August, she's hosted a daily radio show at Internet-based station Amazing Radio. The show, which airs at noon on weekdays, features indie pop, with a focus on Los Angeles- and West Coast-based artists. Lynn records the show from a studio in her Speedway home.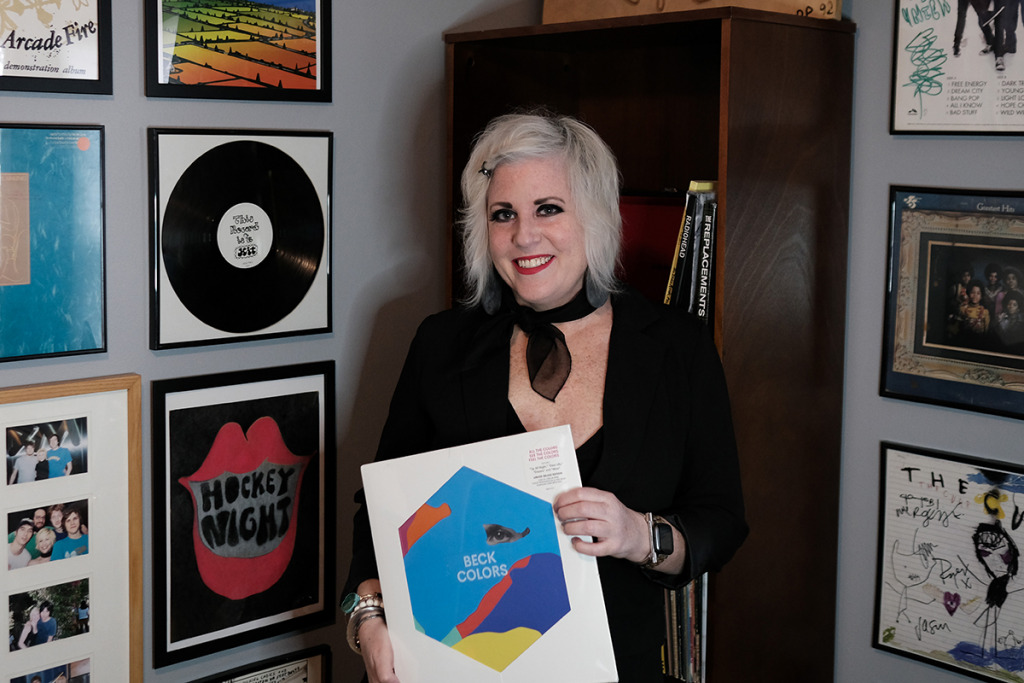 Amazing Radio plays songs that are directly submitted by artists, labels and promoters. How many songs are you sifting through to find the things you want to play?
If I don't go through every day and listen—say I take a couple of days off and then I listen—I'm going through maybe 16 to 20 pages' worth of songs.
When you're listening to new music, what catches your ear?
When I'm listening quickly to a lot of music, I listen for the hook. And then if it has something that I think is special, it's almost like that indie factor. … It has that kind of something special. It sounds fresher and it sounds new.
How do you define "the hook"?
The hook is that one that you remember, that you sing all day long. … If you get a song stuck in your head, it's because the hook is what reels you in.
Do you feel like you've gotten better over the years at identifying songs that go on to become hits?
I absolutely do, and I think that those nine years that I was at XMU really helped me hone my craft because I would get in, like, 500 CDs a week. Now, obviously, it's physically impossible for me to listen to all of that in one week, so I would try to listen as much as possible, and so I got really good at, like I said, listening up to the hook. … I really think that those skills have carried on and I've just gotten really good at it. I can do it really quickly now, which is great.
Have you had a hand in popularizing some emerging artists or songs that went on to hit it big?
I have, for sure—like Death Cab for Cutie. I was playing them before anybody knew who they were. I know for sure that XM helped their career, helped them become more popular. The band Snow Patrol is another one that I helped. Walk the Moon—I was one of the first people playing those guys. You know that song "Shut up and Dance"? That was their big song. I was playing a band called Arcade Fire before anybody was. All these bands, XM really helped propel them to that next level, because I would have music supervisors tell me that they would be listening to my channel just to find new music to put in their shows.
Did you always have a good radio voice, or have you had to cultivate it?
No, actually I was lucky. But I also do have nodes on my vocal cords because I was a cheerleader in high school and college. So I think I misused my voice, and so I have nodes on my vocal cords which makes [her voice] a little raspier.•
Please enable JavaScript to view this content.