Now is a challenging time for a lot of reasons.
And with everyone stuck at home it can be a particularly difficult time for parents to get their children away from their electronic devices.
Enter 30-year-old New Palestine entrepreneur Andrew Armour.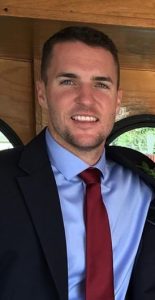 Armour has been working for four years on software that can be integrated into smart phones and other electronic devices to help parents make their children earn screen time through physical activity.
Serendipitously, Armour got his invention patented in December and is rolling out the software package, tabbed Activate Fitness, this month as the coronavirus outbreak means many children are out of school and spending lots of time at home.
The system is relatively simple to use. The software, which is available for free on the Google Play Store and the Apple App Store, is loaded on parents smart phones and the digital devices parents want to control. Then parents can set up the software to reward their children with goals for amount of physical activity.
For instance, 5,000 steps can be worth 30 minutes of screen time. When the goal is reached, the third-party apps appear on the child's device. Once the child uses up the rewarded time, the apps—or at least the icons needed to launch them—simply disappear from the device.
The Android version of Armour's app can be tied into Fitbit wearables or activity can be tracked through the child's cell phone. In the Apple version, activity is tracked via Apple Health through an iPhone or iPod. Armour is working to get th software tied into the Apple iWatch as well as Garmin products.
"I came up with the idea one day when I was spending time with my older brother back in 2016," Armour told IBJ. "It was a beautiful, sunny day, and my brother's kids were on their devices all day. You couldn't get them outside to do anything. That night I couldn't sleep, so I got up and started planning" the software.
Armour, who graduated from the University of Indianapolis in 2012 with a major in business management and a minor in information systems, contracted with a Chicago firm on the technical aspects of his project. When the Chicago firm couldn't develop what he wanted, Armour turned to the web site Upwork.com, to look for a new technical contractor.
He was skeptical when a company from Pakistan contacted him about the software development job. But Smash Cloud Media, which also has offices in New York, was relentless in its follow-up.
"Eventually after a number of conference calls, I became convinced this company could do the job," Armour said.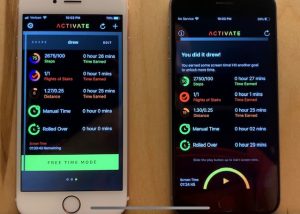 The app was finished in the fall of 2018—about the same time Apple began seriously limiting the screen-tracking apps allowed in its app store. Apple said it did so due to privacy concerns, but Armour suspects it's because Apple was getting ready to roll out its own screen management product.
Armour began working with other screen-time management app developers and Tony Fadell, a former Apple executive who was instrumental in inventing the iPhone and iPod, to lobby Apple to get screen-time management apps back on the Apple App Store.
In 2019, Apple eased its restrictions on screen management apps, and in December Armour got 13 patents approved for the Activate Fitness app.
"I got the patents for using the technology in the way that Activate Fitness does," Armour explained.
Armour, who has a day job as a data consultant for health care operators and financial institutions, spent the first two months of this year ramping up marketing and go-to market plans and launched the product the first of March.
In total, he's invested more than $50,000 into the launch of Activate Fitness and has mostly self-funded the endeavor. Armour hasn't ruled out seeking investors, but he said right now—and especially with the uncertainty created by the coronavirus outbreak—he's content to go it alone.
Like most people, Armour didn't see the nationwide coronavirus pandemic coming. But he admits there are aspects of it that make the timing good for Activate Fitness.
"This technology ties right into what is going on right now with coronavirus," Armour said. "Parents are really struggling right now with how kids use their time. I want to be part of parents' journey in managing this and getting their kids back.
"The Activate Fitness app gives kids control over their own screen time and keeps the parents from being the bad cop. I think this could really instill in kids a healthy lifestyle and bring families together," he added.
Armour is taking a page out of Facebook's early business strategy. He has no immediate plans to monetize the app until he gets a critical mass of users. That means he isn't charging a monthly subscription fee like some screen-time management systems and he's not excepting any advertisements.
And he's not sure he'll ever go the subscription or banner ad route.
"I have a very intelligent way to collect revenue, but I don't want to do that before I have a critical mass of users," said Armour, adding that he's keeping his ideas close to the vest—for fear of copycats—until he's closer to roll out. He did tell IBJ no other screen-management system is using the method he has in mind.
While the coronavirus outbreak has made the rollout of Activate Fitness more unpredictable, Armour acknowledges it could actually hasten his startup's growth. He's hoping to leverage some contacts he has within several U.S. professional sports leagues to get a handful of athletes to try it out and promote the product through social media.
"At the end of the year, I'd love to have 50,000 users," he said. "If I reach that, I'll start pushing out my monetization model."
Activate Fitness has posted a video demonstration of the app.
Please enable JavaScript to view this content.