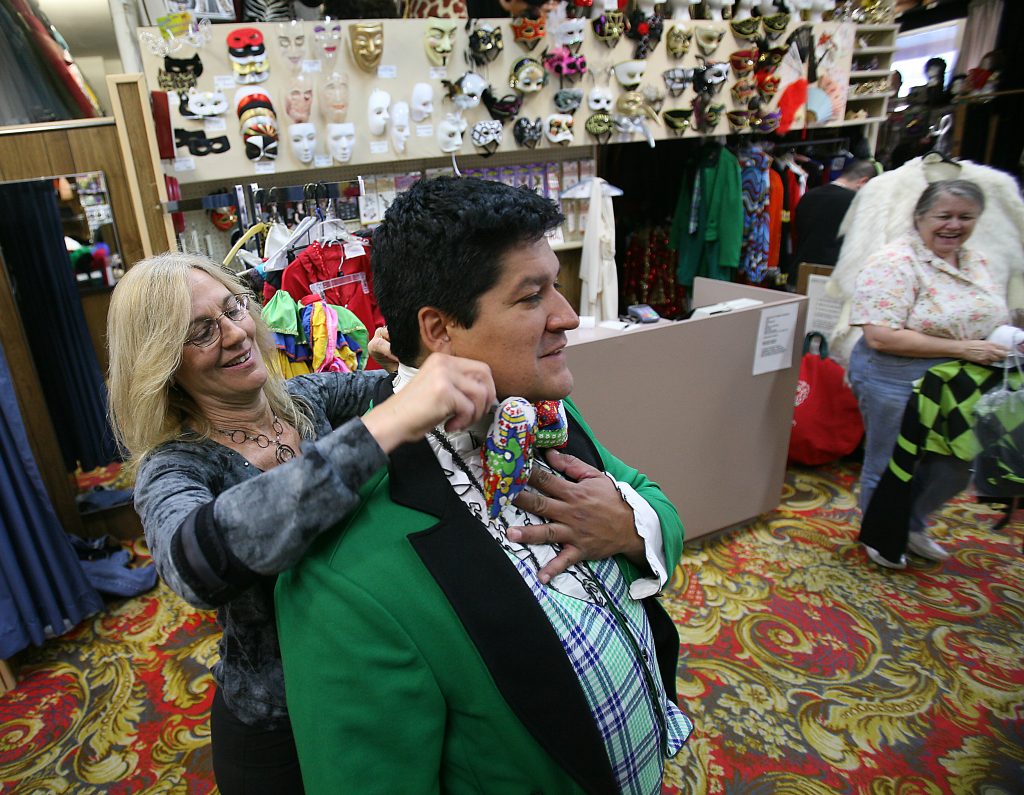 The last remaining traditional costume rental shop in Indianapolis, Costumes by Margie, has permanently closed after 50 years in business.
The store, at 3818 N. Illinois St., opened in 1970 and supplied costumes for everything from parties and corporate events to theatrical productions and seasonal Santas.
Business had been on the decline for several years, said owner Cheryl Harmon, and the restrictions imposed by the COVID-19 pandemic made things even worse.
"Unfortunately, there wasn't enough income to survive on," she said.
Harmon, who purchased the business in 2000, said she had intended sell the business—a deal with two buyers was set to close May 1—but the coronavirus scuttled those plans. And with so many planned events and gatherings shelved right now, the market for costumes has dried up for the foreseeable future.
But things had been trending downward even before the pandemic hit, Harmon said.
Halloween had always been a huge season for Costumes by Margie, but the advent of pop-up Halloween stores in recent years took a big chunk of Harmon's business.
"That's what really started the demise," she said.
The shop's October revenue used to be as high as $60,000, Harmon said, but in October 2019, the shop brought in only $29,000.
Another factor, Harmon said, was the growing availability of higher-quality imported products. In years past, Harmon said, customers who wanted a high-quality costume were likely to rent it because it cost too much to purchase one More affordable costumes for purchase were typically of low quality.
Now, Harmon said, it's easier to find quality costumes at a purchase price that's competitive with rental rates—and customers can use the internet to buy those costumes instead of purchasing them from a store.
When Harmon first purchased Costumes by Margie, about 70% of revenue came from rentals and the rest came from sales. More recently, that balance had shifted closer to to 50/50.
Costumes by Margie takes its name from its founder, the late Margie Grimes, who started the shop with her husband, Jim, in 1970. The shop was originally called Margie's Dance Fashion Boutique and it specialized in dance costumes for customers around the United States.
The Grimes retired in 1991, and Margie Grimes died in 2007 at age 81.
IBJ profiled the business in 2010.
Harmon is the shop's fourth owner. When she acquired the business, she said, Indianapolis had two other traditional full-time costume shops: Indianapolis Costume Co. and Landes Costumes by Rachel. Harmon purchased Indianapolis Costume Co. in the early 2000s, and Landes went out of business in 2013.
"We were the last remaining costume shop," Harmon said.
Harmon said she plans to liquidate her inventory, which she estimated contains at least 10,000 costume pieces and accessories, including 70 Santa suits and 70 Easter Bunny suits.
She's starting out by offering items for sale to bulk buyers such as Hollywood costumers and school theater departments. She'll sell whatever is left to individuals. She hasn't yet set a date for the public sale but plans to vacate her Illinois Street shop by the end of August.
Please enable JavaScript to view this content.