What does it take to host 68 college basketball teams, schedule 67 games, set up 6 venues, and plan a tournament that attracts 10.9 million viewers for 19 days during a global pandemic?
Normally, it takes multiple private and public sectors up to three years planning and preparing for a single year's March Madness tournament. And that's during a normal time when people get to meet face to face without masks.
 Well, to everyone's surprise, Indianapolis has crashed the record completely by showing to the world that it can be done in 12 weeks. Yes, you are reading it correctly, it only took Indy 84 days to plan for the biggest college basketball show in the nation. 
To a young professional like me, this is what Indiana attracts me the most. We truly are a state that works.
 Hoosiers are heads-down, hard-working people. And March Madness is just another example that proves that Hoosiers can get stuff done. Don't forget that the Indy 500 remains to be the most attended single-day sports event at the largest sports venue in the world, the Indianapolis Motor Speedway.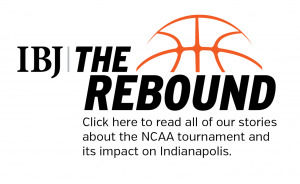 Compared with states on the west coast and east coast, Hoosiers are so humble that we don't talk enough about all the great things happening here in Indiana. There are more than just ordinary cornfields!
Low cost of living with Carmel, Fishers, and Zionsville listed as the best and safest place to live in the nation.

No.1 rated airport in the country. 

Various sports teams and events such as Colts, Pacers, Indy 500 and Indy Eleven.

High-ranked colleges like Rose-Hulman Institute of Technology, Purdue University, Indiana University and the  University of Notre Dame.

Tons of work opportunities from great companies with different sizes across multiple industries, Salesforce, Eli Lilly, Cummins and Anthem.

Wonderful outdoor nature space like Eagle Creek, White River Park, Hoosier National Forest and Brown County State Park.

The world-class art and culture venues like the Children's Museum, Indianapolis Symphony Orchestra and Newfields.

People and business-friendly public policy that allows people to pursue their dreams.
The list goes on and on. Indiana is truly a hidden gem in the Midwest. I couldn't think of a better place to start my career other than Indiana. There are so many great opportunities and so much to offer. Being a data scientist myself, it's quite easy for me to make the decision after listing out all the pros and cons. 
Even during the craziest time of our lives, the pandemic, Hoosiers are still working.
Organizations like Young Professionals in Central Indiana were able to keep their momentum and provide value to members and the community. 
Virtual events like the "A Historical Ticket to the Big Dance" were able bring in powerful speakers such as Indianapolis Mayor Joe Hogsett, NCAA President Mark Emmert, former WNBA player Katie Douglas, and IUPUI basketball player Marcus Burk to show us the laugh and sweat of March Madness behind the scenes. 
Monthly in-person happy hours were hosted following local COVID guidelines to ensure young professionals still have the chance to network and enjoy themselves in a safe setting.
With Indianapolis hosting March Madness this year, the NBA All-Star weekend in 2024, the annual Indy, booming development from all industries, and different kinds of amazing opportunities, it's time to have the spotlight on Hoosiers and show the world how awesome Indiana is. It's Hoosier Show Time.
Zhang, a senior data scientist with KSM Consulting in Indianapolis, is a board member for the Young Professionals of Central Indiana.
Please enable JavaScript to view this content.