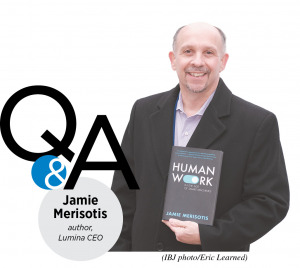 Jamie Merisotis is a recognized leader in philanthropy, education and public policy.
Since 2008, the 56-year-old has served as president and CEO of Lumina Foundation, an Indianapolis-based organization committed to making opportunities for learning beyond high school available to all.
He previously served as co-founder and president of the Washington, D.C.-based Institute for Higher Education Policy and as executive director of a bipartisan national commission on college affordability.
Merisotis is the author of "America Needs Talent," named a Top 10 business book of 2016 by "Booklist," a publication of the American Library Association.
His writings have appeared in The Washington Post, The New York Times, The Wall Street Journal and Politico, among others.
Merisotis, who lives in Indianapolis with his wife, Colleen O'Brien, and their two children, recently published his latest book, "Human Work in the Age of Smart Machines," which takes a look at how people will work alongside machines driven by artificial intelligence and smart technology.
He said jobs humans can uniquely do are those in which they "think critically, reason ethically, interact interpersonally and serve others with empathy."
What prompted you to write your latest book?
I've spent my life at the intersection of learning and work. My goal has been to make education better for individuals and society so people are prepared for work and life. We know work is changing because technology and artificial intelligence are taking over more of the tasks people used to do. This book is about preparing people for work that is uniquely human and finding ways for humans and machines to complement each other in order to perform work tasks.
What has been the response?
It was released in early October. It has received very good reviews from a variety of sources. Washington Monthly Magazine did a substantial review. Book sales have been very good. This fall, more new books have been released than at any point in history. … In that environment, the book was the No. 1 best-selling book in labor and industrial relations [category] on Amazon for the first month after its release, and it did very well in several other categories, including [human resources] and government policy. The book seems to be resonating with a wide array of readers.
Why do you think the book resonates so well?
I think COVID has accelerated interest in the changing nature of work. What we see with COVID is that the nature of the tasks are changing, and many jobs that were destroyed because of COVID will not come back, because employers are increasingly using AI and automation. We have to look at the possibilities and opportunities in humans and machines working together.
What's the target audienceof your book?
Primarily, it's focused on a post-high-school model. It's broader than just colleges and universities. It could be workforce development or a community-based program.
Should American workers fear artificial intelligence is going to put them out of work?
There have been many books and stories written in the last several years about the coming robot, zombie apocalypse. I am convinced that what history shows us is that technology creates more jobs than it destroys.
At the end of the day, if we develop our capabilities through high-quality learning opportunities, we should not fear technology. We can learn to work with the smart machines and do the work humans are uniquely qualified to perform.•
Please enable JavaScript to view this content.