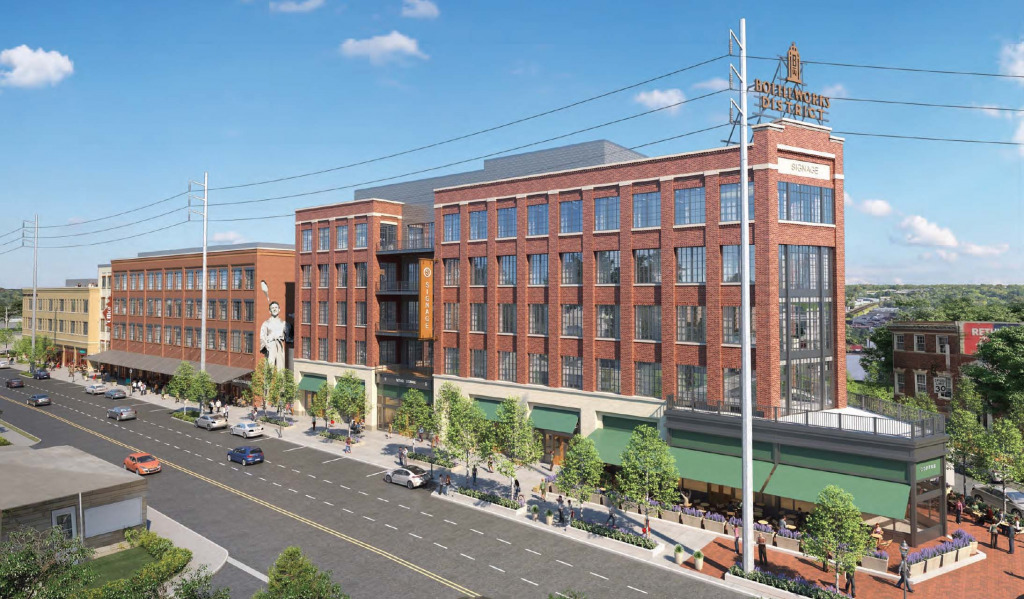 The Indianapolis-based Lumina Foundation plans to move from its downtown offices to the Bottleworks District, becoming an anchor tenant in a new building set to open in mid-2024.
The foundation has agreed to occupy the top floor of a planned five-story structure at 820 Massachusetts Ave. The 23,700-square-foot space will be used by about 50 employees.
The Lumina Foundation has about 60 employees across the United States, including at its offices in Indianapolis and Washington, D.C. The organization has an endowment of about $1.4 billion and generally focuses on providing grants to organizations focused on improving the higher education system.
The move will be a downsizing in space for the foundation, which currently leases about 30,000 square feet in the Kite headquarters building at 30 S. Meridian St. The group's current lease is set to expire in 2024.
Lumina worked with the Indianapolis office of real estate services firm JLL to determine the organization's long-term office needs and priorities, discussed various options with foundation staff and fine-tuned plans based on their work experience during the pandemic.
CEO Jamie Merisotis said the move was already in the works "well before" the coronavirus pandemic disrupted the real estate market. He added that there were never any considerations to look outside of Indianapolis for a new office headquarters. 
"It really has to do with the fact that as an organization, we're increasingly focused on collaboration and providing a really high-quality experience for our employees and for our guests," he said. "The thing about Bottleworks is that it gives us a lot of flexibility in terms of the collaborative space and what we're going to be able to build out."
Additionally, he said, the space will give employees and visitors alike an opportunity to explore a part of downtown that most haven't spent time in.
"We think it will really be a value-add for us as an organization, and for the city of Indianapolis, to be able to showcase something so exciting," Merisotis said.
Lumina's new office will include collaborative space, individual offices, and an audio-visual production studio, along with areas for employees to wind down.
Thus far, most of the foundation's Indianapolis-based employees are back to working at the office at least part-time. Merisotis said he anticipates there will be a revitalized interest in working downtown at the new office.
"We continue to believe there's energy in being together and we need to provide the amenities that will really inspire and not just attract talent to Lumina and retain our talent, but on a day-to day basis also bring people into the office and hopefully provide the best experience we can," he said.
Foundation officials declined to disclose the financial terms of the deal, but Chief Financial Officer Brad Kelsheimer said Lumina will pay "market rate" for the space. Real estate sources have pegged current asking rates for Bottleworks between $28 and $32 per square foot.
"It's not an unreasonable premium," he said. "We believe it's the appropriate investment in our employees, and it certainly is market rate from our perspective."
Lumina marks the first major signing for Bottleworks' second phase—particularly on the office side. Developer Hendricks Commercial Properties told IBJ in November it was moving ahead with construction on about 250,000 square feet of leasable space, most of it for office uses.
The second phase will include a five-story, 140,000-square-foot building at the northeast corner of College and Massachusetts avenues, where Lumina will be headquartered. Another 90,000-square-foot, multi-facade building is planned for the southeast corner of Ninth Street and College Avenue. Each of the new buildings is expected to feature retailers at street level.
"We are thrilled to welcome Lumina Foundation to Bottleworks," said Gavin Thomas, Hendricks' vice president of development, in written remarks. "Lumina is forward-thinking and the perfect addition to a growing group of best-in-class organizations at Bottleworks. We look forward to starting construction and building a long relationship."
The first phase of Bottleworks project saw the redevelopment of the former Coca-Cola Bottling Plant into a 12-acre mixed-use development with a 139-room hotel and office, retail, restaurant and entertainment space.
Thomas previously told IBJ that extensive demand is expected for the available office space.
"We've been pleasantly surprised with the amount of office interest we've had—it's kind of been counterintuitive from the narrative that's out there more globally about what the workplace looks like post-pandemic," Thomas said in November.
For Lumina, the decision to locate at Bottleworks was about giving the foundation the chance to make a strong statement about its future, even as it moves out of the core central business district and to another part of downtown.
"The flexibility of the Bottleworks space will give us a lot to think about how we could creatively use that [footprint] going forward," Merisotis said.
Colliers International's Indianapolis office represented Hendricks on the deal. Construction on the office building is expected to start by mid-2022.
Please enable JavaScript to view this content.