Cathy Ferree is a museum person from way back.
She started her career as a security guard at The Children's Museum of Indianapolis as a college student and rose through the ranks over 14 years to become associate vice president. She later held positions at the Atlanta Children's Museum and Conner Prairie before taking her current job in 2017 as president and CEO of the Indiana State Museum and Historic Sites.
Ferree, 57, oversees a staff of about 150 and an annual budget of $12 million.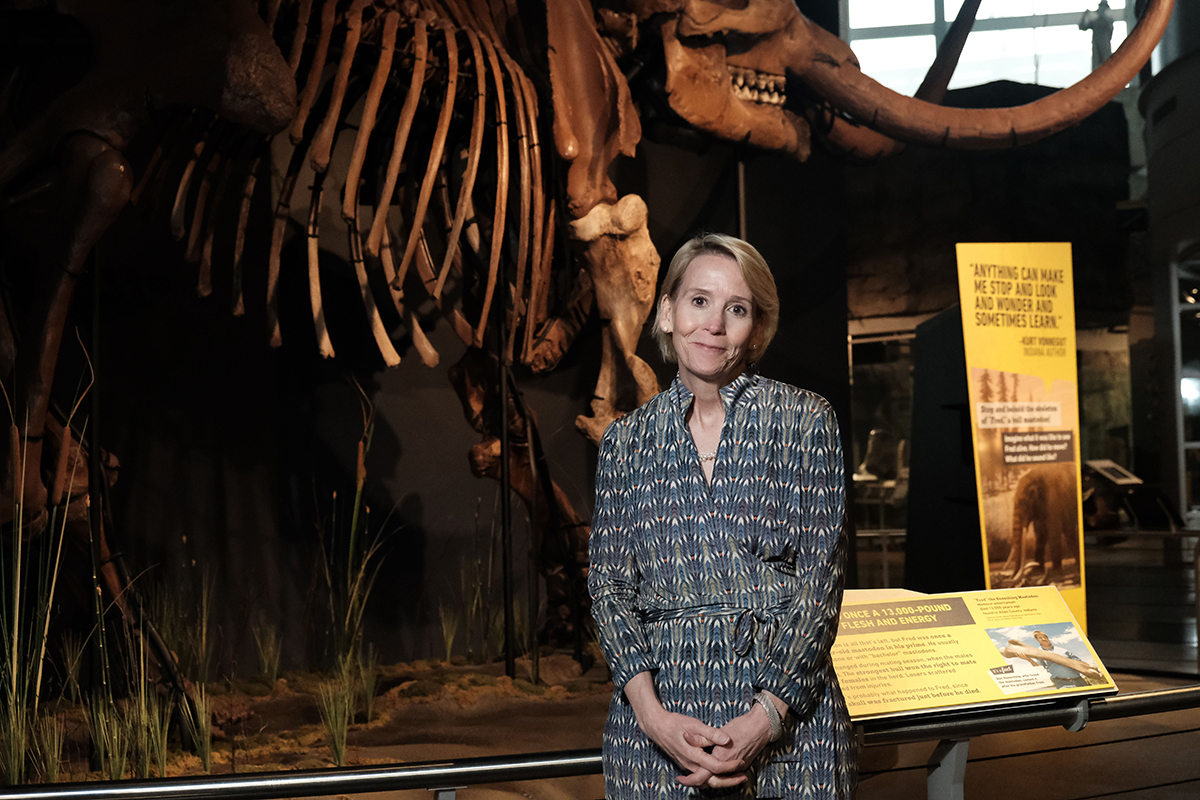 What did you learn about museums by starting out as a security guard?
Working on the floor is so vital to the work that we do in museums because it gives you a sense of how people utilize this space, what they're interested in, how they work as a family, will they interact with other families? My job as the CEO is to provide the resources and bring out the best in everyone so that we can provide these great experiences.
The Indiana State Museum has such a wide collection of artifacts ranging from mastodon bones to T.C. Steele paintings. Is it a history museum, a science museum or an art museum?
We are what in our industry would be called a general museum because we have the opportunity to focus on any of those things. We have an incredible natural history collection. We have more mastodon bones than the Field Museum in Chicago. We also then have [an] incredible art collection that can be used to tell stories about Indiana.
And all of those things together allow you to tell a larger story and give context and make things relevant to people.
You recently opened an exhibit on Major Taylor, the cyclist from Indianapolis who set world speed records. Do most Hoosiers know who he was?
People will sometimes know about the [Major Taylor] Velodrome, and so they assume that there must be some connection to cycling. We have found that some people know the name, but don't know the story.
But once you begin to explain, they're like, "Oh, yeah, that guy!" And then there are people who are like, "How come I don't know that?" And I tell them: Well, that's why we're here.
Do you think your exhibit on the opioid crisis in 2020 changed the conversation around this issue?
I will say that that was the intent of the exhibition. The hope there was that we would engage the school audience and get them clear information, answer the science questions, help them understand the humanistic side of the opioid crisis, and that it is, in fact, a disease.
What are some of your favorite museums outside of Indiana?
The American History Museum in Washington, the Brooklyn Children's Museum, the Tenement Museum in New York City, and the Skirball Cultural Center in Los Angeles.
Your museum's first home was the old Indianapolis City Hall, the neoclassical building at the corner of Ohio and Alabama streets, which is still vacant. Any thoughts on what that building should be used for now?
We are about historic preservation. And that is an incredible building. I think it has had some opportunities presented to it that just haven't come to fruition. Whatever it is, it's important that it takes advantage of and capitalizes on the architecture itself.
What's your favorite item in your collection?
I would have to go with Fred the mastodon, who is our iconic piece because he tells such a large story and is so representative of Indiana.•
Please enable JavaScript to view this content.