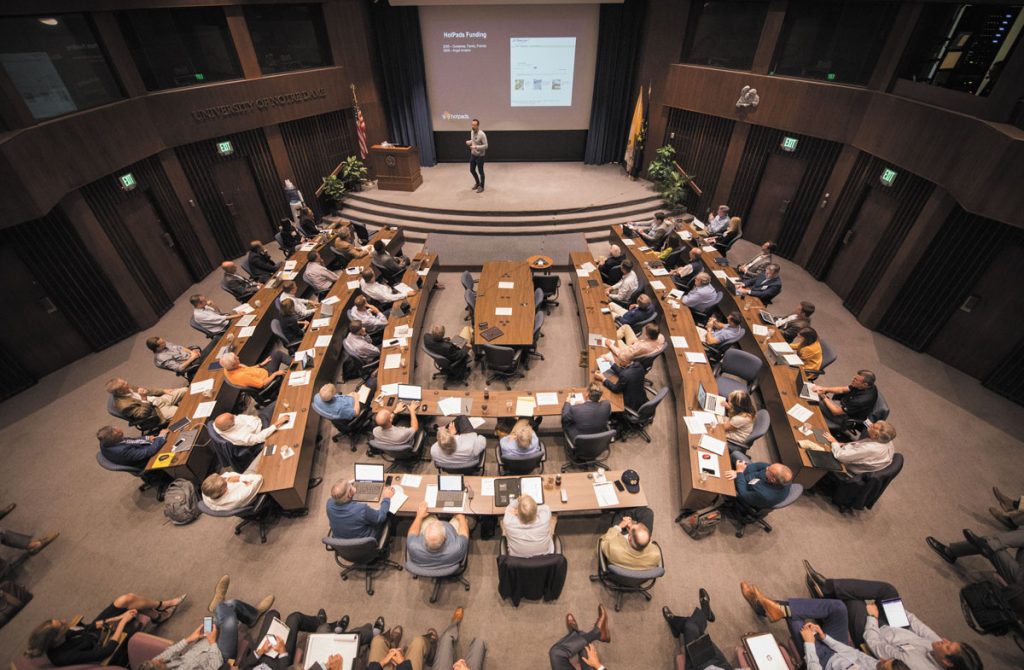 School spirit is spreading beyond stadiums and arenas as colleges nationwide launch angel networks connecting veteran business executives and investors with new entrepreneurs and startups with ties to the same school.
Major universities—including California Institute of Technology, Cornell, Georgetown, Stanford, Texas A&M and Northwestern—have formed angel networks in recent years.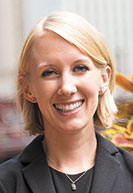 There's been a flurry of activity in Indiana as well, with Rose-Hulman Institute of Technology launching the Sawmill Society during the first quarter of this year and IU Ventures launching the IU Angel Network in August.
Purdue University was a relatively early entrant, with the P3 Alliance formed in 2015. While not officially sponsored or endorsed by the University of Notre Dame, IrishAngels was founded in 2012 to invest in startups with Notre Dame ties.
The angel networks function differently from many university-run venture and philanthropic funds that typically make an investment from a single pot of money controlled by the school—or a board appointed by the school—then take a stake in companies in which they invest.
Angel networks leave their money in the hands of the member investors, which make their own investment decisions. The process is more about matchmaking.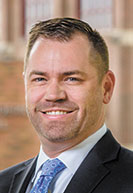 "We're not a broker/dealer," said IU Ventures CEO Tony Armstrong. "With our angel network, we're just sharing information with our alumni and facilitating relationships."
The advantage is that—like traditional angel networks—the university-related groups do much of the background work. They take funding applications, vet the startups and coordinate opportunities for the firms to pitch their wares to network members.
For their work, many of the university-affiliated angel networks charge dues. IU Angel Network has annual dues of $1,500. IrishAngels has a one-time $2,500 charge and $2,500 annual dues. Rose-Hulman and Purdue have so far opted not to charge members.
Nationally, the demand to be a part of such networks has been strong. Many school networks have 200 or more angels. IU garnered 20 in its first six weeks.
"The reception has been very good," Armstrong said.
Purdue's P3 Alliance has 150 participants, and IrishAngels has capped its membership at 225 with another 35 investors waiting to get in.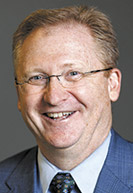 "As this trend has accelerated, we've seen exponential growth," said IrishAngels Manager Katie Shinnick. "We're up from 142 angel members three years ago."
Most of the networks that are investment-focused dole out money in chunks ranging from $150,000 to $1.5 million.
Many of them seek to deploy $5 million to $15 million annually. Officials for the IU Angel Network, for instance, said $6 million to $8 million invested each year is a reasonable expectation.
Most university angel groups are focused on funding startups that involve an undergraduate or graduate student, alumni, or faculty or staff member. Some extend to the parents of a student from the school.
Other networks, such as the Sawmill Society, are set up more as a networking and mentoring program.
At Rose-Hulman, entrepreneurs become part of the school's network in exchange for a pledge to donate to the school when the company achieves an exit, which means it has sold or had an initial public offering. Members meet in person and also exchange ideas and make connections through a Slack channel, which could lead to capital fundraising.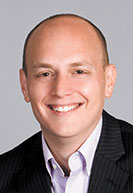 "Long term, this could be a building block. It could be expanded into something like IU Angel Network," said Steve Brady, Rose-Hulman vice president of institutional advancement.
The wide range of sectors Indiana's university-related angel networks invest in includes technology and computer science, biosciences, engineering-related firms and agriculture.
Going global
Angel networks at large schools often have chapters or nodes across the country. The IU Angel Network has locations in Southern California, Denver, Chicago and Boston and is planning to launch Seattle and Washington, D.C., nodes soon.
"We want nodes to connect with each other. We want this to spread all across the nation, and really around the world," Armstrong said.
Some universities are also joining forces.
Duke University, an early entrant in angel networking, has shown that even schools with intense rivalries can be allies in the world of startup capital. Duke recently partnered with angel networks from Atlantic Coast Conference foes North Carolina State University and the University of North Carolina to take the game to a new level.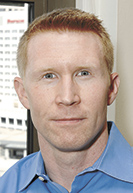 Taking a nod from the ACC alliance, IU officials said they've talked with Purdue, Notre Dame and Wisconsin about starting their own angel alliance. That hasn't yet come to fruition.
The university angel-network concept does have critics.
Some investors argue that being part of a tightly focused network that limits where investments are directed can limit the return on the investments.
And some networks have had to broaden their investment portfolios because too few entrepreneurs and startups spring forth from their ranks each year. That's especially the case for midsize and small schools.
After its launch, IrishAngels broadened its investment portfolio to include companies without direct Notre Dame ties.IrishAngels has more money to invest than there were startups emerging each year related to the school, Shinnick said. Still, a good chunk of investment goes to companies with Notre Dame connections, she said.

That's less of a problem for schools like IU, which has enrollment of more than 90,000 across seven campuses. That's more than 10 times Notre Dame's enrollment.
"I think it's totally doable for a school the size of IU—with its enrollment and nationwide alumni base—for its angel network to put $10 million to $12 million to work each year," said Frank Dale, who has worked for several startups and early-phase companies and is now co-founder and CEO of local tech firm Costello, which has received funding from an angel network aligned with Northwestern University.
Big upsides
Those involved in such networks say the arrangement has a lot more upside than downside—for all involved.
The most obvious benefit for investors is that successful businesspeople have a new channel to support the school they love and to boost a company affiliated with that school. Colleges get a new way to connect with successful alumni and other businesspeople and upstart companies with ties to the college.
"For IU, it's a new way to engage our alumni," Armstrong said. "We're asking them for help in a completely different way."
For the startups, it's access not only to possible capital but also to expertise and in-kind contributions in a network that will be immediately open to you because of your school ties.
"These angel networks aren't simply altruistic. The money coming out of these networks are investments, not donations," said Wes Bolsen, a member of Rose-Hulman's Sawmill Society and Stanford Angels and Entrepreneurs.
"With these angel networks, there's a trust," added Bolsen, who has an undergraduate degree from Rose-Hulman and an MBA from Stanford. He is now CEO of LaderaTech in Silicon Valley.
"You know where the business operators you're investing in come from," he said. "You know the level of academic rigor they've gone through. That screening mechanism means these startups have a certain amount of immediate credibility."
An added benefit to members is the chance to network with the other angels, who are mostly wealthy and successful. Most angel networks have minimum annual income and net-worth requirements.
"These angel networks are a great place to talk with other business owners and operators and communicate ideas," Bolsen said.
"Our members come from varied backgrounds, including financial analysts, real estate, legal, accounting, small business owners and corporate CEOs, physicians and others in the medical sector," Shinnick said of IrishAngels. "It's definitely a smart room. And our members tell us they learn a ton from the other angels."
Hands-on approach
Many of the college-related angel networks were born out of successful alums' desire to get more involved with upstarts from their alma mater in a more hands-on way.
"Angels in our network not only wanted to support the school by investing in our venture fund, they wanted to more personally get involved in helping ramp up an IU-related startup company," Armstrong said. "Our alums bring this unbelievable wealth of experience, knowledge and network of contacts. And they were eager to share with others from the school."
Added Sawmill Society member Bolsen: "It's a real privilege to have an opportunity to be a part of the next Google or Facebook coming out of your school."
Indiana-based angel networks were also born out of the growth in entrepreneurial ecosystems.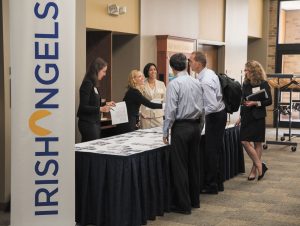 "It's night and day what's been happening in Indiana over the last 10 years, and we want to make people aware of that," Armstrong said. "The IU Angel Network is helping us find IU success stories that people want to be a part of and shining a light on that."
Dale said the university-related angel networks are an important way to bring more investment dollars to areas not on either coast. "Capital is not easy for startups to access, and this brings it closer to home," he said. "It's making it much more accessible to a school's constituents, and that's going to fuel the local economies in a really good way."
Bolsen added that the networks also provide a way for schools to connect with startups that might give back to the university as they become successful.
And the networks are a marketing outlet for the schools.
"This reinforces our brand," Rose-Hulman's Brady said. "We are a small school with a high-touch education, and we want to continue that after graduation."
IU Angel Network is "a strong recruitment tool for students and faculty to show this is a place where businesses can be born," Armstrong said. "We feel, for the state, this could be part of the brain gain."•
Please enable JavaScript to view this content.