Indianapolis residents were able to express concerns about their neighborhoods Thursday night and ask candidates for mayor how they would address them over the next four years.
Democratic incumbent Joe Hogsett, Republican state Sen. Jim Merritt and Libertarian Doug McNaughton participated in a mayoral forum organized by Historic Urban Neighborhoods of Indianapolis and Indiana Landmarks and answered questions from the audience for about an hour after each giving opening statements.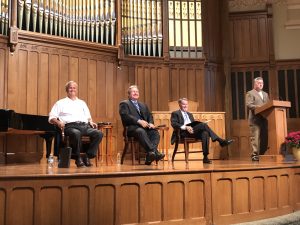 Several residents asked how the city's neighborhoods can be safe, clean and grow in a way that benefits all residents. Several people specifically wondered why some citizens weren't experiencing the prosperity that others are enjoying.
And, of course, there was a question about fixing potholes and a question about the scooters.
Some of the attendees directly asked about vacant properties, litter piling up and food deserts, while others were more general, broadly addressing economic development.
Merritt said he wanted to keep neighborhoods safe as a way to help areas grow, but acknowledged that every area has its own challenges. He said he would personally spend time in low-income and minority neighborhoods to get to know residents and give them a voice.
"We need to understand each and every different neighborhood," Merritt said.
On economic development, Hogsett repeatedly mentioned his administration's inclusive economic growth strategy, which includes requiring companies to offer jobs that pay at least $18 per hour in order to receive city incentives.
Hogsett also talked about how his administration has been trying to rid neighborhoods of blighted homes, but admitted he'd like to do more.
"We've seen some success but often times the process is slow," Hogsett said.
McNaughton said he believes the city's zoning laws need to be streamlined in a way that makes it easier for businesses to open in neighborhoods, especially those that are low-income or minority.
"I'm all for putting all the resources the city has in those neighborhoods," McNaughton said.
On a question specifically about how the candidates would make sure renters could afford to stay in their neighborhoods as new developments are built and prices go up, Merritt said that issue is "probably the hardest part" of running the city.
He said he didn't have a solution yet, but he would bring people together to collaborate.
"I'll tell you what I'll roll my sleeves up and find that solution," Merritt said.
Hogsett said he wants residents to be able to stay in their neighborhoods and that's why the city tries to work with developers to set aside a certain percentage of the housing units at below-market rates.
He also said among the various needs in the city, affordable housing ranks near the top.
One attendee specifically asked Merritt about his recently announced plan to fight violent crime that included a proposal to stop everyone in a neighborhood where a violent crime occurred.
Merritt said all he meant by that was there would be an "all hands on deck" strategy to finding the person who committed the crime.
The candidates kept the conversation civil throughout the forum. Merritt occasionally made comments about how the city had been doing better under Hogsett's predecessor, Republican Greg Ballard, but also on multiple occasions said he agreed with Hogsett.
One more debate is scheduled before Election Day, which is Nov. 5. The candidates will meet on Oct. 28 in Wayne Township for a debate sponsored by the West Side Chamber of Commerce and WXIN-TV Channel 59.
Please enable JavaScript to view this content.