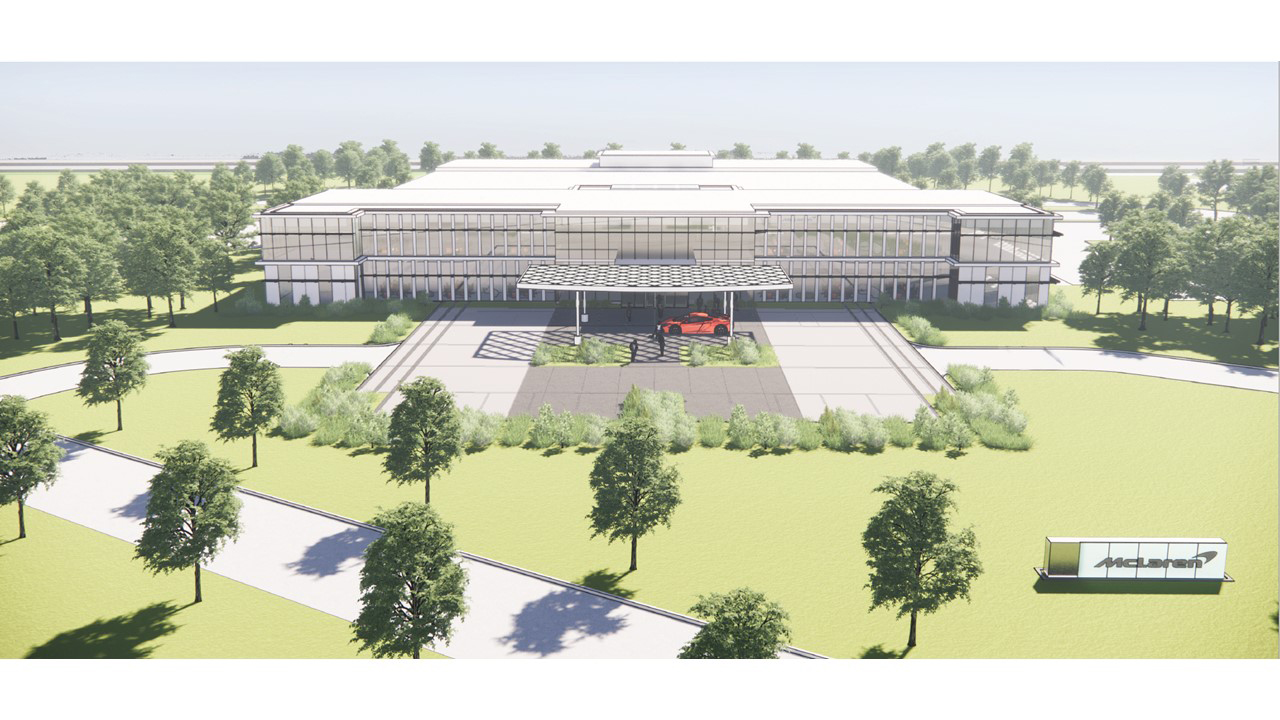 McLaren Racing announced Thursday that the company will spend $25 million to build an IndyCar team office, workshop and training center in Whitestown, creating up to 175 new jobs by the end of 2025.
Zak Brown, CEO of the Woking, England-based racing company, said at the inaugural Indiana Global Economic Summit that the facility will be more than 97,000 square feet and will allow Arrow McLaren SP—the company's IndyCar operation—to run three full-time entries in the IndyCar series in 2023, with plans to expand in the future.
Arrow McLaren SP is the eighth-largest motorsports company in the Indianapolis area, according to IBJ research, with 75 employees at its current location at 6803 Coffman Road.
Construction on the Whitestown building is expected to begin this fall with an early 2024 opening. The company did not provide a specific address for the building but said it will be on Indianapolis Road, just west of Interstate 65.
The announcement comes just weeks after Gov. Eric Holcomb and Commerce Secretary Brad Chambers returned from a trade trip to Europe that included a stop in England and visit with Brown.
"We were overly impressed that sustainability and adaptability have been the keys to their success," Holcomb said in a statement about the McLaren operation. "This aligns perfectly with what we are building here in Indiana."
The IEDC said the state and company are still negotiating the incentives for the deal. Still, Brown told IBJ, "it really felt like this was the logical time to announce it, in conjunction with this great economic convention."
Holcomb and the IEDC have announced several big deals this week, as some 800 people gathered for the global summit.
On Wednesday, Eli Lilly and Co. announced it would invest $2.1 billion to anchor a new innovation district in northern Boone County—a measure local officials believe will have a long-lasting impact on the area. State officials also they are still negotiating the amount of incentives they will offer Lilly for the project, which is expected to create 500 jobs.
The day before that, the state announced carmaker Stellantis NV and renewable battery company Samsung SDI will build a $2.5 billion electric vehicle battery plant in Kokomo. The state offered Stellantis some $186 million in incentives, including money for infrastructure projects and tax incentives, for that project.
The McLaren facility in Whitestown is expected to combine office space with technical areas, workshop space, logistics and transport areas, as well as a dedicated space for the team to practice pit stops. It will also include a gym with an emphasis on sports science that the company said will "help employees focus on physical and mental wellbeing on and off the track."
A press release distributed by the IEDC called the planned facility "futuristic" and said it will be "focused on advances in technology and engineering, while highlighting McLaren's history in Indianapolis."
Arrow McLaren SP currently employs workers in Indianapolis and Woking, England, with plans to hire in Whitestown once construction is underway.
Brown called the decision to invest in the facility "a clear sign of our commitment to IndyCar and also to the community of Whitestown, the city of Indianapolis, and the state of Indiana, which has been the home of IndyCar since the sport began."
Brown is certainly familiar with Indianapolis. He founded Zionsville-based motorsports marketing firm Just Marketing International in 1995 and grew it into one of the biggest motorsports marketing firms in the world. He sold JMI in 2013 to London-based CSM Sport & Entertainment for $76 million and subsequently became CSM's CEO. He joined McLaren in 2016 as executive director of McLaren Technology Group and became CEO of McLaren Racing in 2018.
Brown told IBJ that the company is focusing on an environmentally friendly headquarters because "it's the right thing to do—it's what the employees want."
"It's also what our corporate partners want and governments want," he said. "So I think it's the right direction to go [with] starting something today. I think it'd be crazy not to have sustainability be a thread through [our] activity."
The announcement also came just days before Arrow McLaren drivers Pato O'Ward, Felix Rosenqvist and Juan Pablo Montoya were set to participate in the Indy 500.
Correction: This story originally misspelled the name of McLaren Racing. See more IBJ corrections here.
Please enable JavaScript to view this content.