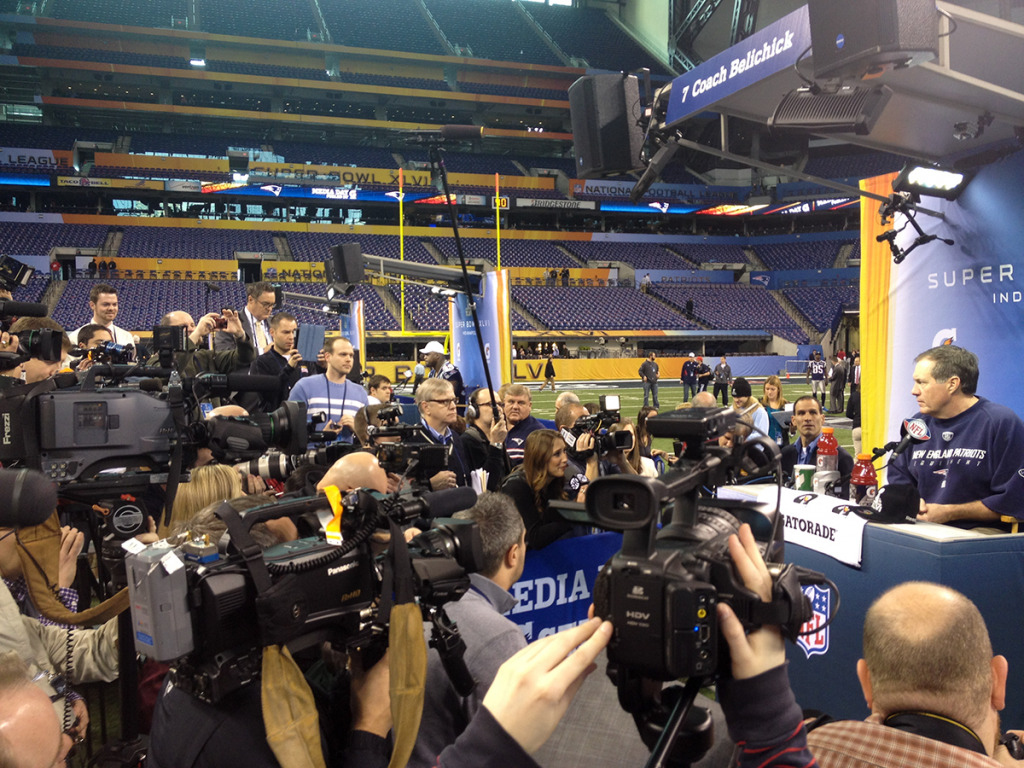 Media access to this year's NCAA men's basketball tournament is going to be as tightly guarded as a papal visit.
But nationwide exposure from the three-week event—from Selection Sunday on March 14 to the championship April 5—is still predicted to bring an enormous payoff to Indiana, which will host all 67 games, and to Indianapolis specifically, which will host 55 of them.
Indianapolis (plus Bloomington and West Lafayette in the initial rounds) will be the scene for more than 200 hours of national TV coverage via CBS and Turner Sports. Normally, 14 host regions share that exposure.
"Massive—that's the first word that comes to my mind when I think about the exposure this event will bring to the city of Indianapolis," said sports branding and analytics consultant Eric Smallwood. "It will be like no other."
Smallwood is managing partner of Michigan-based Apex Marketing Group Inc., a research firm well-known for putting a dollar value on event media exposure. Apex calculated the March Madness value of TV, radio, print and digital exposure for Lucas Oil Products Inc.—naming-rights sponsor of Lucas Oil Stadium—at up to $45.1 million.
The 2012 Super Bowl scored Lucas Oil Products Inc. $33.8 million in global media exposure from just the TV broadcast, Apex calculated, with similar value for the entire city and state during Super Bowl week.
During this year's NCAA tournament, the state will get exposure—based on ad rates during most tournament-game telecasts—worth $43.3 million, the firm predicted, with much of that going to Indianapolis.
Bankers Life, the brand that remains on the fieldhouse even though it's no longer paying for the sponsorship, will get $15.3 million in media value for the NCAA games played there. And Hinkle Fieldhouse and Butler University, as well as the Indiana Farmers Coliseum at the Indiana State Fairgrounds, also will get exposure worth millions of dollars.
Those values are based on the NCAA's plan, which stipulates that Lucas Oil Stadium will host a not-yet-specified number of first- and second-round games, the four Elite Eight games and the three Final Four games.
Bankers Life Fieldhouse and Hinkle Fieldhouse will also host first- and second-round games and will split the eight Sweet 16 games. Mackey Arena at Purdue University and Assembly Hall at Indiana University will each host two First Four games and multiple first-round games, while Indiana Farmers Coliseum will host first- and second-round games.
"This is something that is unprecedented, with all tournament games being played in one state, with each game being nationally televised and broadcast on Westwood One Radio, in addition to ESPN International viewers," said David Worlock, NCAA director of media coordination and statistics.
Huge interest
"The sweet-sounding word of Indianapolis," said Visit Indy Senior Vice President Chris Gahl, "will be spoken hundreds of thousands of times on national television in a condensed amount of time, not to mention written in myriad publications. That's how you boost your brand."
Gahl pointed out that images of Monument Circle, the Indianapolis Motor Speedway, Victory Field, the city's skyline and host venues will be aired hundreds of times as games exit and return from commercial breaks.
"You can't go back in the annals of events and say we've ever done anything quite like this," said Milt Thompson, a sports business and marketing expert who has been involved in drawing sporting events to the city dating back to the city's first Final Four in 1980, National Sports Festival in 1982 and Pan Am Games in 1987. "It's almost difficult to imagine. I don't think this will ever happen again."
With the pandemic still keeping much of the nation close to home, the television audience should be strong, media experts agree. Although it should be noted that this year's Super Bowl TV audience declined a bit from last year.
Still, because the 2020 NCAA tournament was canceled and because "so, so many people in the U.S. have an attachment to one of the many teams in the tournament, the interest in this event is going to be huge," Thompson said.
The decision to play all games in only six venues in one state will increase interest for even curious onlookers, he said. "We're already hearing about this event around the country."
"This is like having the Olympics in your state," added Smallwood. "It won't be on the world platform, but on a national platform. If the city can activate this, it's huge."
Expansion of sports gambling, now in 15 states, is another factor that should ratchet up exposure to this year's tournament.
"Legalization of online betting has brought in a lot more fans to the games," Smallwood said. "Of course, there's been illegal betting for years, but many people don't know or would be hesitant to get involved with a bookie."
In-game betting drives a more attention to the games themselves than do the bracket contests that have become so popular.
"The people following the bracket aren't necessarily watching the games; they're just checking the result and watching the bracket [contest] scores," Smallwood said. "With legalized gambling allowing people to bet on everything from tip-off winner to first team to score and everything in between, that really drives a new level of interest for a lot of people."
Counting on TV
Forrest Lucas, a native Hoosier and founder of California-based Lucas Oil Products, is looking forward to the nationwide TV exposure for his company.
"This event comes at a good time because we're really involved in motorsports, but that exposure has been really hurt with the lack of live attendance," Lucas told IBJ.
The value to his oil company would be even higher if fans could attend the games and experience his company's Lucas Oil-themed plaza in Lucas Oil Stadium, he said. Lucas Oil designed and built the plaza and has continued to maintain and update it.
"Hopefully, [TV cameras will] get some shots of Lucas Oil signage. The demographic of these games does match up well with our target audience."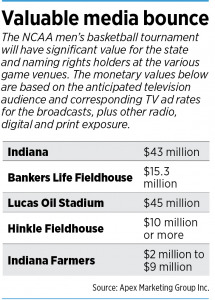 Since, thanks to the pandemic, the city will lose the exposure and economic windfall that a big fan and visitor turnout would have provided, most value is expected to come from media coverage. But that same COVID-19 fallout that limits fans will also tamp down media interaction.
For print and digital publications, no more than 25 reporters—to be selected by the NCAA—will be allowed into any game, including local and national writers and those who are beat writers for participating teams.
Only a small handful of photographers from the NCAA and Getty Images will be allowed on the floor. The NCAA will allow other news agencies to use its photos.
Three other organizations—The Indianapolis Star, Associated Press and USA Today—will have up to two photographers shooting from upper arena positions at each game.
On the broadcast side, only the tournament's official partners, CBS and Turner Sports, along with school videographers, will have access to venues during games.

"There will be no direct access to players or coaches at any point during the tournament," Worlock said. "Those [media members] in attendance, as well as a more extensive list of media members who will be invited to cover the tournament virtually, will be able to participate in Zoom calls that we will conduct on non-game days and after each of the 67 tournament games."
No reporters will be allowed at any of the five hotels—JW Marriott, Marriott Downtown, Westin, Hyatt and LeMeridien—housing teams or at team practice sessions. Some CBS and Turner Broadcasting staffers may stay in hotel rooms within the bubble. Admittance to the Indiana Convention Center, where many team functions will be held, will be extremely limited.
Non-credentialed embrace
Still, Visit Indy and other local officials have a plan to accommodate media who come to Indianapolis to cover the event, even if they are not credentialed to attend the games.
Visit Indy and local officials will set up two media centers downtown, one in the Indianapolis Artsgarden above Washington and Illinois streets and another at the west end of Georgia Street. Both will be staffed by volunteers trained to assist news outlets with outside-the-venue stories and to pitch stories on city and state happenings and attractions.
The two media centers are designed to be ideal for photo opportunities and video shoots and to showcase what the city has to offer outside of basketball.
It's no coincidence that the Artsgarden looks like a basketball, Visit Indy's Gahl said. And he noted the media hub on Georgia Street is also positioned to show off the coming Indiana Convention Center expansion and Pan Am Plaza project, and is strategically positioned with Lucas Oil Stadium and Bankers Life Fieldhouse within eyeshot, for photo and video shoots.
Local officials expect up to 2,000 media members to descend on Indianapolis for the men's and women's Big Ten tournament and NCAA tournament combined. In 2019, a record 2,442 credentialed media were in town to cover the men's Final Four.
Lilly Endowment Inc. awarded the Indiana Sports Corp. and the local Team Indy organizing body almost $1 million to program downtown and engage media during the tournament.
Local playbook
This month's Super Bowl in Tampa, Florida, would seem to be a blueprint the city could mimic to some degree. Tampa organizers worked to accommodate non-credentialed media to showcase the city. But local organizers said they have their own playbook.
"Team Indy examines each and every major event. That's no different for this year's Super Bowl in Tampa, but we've got our own plan and we've gotten more intel from the events this city has already hosted in recent months during the pandemic," Gahl said.
Indianapolis is leading the race in event hosting in the pandemic era, Gahl said. He credits that for helping the city score the men's basketball tourney. Having the NCAA headquartered in Indianapolis doesn't hurt, either.
That recovery started with a $7 million investment this year in the convention center, including a new air-filtration system, a deep cleaning system and touchless infrastructure in restrooms and access points.
With that in place, Gahl said, the city secured several major youth-sports events—including basketball, volleyball and cheerleading—starting last July and running through this month.
"Without the $7 million investment in health and safety improvements to the Indiana Convention Center, we don't host any of those three big youth sports events and no Big Ten Football Championship," Gahl said. "Those were major building blocks for us to host the men's NCAA basketball tournament in its entirety."
Indianapolis has subsequently landed the men's Big Ten basketball tournament March 10-14, which had been slated to be played in Chicago.
'Outrun your competition'
Before the first NCAA hoops game has tipped off, the local effort is paying dividends in national and trade media.
"There are 25 convention and travel trade publications, and every single one has reported on Indianapolis hosting events since July and hosting March Madness in its entirety," Gahl said. "Meeting planners nationwide are learning about our capabilities and calling us to ask how we are doing what we're doing during this pandemic and wanting to talk best practices."
Local organizers are confident that a successful execution of this event will open many more doors.
"We are showing the world there's not a challenge we can't handle in terms of event hosting," Gahl said. "In terms of recovery time, we're demonstrating this city can recover from the pandemic or other challenges more quickly. And if you can recover more quickly, you show you can outrun your competition."
Of course, hosting an event this big and complex has potential pitfalls. A flop on such a large stage would no doubt harm the city's event-hosting image.
"This would be a complicated event to host in ordinary times," Thompson said. "During a pandemic, the complexity goes up dramatically. This is all new territory, so it's difficult to project how it will go."
Most important, he said, is getting the COVID testing right.
"They can't make a mistake on the health factor. It could send the whole thing toppling down. It just takes one venue to be contaminated, and you'll have a domino effect. You don't want the story to be, this is a major super-spreading event."
But Thompson isn't overly concerned.
"If you are an event organizer, you're always looking for the silver lining," he said.
So even if there is a problem, the city could still shine by showing it can deal with the unexpected.
"Who could deal with this challenge better than a city like Indianapolis, which works so well with private and public partnerships, including government, health care, event planners and other private-sector entities?" Thompson said.
"That's why you have to hold this event here," he added. "There is no other place. The local organizers here will consider every scenario imaginable and plan for every contingency. That's why this event is going to be a massive success on a scale not seen before."•
Please enable JavaScript to view this content.