Two community-based organizations focused on improving Indianapolis neighborhoods will merge next month and take their combined work countywide.
Renew Indianapolis, which was created in 2014 from the ashes of the long-troubled Indianapolis Land Bank to acquire abandoned, tax-delinquent and other problem properties around the city and make them available for redevelopment, will merge with the King Park Development Corp. on Jan. 1.
King Park Development was founded in 1987 by area residents to improve housing, economic development and quality of life in the area around Dr. Martin Luther King Park. Its neighborhoods include the Old Northside, Herron-Morton Place, Kennedy-King, Reagan Park, Fall Creek Place, Friends and Neighbors, and Crosstown.
King Park is one of more than a dozen neighborhood-based organizations across the city, called community development corporations, that focus on improving housing in the neighborhoods they serve. The not-for-profits renovate and build affordable housing and work to improve quality of life.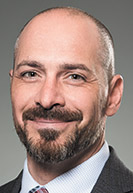 Together, the merged organization—which will go by Renew Indianapolis Inc.—will have increased resources that should allow it to make more strides in achieving its mission. The budget will be $10 million to $12 million in 2020 and the organization will have 11 staffers.
The new Renew Indianapolis will provide comprehensive community development services focused on revitalizing neighborhoods by renovating, building and financing affordable housing; driving economic growth and sustainability with business lending and services; contributing to the quality of life of central Indiana residents; and connecting those willing to invest in the future with available properties through the land bank.
The organization hopes to spread its services to areas of the city not currently represented by a community development corporation. Steven Meyer, current executive director of King Park Development Corp., told IBJ most neighborhoods near downtown have CDCs, but many of the more distant township neighborhoods don't.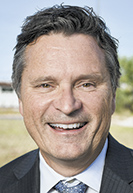 "We think we're going to be bigger and stronger together," Bruce Baird, current Renew Indianapolis director, recently told a city board. "We'll be a dynamic organization that can do a lot of things that we could not do as separate organizations."
Years of growth
Before 2014, the now-defunct Indianapolis Land Bank—a city office—was in charge of returning vacant and tax-delinquent properties to the city's tax rolls.
The land bank has an ugly history, but Renew, a not-for-profit, has made strides to overcome that troubled past.
In 2013, a federal corruption probe into the Indianapolis Land Bank led to charges against five men, including two city employees, who used their government positions to transfer promising properties in exchange for cash.
Reggie Walton, the ringleader of the scandal and former director of the land bank, in 2015 was convicted on eight felony counts, including wire fraud and bribery, and was sentenced to nine years in federal prison.
City employee John Hawkins, at the direction of Walton, orchestrated the transfer of city-owned real estate to not-for-profit entities, which flipped the properties to private investors recruited by a friend of Walton's, who split the profits with the two city employees.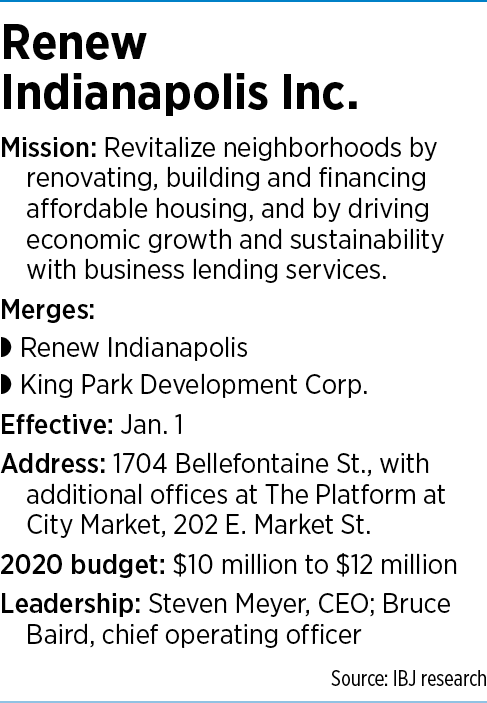 In the wake of the scandal, the city transitioned the land bank's initiatives into a not-for-profit. Baird took the helm of that group in 2017, and Renew has been gaining steam ever since.
The year before Baird took over, the organization closed on the sale of 47 properties. In 2017, that number nearly tripled to 134, then rose again in 2018 to 248. This year, Renew's residential land bank has closed on the sale of 195 houses and lots, with another 90 approved and in the pipeline to close, Baird said.
He attributes the land bank's recent success to several factors: His team is working harder and more efficiently, the economy is good, and people want to live in the city. Renew's aggressive approach also plays into Mayor Joe Hogsett's vision to demolish or rehab 2,000 homes within two years.
In 2017, Renew Indianapolis and the Indianapolis Department of Metropolitan Development joined forces to launch a commercial land bank to market and sell blighted industrial sites around the city. Currently, six sites are listed and active.
Expanding reach
King Park has also experienced growth of its own over the years. Recently, its major initiatives have focused on redeveloping Fall Creek Place and Monon16.
A few years ago, King Park teamed up with two homebuilders, Houston-based David Weekley Homes and the local Re-Development Group Inc., to build 60 houses on vacant lots along the Monon Trail.
Work in Fall Creek Place started even earlier to redevelop a neighborhood formerly referred to as Dodge City by acquiring and flipping vacant lots and abandoned and dilapidated homes, eventually leading to more than 400 families moving in.
"A lot of our work of redeveloping those neighborhoods is finishing up," Meyer told IBJ. "There's still more work to be done, but the neighborhoods have really become vital and strong neighborhoods on their own."
King Park also operates the Build Fund and Edge Fund, community development financial institutions that provide lending to spur economic development and promote and connect residents to affordable housing. The community development financial institutions operate citywide.
The Build Fund is a mission-driven lender that offers affordable financial products and services to economically underserved neighborhoods.
Since its inception in 2015, Build Fund has loaned more than $5.4 million to small businesses across the city, including Ash & Elm Cider Co. and Hotel Tango.
The Edge Fund helps increase the number of affordable-housing options in Indianapolis by providing mortgages, construction loans and bridge loans for both single- and multifamily housing.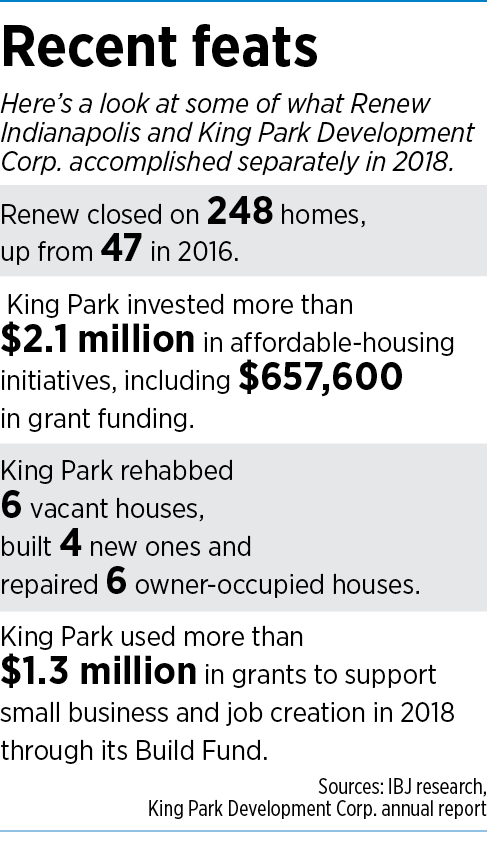 Last year, King Park invested more than $2.1 million in affordable-housing initiatives, including $657,600 in grant funding. It rehabilitated six vacant houses, built four new houses and repaired six owner-occupied houses.
Joining forces
As both organizations looked to the future, it made sense to join forces, Meyer and Baird said.
Meyer said his organization has for five years or so been considering expanding its activities outside the King Park area and has already been doing some community development work in the Martindale-Brightwood neighborhood.
Since the community development financial institutions operate countywide, it makes sense for all of King Park's services to do so, Meyer said.
The organizations have also relied on each other heavily over the past few years, Baird said. Meyer has experience dealing with brownfield properties, for example, which Baird has called on when listing properties in the commercial-industrial land bank. Meyer said he called Baird as King Park started to enter multifamily lending, given Baird's background in multifamily housing development.
"As we were trying to figure out how our organizations were going to grow responsibly, at some point, we just had the idea it may be worth exploring formalizing our partnership," Meyer said.
Over the past year, a subgroup of each of the organizations' boards of directors worked out the logistics.
Seven members of each board will join the new organization's board, plus an additional member who previously wasn't involved. Meyer will serve as CEO of the new organization, while Baird serves as chief operating officer.
Meyer said the leaders found their organizations align in many ways. Where they overlap are in efforts that have unending needs, such as real estate development, he said.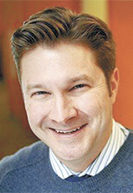 By combining those efforts, the merged organization will have the added resources to bring on more staff and financially support more projects at one time. They'll also be able to expand their geography, and they hope, their volume of work.
"A better resourced, a better capitalized organization can just do more," Baird said. "That's just the nature of our work as a development organization."
One benefit of the combined organization is that real estate financing and real estate can come together under one roof, said Jeff Bennett, the city's deputy mayor of community development. The city also sees benefit in the organization working across the county, especially in neighborhoods not currently served by a community development corporation.
"We see a gap as the city changes, and we look at neighborhoods that have historically benefited for 25 years or more in and around downtown having a community development infrastructure and a CDC working in their geography," Bennett said. "But you kind of go just beyond those boundaries and there's not community development infrastructure. This merger could and should fill that gap."•
Please enable JavaScript to view this content.