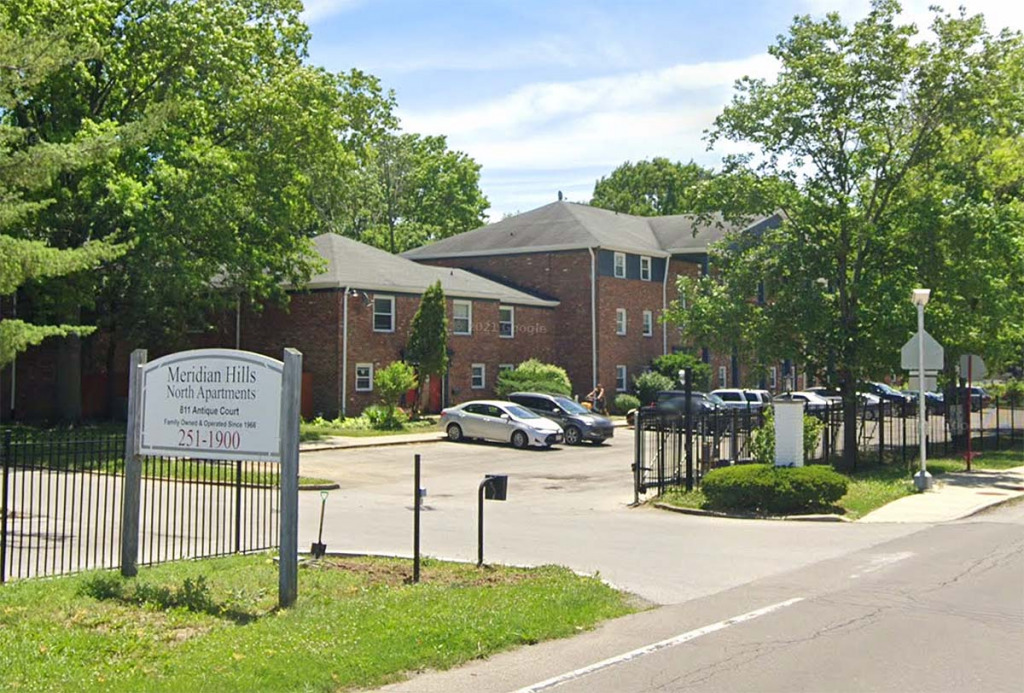 A 221-unit apartment complex in Meridian Hills has been sold for the first time in its 55-year history, fetching $26.5 million.
Meridian Hills North, near the intersection of West 64th Street and Hoover Road, was acquired on Sept. 8 by Covenant Capital Group, a Nashville, Tennessee-based equity firm that already owns several properties in Indianapolis.
The property was sold by Mordoh Development LLC, a holding company for the Mordoh family, which began developing the complex in 1966 and added to it in three later phases.
The family had long resisted selling the property, said Matt Cogen, a broker with Nashville-based The Kirkland Company, which brokered the deal.
"We were able to develop that relationship with the owners, who initially told me they're not selling. It's been a family-owned property forever. But with the market where it is, and the group we were able to bring to the table, we were able to get pretty aggressive on pricing," Cogen said.
"The seller just thought it was the best option for them right now, with where they are," he said. "They didn't have to sell or anything like that—it just made sense for them."
Cogen worked on the deal alongside Kirkland's Brian Devlin, Brandon Wilson and Noah Mudd. 
Cogen said Covenant plans to make a "significant investment" in the property, but declined to share a specific figure. The renovations could include new stainless steel appliances, granite countertops and luxury vinyl tile flooring, along with some exterior improvements.
The changes are expected to increase rents over the next few years—something the property hasn't seen much of late, despite market demand. Cogen said the Mordoh family "could probably have pushed a little more on rent, but I wouldn't call it stagnant."
The property includes one-, two-, and three-bedroom units, starting around $795 per month.
"I think Covenant will come in and do the renovations necessary to get some pretty good rent bumps," he said. "The Meridian Hills area continues to be a very strong rental market in the Indianapolis [metropolitan area]. We have seen quite a jump in rent growth in past year, and expect that trend to continue."
Covenant owns several properties in the area, including Salona at the Crossings, south of Keystone at the Crossing; 32 Union in Noblesville; and The Jameson, along Harcourt Road between 79th Street and 86th Street.
Kirkland is a new face in the local multifamily brokerage market, with Cogen leading a new team that is beginning to operate in Indianapolis as a satellite market. The firm has about 1,400 units either listed or under contract in Indiana.
Please enable JavaScript to view this content.