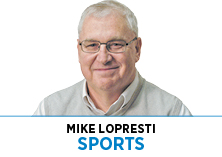 Here comes 2022. Here comes the College Football Playoff Championship game. Here comes Alabama or Cincinnati against Georgia or Michigan. COVID tests willing, of course.
The virus was finally supposed to be behind us by now, so hosting a major sports event could get back to something close to normal. That was the plan, anyway. But no, we're not even in the same time zone as normal. The pandemic is still here, peering over every shoulder, which is why the Colts might have someone else handing the ball off to Jonathan Taylor this weekend, with Carson Wentz on the COVID bench. And it's how a 5-7 Rutgers team that had lost three of its last four games—by scores of 52-3, 28-0 and 40-16—ended up playing in the Gator Bowl. Too many positives for Texas A&M, and a late, presumably out-matched sub was needed. The Scarlet Knights were kind of like Rocky.
Now comes championship week downtown, and behind all those masks, Indianapolis is holding its breath. Just like last the NCAA Tournament March. There have been canceled games and juggled rosters from hockey to pro football to the NBA to college basketball. Wentz went on the shelf Tuesday. Still, Indianapolis is ready for another closeup. You can tell by the design on the JW Marriott. Can you imagine if this thing would end up being decided by a … forfeit? That's included in the protocol options.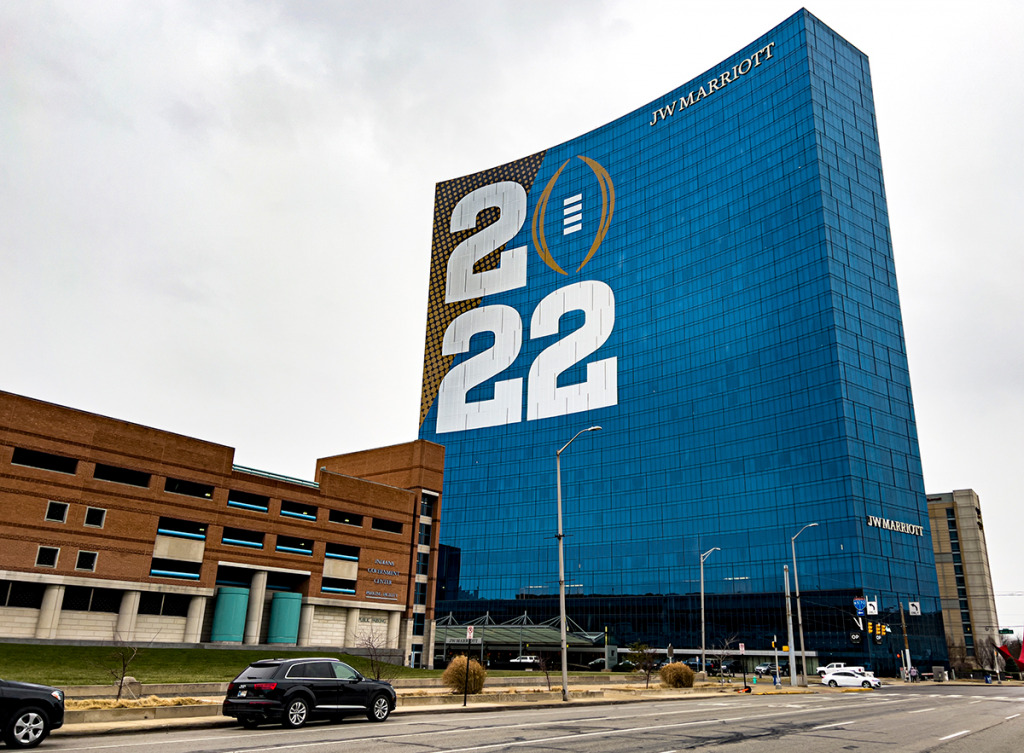 But anxiety aside, look at what Jan. 10 could be like for this state. Matter of fact, look at the first 10 days of January. You want a pure Indiana sports buffet leading up to kickoff in Lucas Oil Stadium? Here's your all-access pass. If the virus lets it happen.
Jan. 1. OK, this one we cheat and watch on TV. Notre Dame vs. Oklahoma State in the Fiesta Bowl. Marcus Freeman is 35 years old, but he already has six kids and is the new head coach at Notre Dame, so he's been a young man in a hurry. Then again, Rockne was only 30 his first season. The winner of this game gets unofficially crowned the Best Team Not Invited To The Playoffs.
Jan. 2. Las Vegas—don't you still want to call them Oakland?—Raiders vs. the possibly Wentz-less Colts in Lucas Oil Stadium. It's anybody's guess what the Indy lineup will look like when the latest COVID tests come back, but we already know Wentz is iffy, and his no-vaccination stance will now be up for further review. Much more of this, and a team staff member will be out on Capitol Street holding up a sign: Honk if you want to play Sunday.  But the surging guys in blue—who started 1-4, then U-turned to 8-2—will still be trying to put a headlock on a wild card spot and higher seed. If the Colts weren't 4-4 at home after a trail of missed opportunity—three of the losses by a single possession—they'd be talking a division title and home field in the playoffs. As it is, they enter the weekend with a 9-6 record—or two more wins than they have Pro Bowlers. If there is no Wentz, maybe the snap should just go directly to Taylor. He's rushed for 100 yards nine this time this season and the Colts won them all. When he didn't reach 100, they're 0-5.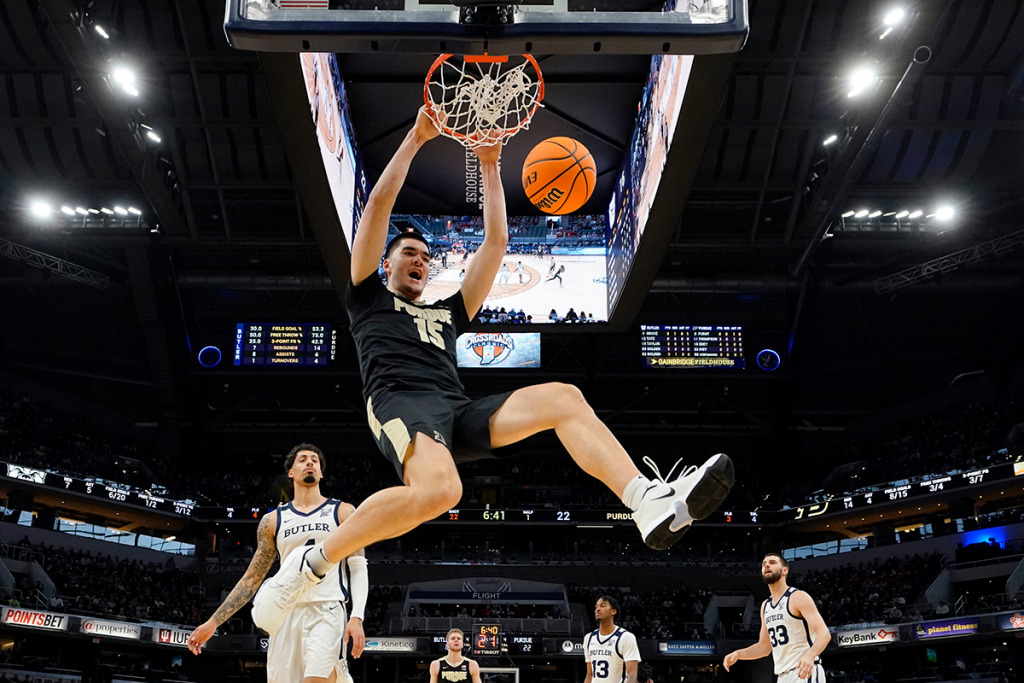 Jan. 3. Wisconsin at Purdue. The Big Ten title chase and pursuit of an NCAA Tournament No. 1 seed resumes against the first ranked team to visit Mackey Arena this season. The way the Boilermakers go at it, they could have the only basketball games that begin with a coin toss. Heads, Trevion Williams starts at center. Tails, it's Zach Edey. Combined, they are averaging 28 points and 16 rebounds a game. Their tag team, along with the pyrotechnics of Jaden Ivey, have put Purdue in big letters on the national marquee.
Jan. 4. Kent State at Ball State. The Cardinals might have been only 5-6 as of Christmas, but the dawn of the Luke Brown Ball State career should be tonic for the box office. Remember how he packed them in at Blackford High School? It's only a 20-mile drive down the road to Worthen Arena.
Jan. 5. Brooklyn at Indiana. The first wave of CFP football fans might be hitting town, and maybe they'd like to kill an evening at Gainbridge Fieldhouse. The Pacers, 29th in the NBA in average attendance, could use the customers. The Nets will be bringing the best record in the Eastern Conference to Indy, and it might also be the season debut of Brooklyn's Kyrie Irving and his refuse-to-vaccinate saga. As for the Pacers, at least it's a home game. Among their more unsightly numbers has been the 3-13 start on the road this season.
Jan. 6. Ohio State at Indiana. If the Hoosiers are serious about being in the Big Ten upper crust, this is the kind of home game they need to win. The No. 14 Buckeyes are the highest-ranked team Indiana will have played to date, with All-Americans on each side. In the white uniform, Trayce Jackson-Davis. In the scarlet, E.J. Liddell, who is building as good a case as any for national player of the year.
Jan. 7. Xavier at Butler. It'll be Indy's team against a kid from Indy. Southport's own Paul Scruggs, who has become the absolute rock for the 11-2 Musketeers, is scheduled to make his 100th Xavier career start in his hometown. "I think he's the best point guard in the country. I think that's been shown," Musketeers' coach Travis Steele said earlier this season. "Just his defensive intensity. Just the grit that he plays with, it's infectious. It's contagious amongst our whole team. He just wills us. We're going to ride his coattails very, very heavy all the way to the finish line."
Jan. 8. Milwaukee at IUPUI. These are the women Jaguars, by the way. They're the team that almost beat No. 11 Michigan in November. And then actually upset No. 15 Iowa last week, the first victory in school history over a ranked opponent. IUPUI is the runaway pick to win the Horizon League but, as of last week, was officially tied for fifth place with a 2-2 conference record.
An explanation is in order. The Jaguars had actually only played two Horizon games and won each by 35 points. But per league rules, they were docked forfeits for missing two others because of COVID. So 2-0 is counted as 2-2, unless the league rethinks its policy as other leagues have done. Confused? It's a virus thing.
Jan. 9. Minnesota at Indiana. The Gophers were picked to finish last in the Big Ten. At last check, they were 10-1. The superhighway of roving talent otherwise known as the transfer portal has turned preseason forecasts into throwing darts at a board and made Minnesota a true 2022 program. The top seven Gopher scorers last season are playing at seven other schools this year.
Meanwhile six of the top seven scorers this season arrived in Minneapolis from mid-majors hither and yon—Charleston, George Washington, Stephen F, Austin, Lafayette, William & Mary and New Hampshire. So it goes in 2022.
Jan. 10. All the above, and now another moment to cherish in the Indianapolis legacy of big events: game day in Lucas Oil Stadium for the college football championship.
Everyone hopes, anyway.•
Lopresti is a lifelong resident of Richmond and a graduate of Ball State University. He was a columnist for USA Today and Gannett newspapers for 31 years; he covered 34 Final Fours, 30 Super Bowls, 32 World Series and 16 Olympics. His column appears weekly. He can be reached at mjl5853@aol.com.
Please enable JavaScript to view this content.