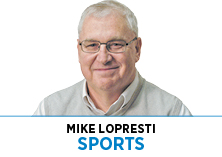 This was autumn of 1999, and an unbeaten 15-year-old from Carmel was battling through two tie-breaker sets on the tennis courts at a place called Five Seasons Sports Country Club, gritting his way to the high school state individual title.
His Greyhounds coach, Kyle Karnes, saw a bright future that day: "He knows if he just relies on his game, it's going to be there for him." Who knew that sophomore would end up ranked No. 1 in the world?
Five Seasons isn't even around anymore, but Rajeev Ram is. The latest ATP rankings have Ram No. 1 on planet Earth among doubles players, this after a recent career surge when he teamed with Great Britain's Joe Salisbury to win the U.S. Open twice and Australian Open once. The grand slam trophies are beginning to pile up.
And he has Crooked Stick Golf Club in Carmel partly to thank, but we'll get to that in a minute.
"Getting to No. 1 honestly seems so far away when you first start playing professionally," Ram said over the phone the other day. "It just felt like it took such consistency to actually get to the top spot, and I wasn't really sure how to go about doing that. But I feel like, for the last couple of years, it's been right there. We have been the top team in the world. To actually see my name, see that number in front of my name, it's a tangible system that we all respect and appreciate. I'm going to have it forever. It's something surreal, and I'm really proud of it."
There's more.
That 15-year-old Carmel Greyhound is now 38. In professional tennis, that's approaching AARP membership. He's the oldest man in history to ever get to the top of the rankings for the first time, so there's history afoot, too. And consider this: How many people who have called this state home can say they were No. 1 in the world in anything? He's only the third American man to get there in doubles in 20 years.
"I've got a couple of those oldest-ever type things. I think I got the most slams played before winning one—I think it was like at 58, somebody told me—and now this," he said. "I used to shy away from it a little bit, but I honestly appreciate it now more. Everyone's on their own path. So I appreciate the fact that I was able to hang in there long enough and keep getting better and better, and however long it was going to take me, it was going to take me.
"I'm closer to the end at 38 than I was at 35. I know that, and I don't run away from that. That's part of the deal."
Now about Crooked Stick.
In August 2021, he and Salisbury had just played a tournament in Cincinnati and decided to spend a week in Indianapolis preparing for the imminent U.S. Open. They put in some practice at the Carmel High School courts but also got in a round of golf at Crooked Stick. Then they went to New York and won the U.S Open.
Flash forward to August 2022, and why mess with a winning formula? "No matter what was going to happen, we were going to have that round at Crooked Stick," Ram said. So … tournament in Cincinnati (which they won), interlude in Indy, 18 holes where John Daly once won the PGA. "We played awful golf but had a great time and won the U.S. Open again."
They'll likely be booking a tee time for 2023.
Career reboot
This glorious Chapter 2 in Ram's career came about in 2017 when he decided to focus solely on doubles. He had been ranked in the world as highly as No. 56 in singles but decided he needed a shift. "I felt like, at that point, I in a way restarted my career," Ram said. "It was a different focus, a different priority. I had to learn a bunch of new skill sets, learn to be a good teammate and a good partner, because that's not something you do in singles. It's just yourself out there."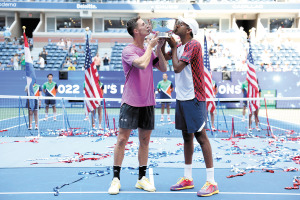 He was ranked as low as No. 39 in doubles in 2018 and, in preparing for the next season, was in the market for a new partner. What about this British kid named Salisbury, eight years his junior?
"To be very honest, he wasn't my first choice for the next year," Ram said. "I knew a couple of guys that I knew better and were more around my age I had played with before. Neither one of those two worked out."
Ram and Salisbury played a bit and talked a lot and started realizing they went at tennis the same way. They decided to give it a try. By 2020, they were winning the Australian Open, and then the U.S. Open, and then another U.S. Open. Hollywood should have marriages work this well.
"We have very similar outlooks on what we're trying to do. We're both always trying to get better, trying to find those one or two little things we can improve on, so we're not sitting there satisfied with results," Ram said. "Our communication is really good, both on the court and off the court. We lay it all out there, and sometimes we get some brutally honest conversations that are difficult, but they're always for the good of the team."
Ram's journey up the rankings must seem like a rocket ride into a different universe, but he insists on keeping perspective. "The difference between winning and losing is so marginal. The minute that you feel like that's another universe is the minute you get a little bit complacent," he said. "As it is with everything, it's that last 1, 2, 5% that's the toughest to get sometimes. And sometimes it can be the easiest to lose."
Salisbury had been ranked No. 1 earlier this season, but now the teammates have swapped positions. "It definitely feels right that he's No. 1 now. I'm very happy to be moving back to No. 2," Salisbury told the ATP website. Pretty glued-together team.
Competitors
But not last month. After winning the U.S. Open together, they quickly flew to Scotland for Davis Cup competition. In group play, the U.S.-Great Britain match came down to doubles, with Ram and fellow American Jack Sock facing Andy Murray and … Joe Salisbury. The U.S. Open champions were suddenly eyeball-to-eyeball before a roaring crowd.
"Crazy emotions, sort of not sure what to do or how to act," Ram said. "But then at the end of the day, we actually talked about it beforehand and said, 'Look, let's go out and compete as hard as we can and show everyone why we're the best doubles team in the world.'"
Ram and Sock won a three-set epic, 5-7, 6-4, 7-5. Ram and Salisbury didn't talk that night but did the next day when they analyzed the match, hoping to learn things that would improve their own united efforts.
"I thought we handled it pretty well," Ram said. "It could have been a really tricky situation."
So now 2023 beckons. "I feel like I have some more left in me," said Ram, who'd love to get the two majors he and Salisbury have missed—Wimbledon and the French Open. There's also the No. 1 ranking to process. He once thought that number wouldn't affect him much.
"I was completely wrong. It just feels like all that hard work, all that dedication, it's paying off. Also, it just kind of reminded me [of] all the people that have helped along the way unselfishly."
If only Dr. Raghav Ram were here to see this. He was the father who introduced Rajeev to the game. He died in 2019, just when his son's doubles career was starting to boil.
"This was our thing that we did together from when I was a kid," Rajeev said. "It was never supposed to be my job, or it was never supposed to be about me being the No. 1 player in the world. We did it as a father-son activity."
Raghav Ram would get a kick out of the latest rankings.•
__________
Lopresti is a lifelong resident of Richmond and a graduate of Ball State University. He was a columnist for USA Today and Gannett newspapers for 31 years; he covered 34 Final Fours, 30 Super Bowls, 32 World Series and 16 Olympics. His column appears weekly. He can be reached at mjl5853@aol.com.
Please enable JavaScript to view this content.