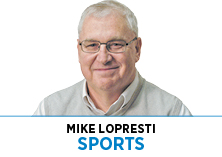 About baseball's All-Star Game …
True, it's become almost something of a side show that happens the night after the Home Run Derby, which seems to carry more voltage these days. No one pays much attention to the game's result unless it ends in a tie. Which happened 20 years ago this month, by the way.
Also, the All-Star Game has never been played in Indiana and never will be, but that doesn't mean it is without some memorable Hoosier cleat marks. And not just because IU's Kyle Schwarber just made it for the second consecutive season, first for Washington and now for Philadelphia.
Did you know …
The second and third innings in last year's game for the American League were pitched by one guy from Brownsburg and another from Greenfield?
Lance Lynn of the Chicago White Sox and Kyle Gibson of the Texas Rangers. Well, Gibson was a Ranger. Seventeen days after he appeared in a Texas uniform in the All-Star Game, he was traded to Philadelphia.
Did you know the first All-Star Game, in 1933, included Babe Ruth, Lou Gehrig, plus two former Southport students, including a pitcher who played basketball for Butler?
Outfielder Chuck Klein of the Philadelphia Phillies lined out to the shortstop in the first inning in 1933. He was the third batter in the history of the All-Star Game. Oral Hildebrand, a Cleveland pitcher, was on the roster but didn't play in the game. Three years earlier, he was the center and team captain for the Bulldogs.
Did you know …
Indiana's first Mr. Basketball ended up a major league all-star?
Whiteland's and Franklin's George Crowe was named to the game in 1958 as a Cincinnati first baseman.
A No. 1 draft pick from the University of Evansville and Evansville Central pitched two innings in the 1993 game?
Andy Benes for the San Diego Padres.
A Missouri quarterback who lost to Purdue in the 1980 Liberty Bowl appeared in the 1985 game as a Seattle Mariner?
Phil Bradley grew up in Illinois but was born in Bloomington.
A West Lafayette product once struck out Ted Williams and Mickey Mantle in an All-Star Game?
Bob Friend was the starter and winning pitcher for the National League as a Pirate in 1956, with three scoreless innings. He was a four-time all-star.
Ever seen the iconic clip of Pete Rose flattening catcher Ray Fosse to score the winning run and end the 1970 All-Star Game in the 12th inning? Did you know the batter waiting on deck, who forever is included in that scene as the first to congratulate Rose, was born in Crawfordsville?
Dick Dietz, then a San Francisco Giant catcher. He had earlier homered in the ninth.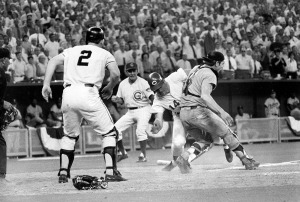 Did you know that one of the few men to both play and manage in an All-Star Game was born in Princeton and grew up in Petersburg?
Gil Hodges, an eight-time all-star as a Brooklyn Dodger. As manager of the Cinderella champion 1969 New York Mets, he led the 1970 National League team. Two years later, he was gone from a heart attack.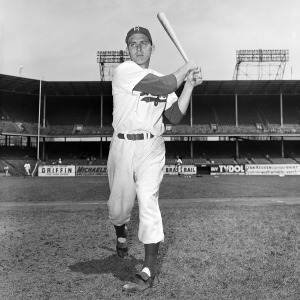 Or that the outfielder who stole five bases in all-star games without ever being thrown out played basketball in the Final Four for both East Chicago Washington and Arizona?
Kenny Lofton was a six-time all-star for Cleveland and Atlanta. He singled in two runs in the seventh inning of the 1994 game to give the American League a 7-5 lead and might have been named the MVP, had the National League not rallied to win 8-7.
Did you know the 1993 Indiana Mr. Baseball from Jasper was a seven-time All-Star for three franchises?
Scott Rolen, who was named to the All-Star Game as a Philly, Cardinal and Red.
Or that a key figure in Evansville Memorial's 59-game winning streak in the late 1970s would go 0-for-8 in six All-Star Games, but then double in the last All-Star at-bat of his life?
Don Mattingly of the Yankees.
Did you now the valedictorian of the class of 1961 at Terre Haute Gerstmeyer was a four-time all-star?
Tommy John, whose name will forever live on because of an experimental elbow surgery that saved first his own pitching career then a gazillion others.
Or that the pitcher who threw the last two outs for the National League in the 1954 All-Star Game—68 years ago—is still with us?
Carl Erskine, forever a Brooklyn Dodger, and an Anderson native son.
Did you know the only all-star to come from Fort Wayne South hurt his hamstring in his last regular-season start before the game and could only limp out for American League team introductions?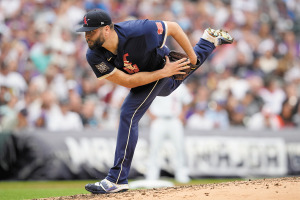 Steve Hargan for the Cleveland Indians in 1967.
Or that a former steelworker from Gary played in his only All-Star Game his rookie year, in his home ballpark and just a few miles from where he grew up?
Ron Kittle of the Chicago White Sox in the 1983 game in Comiskey Park. He had a hit and scored a run.
Did you know the coach who once umpired a major league game when the regular umps were on strike was also an all-star catcher from Indianapolis?
Don Leppert represented the Washington Senators in the 1963 game.
Or that a pitcher from Lawrenceburg High School never got on the mound for his only All-Star Game in 1966?
Billy McCool of the Cincinnati Reds.
Did you know a Notre Dame football player was named to the 2014 All-Star Game, but wasn't allowed to participate because he had been traded to the other league?
Jeff Samardzija, who played his high school ball in Valparaiso, made it in 2014 as a Chicago Cub, but before the All-Star break was dealt to the Oakland A's. So, no pitching in the game. He has never gotten back.
Did you know bad hearing helped a product of Sandcut, Indiana, make two All-Star teams?
Dizzy Trout's draft status for World War II was 4-F because of a hearing impairment, so he stayed stateside and pitched 33 complete games for the Detroit Tigers in 1944, his first of two all-star seasons. Sandcut was a tiny dot on the map near Terre Haute and Trout maintained that he was so poor, he didn't even hold a real baseball until he was 14, throwing rolled rags and walnuts before then.
Did you know a pitcher from Crown Point once had to get to an All-Star Game on another team's charter flight because of travel problems?
Dan Plesac was a three-time all-star for Milwaukee in the late 1980s. In 1988, he had to hop a ride on the Reds plane to get to Cincinnati for the game.
Or that one of the few athletes to play in both the major leagues and NBA was an all-star pitcher from LaPorte?
Ron Reed played basketball for the Detroit Pistons but later was an all-star for Atlanta. In 1968, he was one of six NL pitchers who shut down the AL in a 1-0 game that had eight total hits—the least offensive All-Star Game in history.
Did you know that an outfielder from Evansville got a chance to play regularly because the starters were off to war, and he turned that opportunity into an All-Star spot?
Pete Fox for the 1944 Boston Red Sox, who had an outfield spot available with Ted Williams and Dom DiMaggio involved in World War II.
Finally, did you know the most productive Indiana-born all-star would one day have a granddaughter in the Governor's Mansion?
New Albany's Billy Herman was a 10-time all-star second baseman for the Cubs and Dodgers from 1934-1943 and hit .433, getting 13 hits. Years later, granddaughter Cheri would make her own mark in the state. Indiana knows her as the wife of former Gov. Mitch Daniels.
So, bypass the All-Star Game if you wish on July 19, but at least recognize its sometimes-tangled Indiana connections. And appreciate one other thing: At least it's not the Pro Bowl.•
__________
Lopresti is a lifelong resident of Richmond and a graduate of Ball State University. He was a columnist for USA Today and Gannett newspapers for 31 years; he covered 34 Final Fours, 30 Super Bowls, 32 World Series and 16 Olympics. His column appears weekly. He can be reached at mjl5853@aol.com.
Please enable JavaScript to view this content.