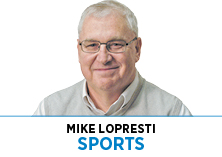 It was so cold when this recent Indians homestand began, the hitters were taking batting practice in stocking caps. By the weekend, it was supposed to hit 80. Welcome to Indiana. But the weather isn't the only unusual thing about the 2022 team. You could go down the lineup the other night and find all manners of unique journeys to Victory Field.
At first base was the guy whose father is in the Natural Bodybuilders' Hall of Fame. Mason Martin did not follow the same career path as his father Chad, but if you're looking for him before an Indians game, check the weight room.
"I thought he was crazy growing up," Martin said. "I was 8, 9, 10 years old getting dragged to the gym and going for three hours. When you're that age you want to go home and play video games. At that age I was really into just going in the back yard and hitting Wiffle balls.
"But once you get a little taste of, hey, I really am getting bigger and stronger, then you start falling in love with it. It's a snowball effect from there. Growing up in that atmosphere, it shapes your mentality a lot and it shapes the way I go about my business. I do things a little bit differently and I'm OK with that because that's how I was raised."
At second base is the man from Daegu, Korea. You think Vincennes, the oldest city in Indiana, has a long history? Ji-Hawn Bae's hometown got its name in the year 757.
At shortstop was Oneil Cruz. That's 6-foot-7 Oneil Cruz. When he was called up to the Pirates late last season, he became the tallest man to start a game at the position in the history of major league baseball. And about his first name. His dad was a big Paul O'Neill fan, who had big years with the Reds and Yankees and played two seasons for the Indians four decades ago. Here's his namesake, minus one "l".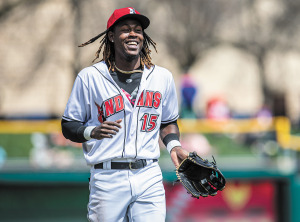 Entering the game to pitch in the third inning was Chase De Jong. He worked the first seven innings of a no-hitter in St. Paul the week before, but how's his putting game? We only ask because his father-in-law is Bernhard Langer, who won two Masters and has been cleaning up on golf's senior tour for years.
In center was Travis Swaggerty. He homered in the 2021 season opener last season at Iowa and also the home opener a week later against Toledo. Then he injured his shoulder after 12 games and was lost for the season. That, after 2020 was gutted by the pandemic. "It just felt like I had not played in 10 years," he said. "To be playing so well last year—my eyes were obviously on Pittsburgh and I felt like If I had kept doing that I would have been there—that part was frustrating. But I got to spend time at home with my family and it ended up my wife needed me."
Peyton Swaggerty started into labor at 30 weeks. Way too early. Doctors stopped it but she delivered a baby girl at 34 weeks. Sutton was born at four pounds, 14 ounces, and spent the first five days of her life in intensive care. And now? "She's perfectly healthy. Beautiful," her father said. Every time Travis Swaggerty thinks back on that season-ending injury a year ago, he sees it as something very different than bad luck. "My wife's pregnancy was pretty rough and if she had had to go through that without me, it would have really been hard on her. God's timing is everything. I firmly believe that. I was supposed to be home last year."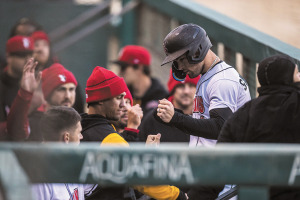 The DH was Hunter Owen, an Evansville Mater Dei product. So is pitcher Jerad Eickhoff. Mater Dei has had three alums in history play in a major league game, and two of them are now in the same Indians' clubhouse.
On the bench was new manager Miguel Perez. He's played here, coached here. "This is a great place to be. When I started my managerial career, it was one of the first places I thought about, that hopefully one day I would be in Indianapolis as a manager," he said. "And here I am, eight years later.
"I'm looking forward to the 4th of July."
He said his wife loves the city. That would be Mariafernada Lara, who was once a member of Venezuela's national rhythmic gymnastics team. Perez has learned to enjoy the sport. Good thing, because his daughter has gotten involved, too. "I cannot be the judge, but now I know the terms and the difficulties," he said. Not that the Indians manager is offering any coaching tips. "I just drive my family over, watch them compete and get in the car and drive them back."
On the bench Tuesday was Canaan Smith-Njigba, an aspiring prospect who plays such a good outfield, he went nearly 500 innings last season at Altoona and committed one error.
His last name might ring a bell. It certainly would if you were the defensive coordinator at Utah. Canaan's brother Jaxon is a wide receiver for Ohio State and started the new year with 357 receiving yards for the Buckeyes in their 48-45 Rose Bowl win over the Utes. That was the highest receiving yardage total in the history of bowl games. Canaan was in the Rose Bowl stands, hugging his parents and cheering for the brother he grew up constantly competing against.
"I knew every day when school let out, I had a one-on-one basketball game or a one-on-one football game," he said. "I used to win all the way up, until about now. I think one of the reasons his hands are so good, he used to stand 10 yards away and I'd throw it as hard as I can and if he dropped one, I'd yell at him."
Between starts Tuesday was Beau Sulser. Not many Ivy League pitchers of the year are out there in professional baseball, but he is. His older brother Cole attended Dartmouth and was drafted by Cleveland, so Beau followed the path, figuring it'd make a fine Plan B if his baseball hopes went bust.
"The idea of having an Ivy League education if baseball doesn't work out is what sold me on it. It kind of sets you up for life afterward," he said. He double-majored in psychology and public policy—improving his time management was the biggest challenge—and he has already started two sports-related businesses. One was a consulting service for college recruits, the other a soon-to-be-launched app for young athletes to find instructors who can study videos and provide feedback. Sulser's Dartmouth years at work. But he still would like to pitch a while.
So would Nathan Kirby. When Virginia clinched the 2015 College World Series over Vanderbilt 4-2, Kirby got a strikeout for the final out. It's been a struggle since. Tommy John surgery in 2016, another surgery needed in 2017, another in 2019 for thoracic outlet syndrome, plus a stress fracture in his ribs. The pandemic in 2020. That means this season with Indy is Kirby's eighth year as a professional pitcher, but only his fourth on the field.
Not your garden variety Triple-A story. The 2022 Indians have a lot of those.•
__________
Lopresti is a lifelong resident of Richmond and a graduate of Ball State University. He was a columnist for USA Today and Gannett newspapers for 31 years; he covered 34 Final Fours, 30 Super Bowls, 32 World Series and 16 Olympics. His column appears weekly. He can be reached at mjl5853@aol.com.
Please enable JavaScript to view this content.