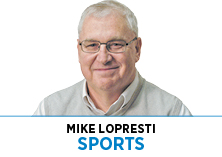 Here comes the NCAA Tournament, and would it be asking too much to request something good to happen for someone from Indiana? After what's happened to the Colts, to IU football, to the Pacers, to Butler basketball … well, you'd think the 16th state admitted to the Union is due.
◗ Purdue men, you're on.
It's been generations since the last Final Four. Forty-two years. The Great Black and Gold Drought. Fifty-four different schools have made it since 1980, but not the one with the world's biggest drum.
The Boilermakers have been on the short list of top contenders all this season. There is supposedly the star power, the explosiveness, the depth. Certainly the size. Zach Edey would be the tallest building in a lot of Indiana towns. Purdue was No. 1 for about 15 minutes, but that was months ago. No matter. Only two No. 1 teams have won the national championship in the past 26 years. It's like going into the tournament with two bowling balls attached to your basketball shoes.
But the Big Ten regular season included six losses, and the defense hasn't been good at times, and the outside shooting has occasionally wandered off, and there have been too many turnovers. Still, it should be noted that four of those defeats came in the last 20 seconds and two were inflicted with shots that were absolute prayers. Besides, the record doesn't decide everything. The Boilermakers lost nine games during the regular season the last time they went to the Final Four.
But something seems a tad amiss with this team, and starting next week, there are no more do-overs.
To make Purdue history, they'll first have to forget a lot of it. Tough losses back almost as far as the eye can see. The four NCAA Tournament overtime defeats in the past seven years, a nasty run of gut shots that no other program in the nation has endured. The indignity of losing to North Texas in Indianapolis, the maddening thought that 42 Carson Edwards points were not enough against Virginia. The ghosts of Mamadi Diakite, Josh Hagins and Troy Caupain—all who made last-second shots to yank victory from Purdue.
Is this Purdue team good enough to overturn all that bad karma?
"As a coach, you're always greedy. You want to be better," Matt Painter was saying of the current state of his team. "It doesn't mean we can't get beat, but when we take care of the basketball, we give ourselves a pretty good chance to win the game."
And what if they have a night when they can't hit the Wabash River from the bridge in downtown Lafayette? "You can still do the constants," Painter said. "You can still take care of the ball; you can still rebound."
Forty-two years. Maybe it's just time. Or maybe somewhere there are more pins being stuck in a Purdue voodoo doll.
◗ You're on, IU women.
Indiana was ranked No. 5 as recently as mid-February, but then came injuries and a shaky finish to the regular season. The Big Ten Tournament turned into a restart button, as the Hoosiers showed the balance, the poise, and especially the savvy. But then you should have savvy when one of your guards is 26. Ali Patberg is older than Gainbridge Fieldhouse. When she was Miss Basketball in 2015, Kaitlin Peterson was in the sixth grade. Now they're teammates.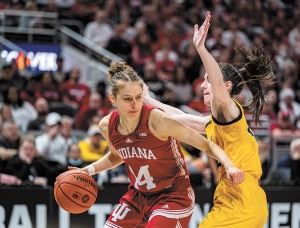 No Big Ten women's team has ever completed the marathon of winning four games to take the conference tournament, but the Hoosiers nearly did. It was a reminder that the Elite Eight spot last March was no fluke, and that they will be a tough out. It might also have earned them the right to host first-weekend games in Bloomington.
"They are who they are," coach Teri Moren said of her team. "They're tough. They're together. Their chemistry is off the charts.
"Resilience is the only word I can use to describe them, because they just keep showing up."
◗ You're on, IUPUI women.
The Jaguars won the Horizon League tournament on Tuesday, just like two years ago, when they were able to celebrate for two days. Then the pandemic wiped out everything, including the school's first-ever NCAA Tournament appearance.
"We had the emotions of our first time," coach Austin Parkinson said of 2020. "And then it was taken away."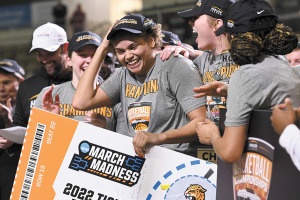 Not this time. At 24-4, they have the looks of a first-round troublemaker for some favorite, having upset Iowa and pushed Michigan into overtime. "We're ready for anybody we play," guard Destiny Perkins said. "We're not nervous; we're not scared. When it comes game time, we don't care who the other team is, what their [record] is, what their rank is."
IUPUI has something no other team in America has—a four-time conference player of the year. Macee Williams now goes on the short list of Division I players who ever accomplished such a thing: four women, one man.
Williams, Perkins and veteran star Rachel McLimore were among those who went through 2020, when the NCAA Tournament trip suddenly vanished. And 2021, when they fought COVID all year and were upset in the Horizon tournament. They were preseason favorites this season but started out league play 0-2 because the conference decided they had to forfeit two games lost to COVID.
"It was a fun year but it was a stressful year, because there was no room for error," Parkinson said. "Then you add on the previous year when we didn't go. That's a lot of pressure on a lot of young ladies.
"I think it speaks to the character of the ladies in our locker room and what they were about, because nothing—no matter what happened—was going to get in their way."
Tuesday was especially poignant for one of his assistants. Two years ago, Holly Hoopingarner was his point guard and named MVP of the Horizon tournament. The cancellation of the NCAA Tournament crushed her. She was a senior, and her last chance was gone.
Now she's back on the IUPUI bench as an assistant.
After Tuesday's title game, Williams said, "Holly and I had a moment. We hugged for a little bit and I kind of got teary-eyed because I know COVID took that away from her. Even though she's not playing, she's still experiencing what we're experiencing."
As the players cut down the nets, Hoopingarner stood off to the side. In 2020, she was on the ladder in her uniform, looking forward to her NCAA Tournament moment that would never come. "We had such a high and then it got canceled," she said. "We wanted to play, but this is just as good, getting to see them compete. It's almost like a dream come true."
Would you believe IUPUI being sent to Bloomington for the first round? Maybe even matched with the Hoosiers? That'd be a sight. But one thing is certain: Whoever the Jaguars' opponents, they're going to be watching a lot of film of that Iowa game.
Something Moren said about her IU team: "They don't blink."
It's March. Now, none of them can.•
__________
Lopresti is a lifelong resident of Richmond and a graduate of Ball State University. He was a columnist for USA Today and Gannett newspapers for 31 years; he covered 34 Final Fours, 30 Super Bowls, 32 World Series and 16 Olympics. His column appears weekly. He can be reached at mjl5853@aol.com.
Please enable JavaScript to view this content.