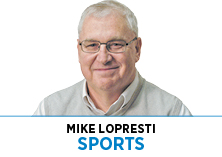 Here's one big sports event Indianapolis will never get its mitts on. Matter of fact, here's one event that teams from Indiana hardly ever get to see in person.
This will explain how beloved the College World Series in Omaha, Nebraska, has become in the universe of baseball. Walk through the tailgate parking lot outside beyond the stadium's left field wall and look at all the flags flying from RVs and vans, displaying school loyalties.
LSU … Nebraska … Oregon … Minnesota … Florida State …
Hey, wait a second. Those teams weren't even playing here this year. But the people still came from hither and yon to gather in college baseball's holy land. Lots of towns only dream of a brand like this. Or as Notre Dame coach Link Jarrett said, "When you say Omaha, I think the country knows exactly what you're talking about." We have that in Indy, too. It's a car race.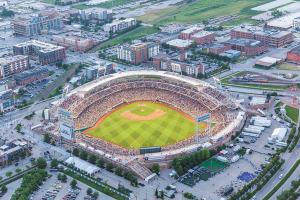 Anyway, here's the thing about the College World Series and Indiana teams: It's not just a mountain to climb, it's Everest. Indiana has been here but once. Purdue never. Indiana State once in 1986, which all things considered, might have been even a bigger Cinderella story than Larry Bird's basketball Sycamores seven years earlier. Notre Dame has been here this June for its third trip. That makes five appearances for the state of Indiana—or 80 times fewer than California.
The entire current membership of the Big Ten has 30 total appearances. The University of Texas has 38 all by itself. Wisconsin has not shown up here since 1950, Michigan State 1954, Ohio State 1967. Whoever ran up that Minnesota flag in the tailgate lot has a long memory. The Gophers haven't been here in 45 years.
The message is clear. The SEC comes here in waves, the Midwest in a trickle.
Which brings us to Notre Dame 2022.
The Irish might have pulled off the college sports feat of the year in the state of Indiana by getting to Omaha. You say the echoes rarely wake up to baseball? Well, Knute Rockne played the game and his famously flattened nose came not from a football tackle but a baseball bat.
To get here, Notre Dame had to survive the orange cauldron of Knoxville and take down mighty Tennessee, the No. 1 ranked giant of the sport. The Irish then beat Texas in their first game in the College World Series, on a night when pedigree obviously did not matter. The Longhorns were playing in their 152nd College World Series game, Notre Dame its eighth.
After that, the Irish lost to Oklahoma to slip into the loser's bracket and Tuesday were soundly eliminated by Texas A&M. No more would Omaha 2022 have the unusual juxtaposition of "Take Me Out to the Ballgame" next to the Notre Dame Victory March. But that shouldn't detract from the fact they made it here, facing obstacles that the warm-weather powers from the SEC might not understand, but anyone from Indiana certainly would.
While the southern teams are playing baseball games in December and January, the northern teams are scraping their windshields. As Lou Holtz once noted, there isn't much south about South Bend in the winter. When Notre Dame opened its season in Florida in February, the Irish had not practiced a single minute outside. Not one grounder.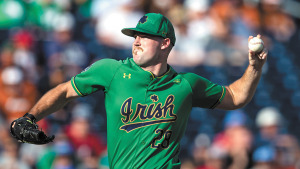 Sixteen of their first 17 games were on the road, away from their frosty campus. That makes it a challenge to build a record the NCAA Tournament selection committee will smile upon one day. Star pitcher John Michael Bertrand took a moment on the day before he beat Texas here last week to describe what it's like.
"I think back to the winter days when there was a foot of snow on the ground, the roads are iced over and you're trying to get a ride because you don't have a car to get to the facility so you can change and make the walk over to the indoor practice facility that we have. Even when we finally played a home game, that one start was about 40 degrees. There's 20 or 25 mile-an-hour winds, it was raining, and it turned into hail. That game was brutal. But the game was very, very important.
"So with the effort and the determination and the attention to the small details—being able to get all those practices done when it's [a] blizzard out—and playing through those games that quite frankly suck and maybe should not even be played, it's tough to get here for a northern team.
"But it's worth it. All those days you're freezing your butt off, it's worth it."
Notre Dame came to Omaha 85-30 since the start of 2020, the second best record in the nation. When the Irish rallied from 3-1 behind in the seventh inning to beat Tennessee for the super regional title, it stunned the world of college baseball. The Vols had been 49-0 this season when leading after six innings. Notre Dame is the only school in the country this academic year to put teams in the Men's College World Series, men's and women's NCAA basketball tournaments, and a New Years' Six bowl.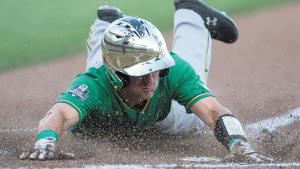 And this has all been done in a place where the phrase lake-effect snow means something.
"You have to have the ability to adapt to your situation," Jarrett said of trying to win big in college baseball in northern Indiana. "I've had to change how I practice, when we practice, how long, how you do your preseason. You better be creative with what you're doing training-wise to prepare them. If not, you're not going to get out of the gates."
And you'd better figure out how to thrive on the road. Or as Jarrett described, "sitting in O'Hare waiting for a flight, and then Sunday packing up at the hotel and scrambling, playing the game and busing somewhere and flying back to O'Hare at 11 o'clock, and busing 2 ½ hours to campus and you roll into the locker room at 1 or 2 in the morning. Sometimes it's four, five weeks in a row."
An SEC team would be aghast at such a schedule. For a northern program, it's part of the deal. "At this point in my career, I'm pretty used to it," senior first baseman Carter Putz said.
So here they were in Omaha, a team from Indiana, if not quite Indiana's team. Of 41 players listed on the roster, only two are Hoosiers. But their achievement is still something to admire, as are their stories. Take Bertrand, a graduate student from the state of Georgia.
"Everyone has their own journey to get here. You look at mine. I started out as a walk-on at Furman University, and I got cut my freshman year. There's probably not a lot of stories where you get that, and five years later, you're playing in Omaha," he said. Along the way, he picked up two master's degrees.
Alas, there are reports Jarrett might soon be taking the vacant Florida State job. He's from there and besides, winning in Tallahassee sounds a lot easier than doing it in South Bend. The same thing happened to IU, when Tracy Smith led the Hoosiers on their only Omaha journey in 2013, and soon after was headed for Arizona State.
Take a look at Interstate 80, the road from Indiana to Omaha. A lot of trucks are on that highway, but not many college baseball teams.
"Is it hard? Probably," Jarrett said. "Can it be done? Absolutely."•
__________
Lopresti is a lifelong resident of Richmond and a graduate of Ball State University. He was a columnist for USA Today and Gannett newspapers for 31 years; he covered 34 Final Fours, 30 Super Bowls, 32 World Series and 16 Olympics. His column appears weekly. He can be reached at mjl5853@aol.com.
Please enable JavaScript to view this content.