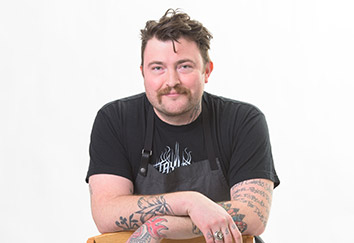 High-profile local chef has issued an apology for a recent Instagram post that he maintains was a joke but that local members of the Jewish community described as dangerous anti-semitic rhetoric.
Brooks, an owner of Indianapolis restaurants Milktooth and Beholder, has gained national prominence for his eclectic food and often-changing menus. He opened Milktooth with his then-wife, Ashley Brooks, in Fletcher Place in 2014, and was named one of Food and Wine magazine's 10 "Best New Chefs" the following year.
Milktooth, which had been operating on a carryout-only basis since December, reopened for dine-in service Friday with a new menu that includes Jewish deli-inspired items, including knishes and matzo ball soup.
The day before Milktooth's reopening, Brooks posted a message to his personal Instagram account that he said was a response to allegations that he was appropriating Jewish cuisine. Brooks, 36, is Jewish.
According to The Indianapolis Star, which reported the controversy last week, the post jokingly said, "If I'm not 'really Jewish' then how would I be so familiar with the taste of children's blood?" Brooks said he has since deactivated all his personal social media accounts.
The message was a reference to blood libel—a centuries-old anti-semitic falsehood that accuses Jews of murdering Christians, especially children, to use their blood in rituals.
On Tuesday afternoon, after backlash from members of the local Jewish community, Brooks posted an apology via Milktooth's Instagram account.
The message read, in part, "I would like to formally apologize and share my regret for the statements I made last week on Instagram. I sincerely was shocked that anyone could interpret them as anything but commentary and mockery of the ridiculous nature of anti-semitism and racism as a whole, but I acknowledge that my words shocked and hurt members of my community locally and nationally."
Brooks told IBJ on Wednesday evening that his "intentions were not to offend anyone. I think it was pretty clear that I was showing the ridiculousness of anti-semitism—or at least trying to."
He also acknowledged that online attempts at humor can fall flat. "That's the danger, intent is lost in social media. Nuance is lost," he said.
Members of the local Jewish community said they appreciate that Brooks apologized publicly, but they maintain that blood libel is never a proper subject for jokes.
"There are certain things you don't joke about," said Sandy Sasso, the rabbi emerita at Indianapolis' Congregation Beth-El Zedeck. "(Brooks) may have meant it that way, but because of the seriousness of this reference and its long history of tragic consequences, it's hard to consider it a joke."
Sasso said the myth of blood libel has been around since the Middle Ages and has a long history of being used as incitement for violence against Jews.
Lindsey Mintz, executive director of the Indianapolis chapter of the Jewish Community Relations Council, said her office has seen a "steady increase" in anti-semitic incidents in Indiana over the past six or seven years, making statements like the one Brooks posted last week especially troublesome.
"For some people, using really problematic language might not seem that dangerous," she said. "But from the JCRC's perch, we see every expression of anti-semitism, no matter who it's from, as potentially dangerous and a very real concern."
Mintz also said she views Brooks' apology as a "significant" action. "It was necessary, and it's important that he very clearly express regret."
Mintz and Sasso both said that social media has made it easier for anti-semitic ideas to proliferate and harder to stomp them out.
"Part of what makes 21st-century anti-semitism so incredibly challenging to confront is social media," Mintz said. "Social media allows (anti-semitic ideas) to spread like wildfire, and that changes the game significantly."
Rabbi Benjamin Sendrow, who leads Congregation Shaarey Tefilla in Carmel, said blood libel is "a very serious thing and nothing to be made light of." However, he also said people deserve a second chance if they sincerely express regret for their words.
"I think people make mistakes and people say stupid things," Sendrow said. "I think it's very easy to find reasons to be offended by people—and many times they're legitimate—but I think it's very important that we give someone the benefit of the doubt."
For his part, Brooks said he thinks the incident has been "blown completely out of proportion but, at the same time, if I hurt anybody's feelings, I'm obviously regretful of that."
Brooks also said he disputes the idea that some topics shouldn't be joked about, although he understands his comments were hurtful to some.
"I do see that point of view, but I also think people can joke about anything. … I look at comedy as one of the last beacons of free speech," he said.
This is not the first time that Brooks' comments online have landed him in hot water. In 2018, when the traveling mural artist known as Muckrock painted an image of copulating rabbits on Beholder's exterior wall, Brooks posted a vulgar social media response to people who expressed disapproval of the image. The mural has since been painted over, but a painting of the same image now hangs inside the 10th Street restaurant.
"I know that I'm a loudmouth," Brooks said, "I like that about myself."
Please enable JavaScript to view this content.