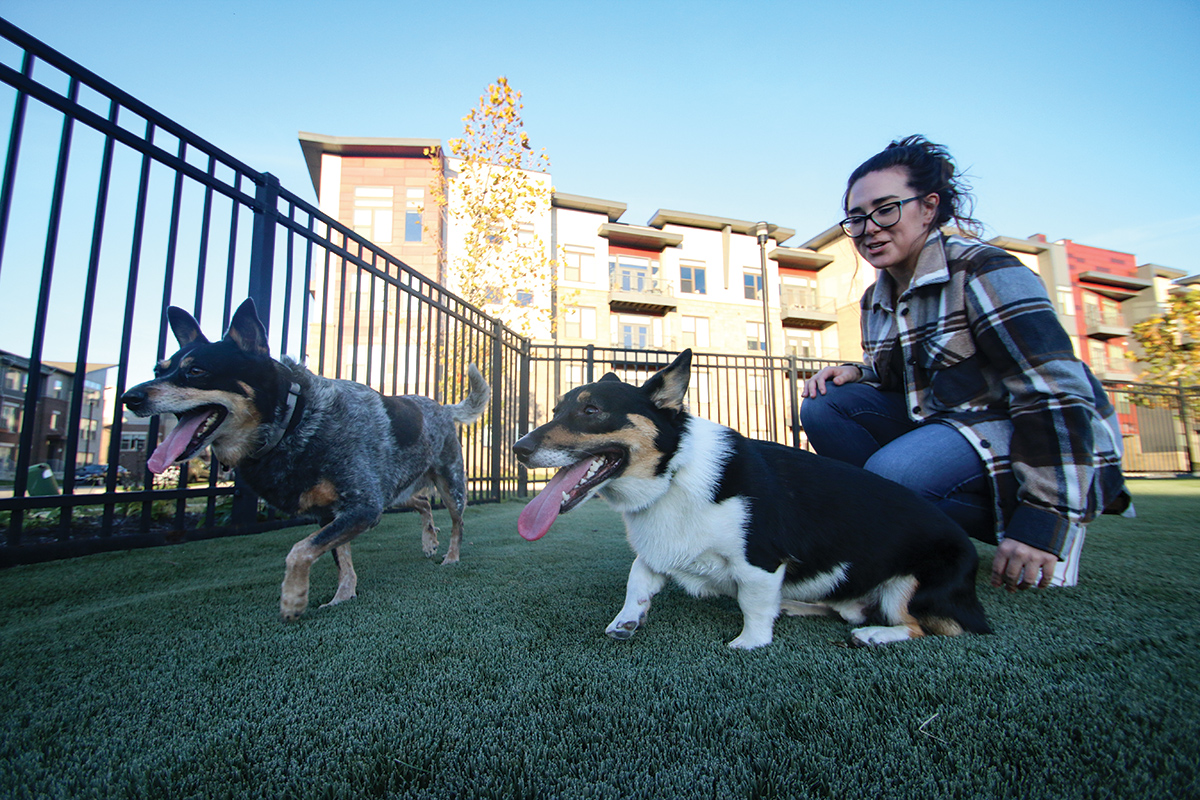 When Lindsay Ford and her boyfriend, Domenic Riley, moved to Indianapolis last summer and started looking for someplace to live, they were concerned about more than just square footage, location and rent.
Their choice also hinged on who could best accommodate their dogs—Riley's 10-year-old blue heeler, Maggie, and Ford's 1-year-old Pembroke Welsh corgi, named Cooper.
"If pets weren't welcome, that definitely was a deterrent for us," said Ford, who is 23. "We don't have kids; we have our dogs. We treat our animals as if they're human beings, and I feel like that's kind of how my generation is right now. I needed a place that accommodates our pets.
"I wouldn't leave my kid behind if I moved," she said, "so why would I do that to my dog?"
The digs they picked are pet-friendly with a capital P. The couple and their dogs live at Avant Apartments in Carmel's Old Meridian District, in a ground-floor, two-bedroom apartment with a small, fenced yard where Maggie and Cooper can relax unleashed. But there's also a half-acre private dog park and a "pet spa" (a dog wash area that can accommodate everything from a Chihuahua to a Great Dane).
"They have plenty of dog-friendly amenities," Ford said. "And their dog park was one of the biggest we saw."
The fact that the couple saw a lot of private dog parks at the places they visited illustrates that providing pet accommodations has become a top priority for apartment complexes seeking younger tenants. The American Pet Products Association found in a survey that 73% of millennials own at least one pet, and 33% of millennials' home-buying decisions are driven chiefly by the needs of their animals.
The trend is so powerful that new-home construction is also seeing an uptick in pet-friendly perks.
Thank the pandemic for supercharging what was an already-growing trend. COVID sent millions of people in search of furry friends to share lockdown with—friends who are now integral parts of their owners' lives.
Apartment complexes old and new are dropping "no pets" policies, scaling back other animal-related restrictions, and going all-in for on-site dog parks and washing stations. Indeed, the Indianapolis rental scene has become so aggressively pet-positive that the Virginia-based real estate company Homes.com named Indy the second-most pet-friendly U.S. city, with 62.1% of area residential rental properties allowing pets.
Downtown focus
The place with the direst need of such spots is downtown, where aspiring twentysomethings and thirtysomethings fill tony new apartment developments—but often, only if they have their own dog parks.
Bob Schultz, senior vice president of events and marketing for Downtown Indy Inc., said his organization is emphatically in favor of more of these. The group's research shows that 66% of renters in the city center are pet owners and that "pet-friendly" is one of their most-searched-for amenities.
"Having pet amenities that attract and retain a growing residential population in our downtown is critical to buoy our entire urban ecosystem," Schultz said. "Pet amenities cannot be discretionary for our developers. And we must continue to identify areas appropriate for dog parks. This remains a priority in our short- and long-term planning for downtown."
That, in part, explains why pretty much every new or new-ish downtown apartment complex, from River West Flats on White River Parkway to The Vue Luxury Apartments on Georgia Street, boasts its own private dog park. They have to, because downtown offers virtually nothing in the way of green spaces where dogs can roam unleashed. At present, the only semi-public option is The Dog Park at Immanuel, a not-for-profit sitting on four adjoining house lots at 382 Prospect St.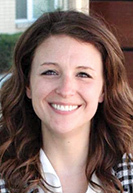 "In the suburbs, you might have a fenced backyard you can let your dog play in," said Laura Giffel, executive director of The Dog Park at Immanuel. "But for us, especially living in historic neighborhoods, we don't have huge backyards. Most of our dogs need to get more exercise than just a short walk on a leash."
That lack of public spaces is highlighted by the overwhelming interest in Giffel's park. When it opened last year, management hoped that perhaps 250 people would buy $20 annual memberships. Right now, the park has more than a thousand members, and the original fee has been bumped to $50. Giffel figures she could ask for a lot more, but that would compromise the not-for-profit park's goal of providing off-the-leash space to all downtown residents.
"We wanted to be really inclusive," she said. "Gentrification is huge down here, and we wanted to make sure that, if somebody had a dog and wanted to bring it to the park, they could afford to."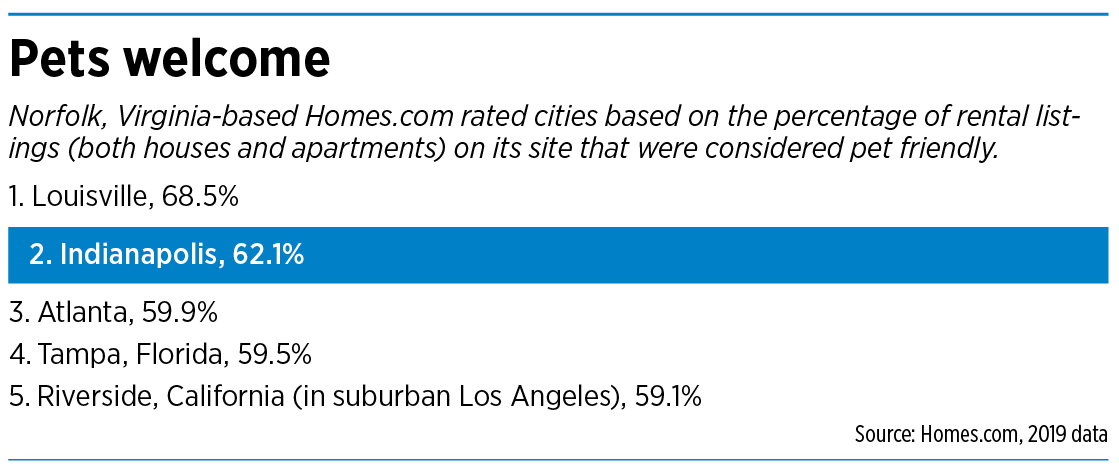 A social connection
Most developers seem to have gotten the message loud and clear. Brenda Coons, director of marketing for the Indianapolis division of apartment developer and operator Edward Rose & Sons, said all the firm's new projects are fitted out with nicely appointed communal "pet spas," where residents can bathe their pets without worrying about drenching their bathroom or clogging the tub drain.
Individual developments also offer social events like "yappy hours" for dogs, usually centered on the complex's dog parks, many of them equipped with agility courses.
"It's a huge draw, and the residents love it," Coons said. "It's important to the owners when their pets have been in the house all day. We see a lot of activity in the afternoon when people get home from work and they let their dogs run and play off-leash."
Coons said about 80% of the company's complexes—including the Avant in Carmel—are equipped with pet parks. In places (such as downtown) where space is at a premium, they're often covered in artificial turf with a drainage system underneath, so they can be cleaned with a water rinse. Retrofitting one into an existing complex can cost around $25,000, while building a new one with a shade structure, water access, fencing, artificial turf and a drainage system might run closer to $60,000.
Considering the folks Edward Rose & Sons is trying to rent to these days, it sounds like a necessary investment.
"Looking at our demographic information for 2021, overall, 36% of our residents are pet owners," Coons said. "Of our millennial residents, 45% are pet owners."
M.J. Trujillo, president of Praxm Management, the property management affiliate of Cityscape, an Indianapolis-based real estate management firm, reckons that the requirement for pet amenities first showed up on apartment managers' radar screens maybe 10 to 15 years ago. Since then, it's grown faster than a German shepherd puppy.
"Pets have always been important to people, but never more than now," Trujillo said. "I think that maybe a little bit is because millennials have kids later in life, and they're adopting pets to have companions. And during COVID and the lockdowns, there was a big surge in pet adoptions. So it's gotten more and more prevalent over the years."
That is why her company, like its competitors, has equipped many of its complexes with pet parks and pet spas. Only, instead of building somewhat utilitarian spas squirreled away in a corner of a garage, the company has elected to make them a bit more luxe.
"We have a nice wallpaper and the interior is just as thought-out as the rest of our clubhouse amenities for our residents," Trujillo said. "You have custom tile, you have artwork. We outfit them with soap dispensers and hair dryers."
Selling point
Of course, apartment dwellers aren't the only people looking for pet perks. Steve Lains, CEO of the Builders Association of Greater Indianapolis, said the kinds of things seen at apartment complexes are also finding their way into new-home construction.
"COVID forced us to create offices at home and separate areas for the kids to play," Lains said. "Animals are getting the same consideration. Formerly, how your pet was going to live in the house was either secondary or not a concern. Now, people are constantly thinking about where they're going to put the pet."
He, like lots of others, said the pandemic helped birth such accoutrements as "dog nooks" (spaces under stairs or perhaps in utility rooms specifically fitted out as luxurious indoor dog domiciles) and the ever-popular dog-washing station. In most houses, the stations are in the garage or perhaps the family mudroom and include a tiled area, floor drain and water source that allows for easy baths and foot rinsing.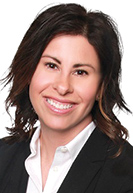 Kristie Smith, founder and CEO of Indy Homes Inc. real estate team, concurred that features like dog nooks and home pet showers are becoming more common in new construction, as are personal dog parks—or, to put it in the vernacular, fenced backyards. In her mind, the latter is the No. 1 pet perk desired by dog-owning homebuyers.
"I have had many, many clients who have asked me to search only for homes that have a fenced backyard, because [a fence] can cost anywhere from $5,000 to $8,000 to install," Smith said.
She also said that home sellers no longer have to worry that having a dog spa or a pet nook might decrease the value of their home. Back in the day, every agent routinely asked homeowners to hide all signs of a pet in residence before showing their home. These days, that's out the window.
"Nobody cares about that anymore," Smith said. "Worrying about concealing one's pets is just not a thing anymore."•
Please enable JavaScript to view this content.