Indiana State Treasurer Kelly Mitchell formally launched her campaign for Indiana's 5th Congressional District on Wednesday afternoon, releasing a video on her campaign's Facebook page.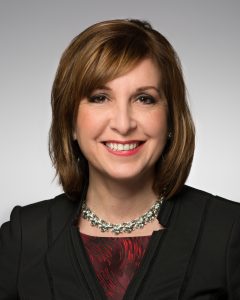 In the one-minute video, the 52-year-old Republican talks about being raised by a single mother on a farm with "no car and no TV" and provides a glimpse into her top campaign issues.
Mitchell says she believes in securing the border (although she doesn't mention Mexico specifically), defending the unborn, protecting the Second Amendment, respecting the flag and showing gratitude to veterans and military members.
She also says the U.S. shouldn't "blink when it comes to China or Russia."
"Folks, it's not hard," Mitchell said in the video. "It just takes guts."
The video also includes an attack on Democrats. While showing images of well-known liberals like House Speaker Nancy Pelosi, Democratic New York Rep. Alexandria Ocasio-Cortez, TV show host Rachel Maddow, Senate Minority Leader Chuck Schumer, and Democratic U.S. Sen. and presidential hopeful Elizabeth Warren, Mitchell says the American dream isn't dead, but it's "under constant attack from the radical left."
Mitchell is among four Republicans who have filed candidacy paperwork in hopes of replacing Republican Susan Brooks in Congress. Steve Braun, a former state lawmaker and 4th District candidate in 2018; Micah Beckwith, a Noblesville pastor; and Danny Niederberger, a Concise Capital Management fund accountant are also running.
Brooks, who has represented the district since 2013, announced earlier this year that she would not seek re-election in 2020. The district includes at least parts of eight counties and stretches as far north as the city of Marion and as far south as the Meridian-Kessler neighborhood of Indianapolis.
Both parties are expecting crowded primary races and potentially a highly watched general election campaign.
Four Democrats have filed to run so far—Christina Hale, a former state lawmaker and 2016 lieutenant governor candidate; Dee Thornton, who ran against Brooks in 2018; Jennifer Christie, a scientist who ran unsuccessfully in the 2018 primary; and Andrew James Jacobs Jr., the son and grandson of former Indiana congressmen.
The Democratic Congressional Campaign Committee is targeting the seat as one they can flip in 2020 and released a statement attacking Mitchell for being a "job killer" after she filed candidacy paperwork last month.
"Hoosier middle-class families are already struggling as the cost of their health care and daily lives keep rising," DCCC spokesperson Mike Gwin said in the statement released Aug. 27. "The last person they need representing them in Congress is a politician like job killing Kelly Mitchell who fought in court to kill good-paying jobs in Indiana and who would go to Washington and back the Republicans' disastrous health care repeal plan that would raise health insurance costs and jeopardize protections for people with pre-existing conditions."
But that statement about killing jobs refers to her predecessor, former Treasurer Richard Mourdock, who tried to block the restructuring of Chrysler in 2009. Mitchell worked in the treasurer's office at that time, but Mourdock pursued the lawsuit, which the state ultimately lost.
Please enable JavaScript to view this content.