Correction: This story has been corrected to say that Micah Beckwith is also running in the GOP primary.
Steve Braun, a former commissioner of the Indiana Department of Workforce Development and brother of U.S. Sen. Mike Braun, has filed paperwork to run in the GOP primary to represent the 5th Congressional District.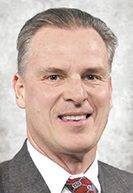 Braun, who lives in Zionsville, did not make a formal announcement declaring his candidacy on Friday or agree to media interviews, but he is expected to do so after Labor Day.
The 5th District includes the northern portion of Indianapolis and the northern and eastern suburbs. The seat is being vacated by Republican Susan Brooks, who has represented the district since 2013 and announced in June that she would not seek re-election in 2020.
Micah Beckwith of Noblesville, a pastor, has also filed to run in the GOP primary.
This will be Braun's second run for Congress. He unsuccessfully ran for Indiana's 4th Congressional District in 2018 in a three-way Republican primary. He did not live in the 4th District,—which includes parts of Boone County, but not Zionsville—but federal law only requires that candidates live in the state they are running to represent.
Jim Baird, who at the time was a state lawmaker, won that 4th District primary and went on to win the seat, which had been vacated by Republican Todd Rokita.
Prior to running for Congress, Braun served as the DWD commissioner under then-Gov. Mike Pence, but he resigned in August 2017 to enter the 4th District race.
Braun founded Braun Technology Group (later Braun Consulting) in Chicago in 1993 and took it public in 1999. By 2001, the company had 13 U.S. offices and more than 700 employees. The company remained headquartered in Chicago, but Braun operated out of the Indianapolis office.
In 2004, Minneapolis-based Fair Isaac Corp. acquired Braun Consulting for about $30 million. Braun stayed with the company for two more years to manage its worldwide consulting group.
Democrats Christina Hale and Dee Thornton have announced plans to run.
Please enable JavaScript to view this content.