Indiana State Treasurer Kelly Mitchell has filed to run for Indiana's 5th Congressional District.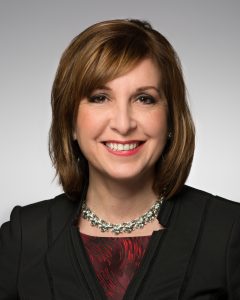 The Republican joins what is shaping up to be a crowded primary field. Steve Braun, a former commissioner of the Indiana Department of Workforce Development and brother of U.S. Sen. Mike Braun, filed his paperwork on Friday. Micah Beckwith of Noblesville, a pastor, also has filed to run in the GOP primary.
The 5th District includes the northern portion of Indianapolis and the northern and eastern suburbs. The seat is being vacated by Republican Susan Brooks, who has represented the district since 2013 and announced in June that she would not seek re-election in 2020.
Prior to becoming state treasurer in 2014, Mitchell was the director of TrustINdiana, the state's local government investment pool. She also was a Cass County commissioner for eight years.
She was considered the surprise winner of the Republican nomination for treasurer during the party's 2014 convention, beating out establishment and tea party-backed candidates. In November 2014, then-Gov. Mike Pence appointed her to take office early after she won the general election, rather than waiting until January 2015, so she could fill the final weeks of former Treasurer Richard Mourdock's term.
Mourdock, who was in his second term, resigned in August 2014, shortly before a cut in retirement benefits for state workers took effect.
Mitchell won re-election as state treasurer in 2018 over Democrat John Aguilera. She garnered nearly 59% of the vote.
Several Democrats also have filed to run for the seat, including former state lawmaker and 2016 lieutenant governor candidate Christina Hale; 2018 5th Congressional District candidate Dee Thornton, Jennifer Christie, a scientist who ran unsuccessfully in the 2018 primary; and Andrew James Jacobs Jr.
Please enable JavaScript to view this content.