Tenants in Indiana have been shielded from losing their homes and apartments since mid-March thanks to a moratorium issued by Gov. Eric Holcomb, but advocates for both low-income residents and landlords say more must be done to aid renters.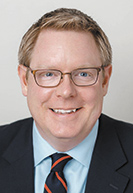 On March 19, Holcomb banned evictions, prohibiting landlords from initiating court proceedings to kick out their tenants. That moratorium is tied to Holcomb's state of emergency, which is set to expire May 5 but is expected to be extended.
The federal government also issued a moratorium as part of the Coronavirus Aid, Relief and Economic Security Act, which prohibits evictions until July 25 for tenants living in units covered by a federally backed mortgage.
And while advocates agree that those moratoriums are helpful, they say more help will be needed long term. Even one missed rent payment can put low-income residents so far behind they can't recover. And a surge of eviction cases will only further hurt the reeling economy.
In March, as unemployment claims exploded, experts warned that many Americans would be unable to pay rent or mortgages come April 1 and asked governments to freeze foreclosures and evictions, a move deemed especially necessary as residents were ordered to stay home.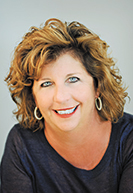 Now, a report from the National Multifamily Housing Council gives an early look at how many renters are struggling: Nearly a third failed to pay their April rents on time, up 13 percentage points over last April.
Only 69% of tenants paid any of their rent by April 5, compared with 82% in April 2019, data from 11.5 million units across the country shows. The council's figures don't take into account public housing or other subsidized housing or rented single-family homes.
By April 19—after some 80 million Americans had received stimulus money from the federal government—that number had increased to 84%.
The Indiana Apartment Association, a trade organization that represents more than 230,000 units across the state, estimates the average Indiana delinquency rate for April is as high as 10%.
And while the moratoriums might give renters more time to make good on their housing payments, it doesn't forgive their obligation to pay, meaning they could owe hundreds or thousands of dollars in back rent when the moratorium expires. The eviction ban is also hurting property owners and landlords, who still have fixed expenses, including mortgages, payroll and more.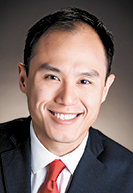 Housing advocates say establishing a federal or statewide emergency rental assistance program would benefit everyone; they've asked Congress to include rental assistance in future federal stimulus packages.
More help needed
Last week, a group of 17 Hoosier housing providers and housing security advocates sent a letter to U.S. Sen. Todd Young, a Republican from Indiana, asking him to urge the Senate to authorize $100 billion in emergency rental assistance, citing increased unemployment claims and missed rent payments as indicators that renters need assistance.
"To help stave off the negative impacts caused by the crisis, we encourage Congress to dedicate funds to emergency rental housing assistance to prevent the unnecessary loss of housing for Americans facing COVID-19-related economic hardship," the letter reads.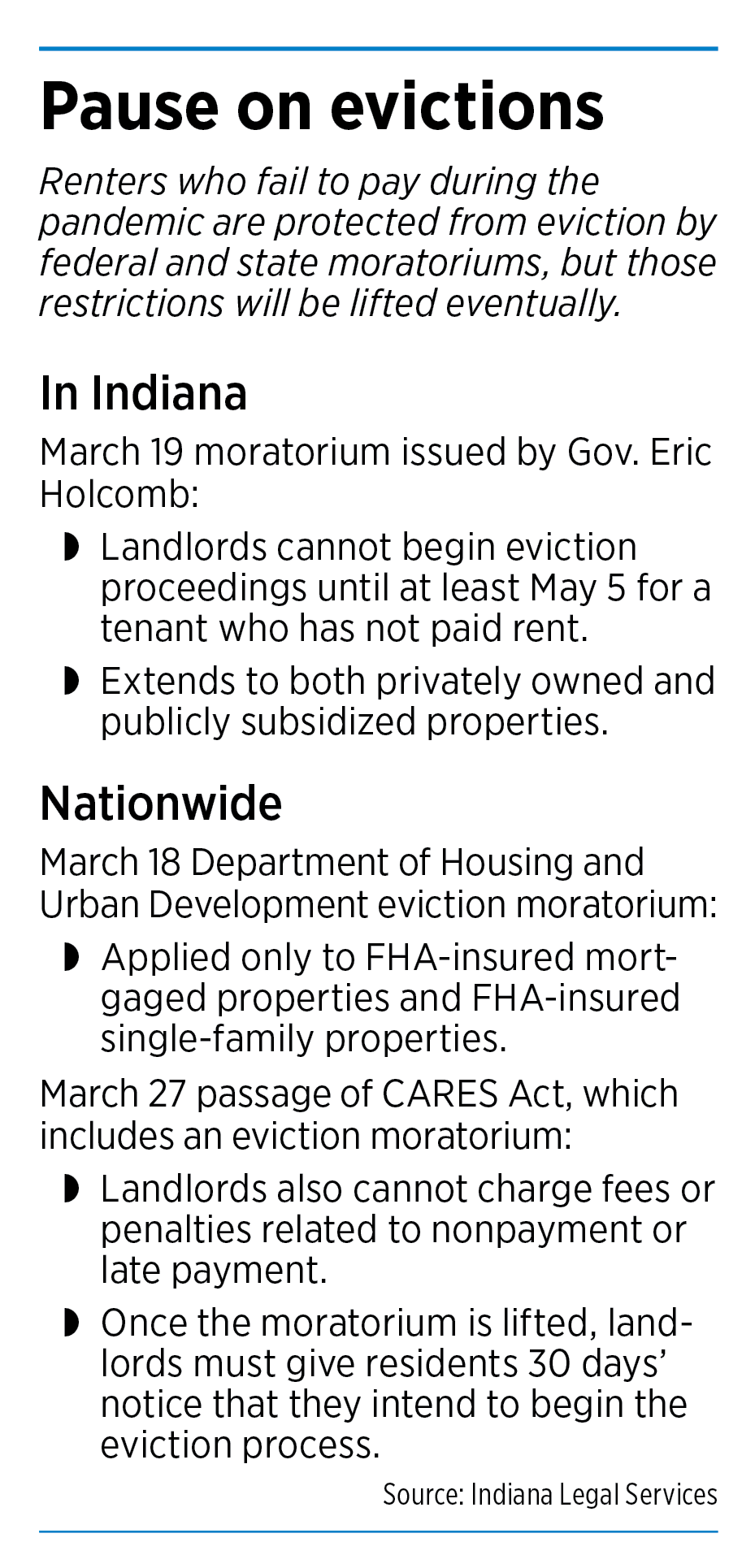 "Providing direct financial assistance to renter households will enable them to fulfill their financial obligations and prevent delinquencies that would otherwise lead them to losing their home," the letter said. "At a time of major housing affordability challenges across the nation, this type of assistance could mean the difference between keeping families housed and them falling into homelessness."
The letter to Young follows a request Prosperity Indiana and partner organizations sent to Holcomb urging him to take further action to assist renters.
Andrew Bradley, policy director for Prosperity Indiana, told IBJ it could be months before many low-income workers employed in retail or the restaurant industry are working full time again and able to make housing payments in whole.
He pointed to estimates from the National Low Income Housing Coalition that found some 200,000 low-income Hoosier households will need short-term rental assistance totaling $1.34 billion.
In addition, Prosperity Indiana asked Holcomb to align Indiana's eviction moratorium with the federal government's, which is in place through July 25 and includes a provision for a 30-day notice before an eviction action, meaning the earliest a landlord could take a tenant to court is late August. Prosperity has also encouraged the governor to reward landlords who do not evict hardest-hit tenants for six months after the moratorium is lifted by reimbursing them with market-based incentives.
"It stands to reason you can't just flip on the switch and expect that renters … are going to be able to immediately come back in with all their back rent. That's opening the floodgates to evictions across the state, which would be devastating to the economy and housing security," Bradley said. "There needs to be a plan in place so that renters and landlords alike have some surety and some confidence in what the system is going to look like."
So far, the governor hasn't acted. When asked on Monday whether he'd extend his moratorium on evictions and foreclosures, Holcomb said changes and updates would be announced later in the week.
Lynne Peterson, president of the Indiana Apartment Association, told IBJ delinquency rates in Indiana had been averaging 1% to 2% before the health crisis. The association's properties will begin struggling to pay their own expenses if their delinquency rate reaches 10%, which it's nearing, she said.
As such, it's important for residents to keep paying if they can. She said a rental assistance fund would help keep tenants in their homes where they are safe and help landlords keep up with their own expenses.
Impact on industry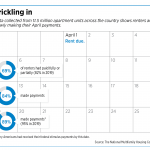 In the meantime, housing advocates and apartment groups encourage tenants to work with their landlords to establish payment plans or other agreements that would go into effect once the moratorium ends.
Brandon Beeler, director of the Housing Law Center at Indiana Legal Services, said he's heard about some landlords waiving rent for struggling tenants, but that's "certainly not state or federal policy at this point," meaning landlords expect to be paid eventually.
With that in mind, Indiana Legal Services is advising its clients to talk with their landlords as soon as possible if they lose their job or have their hours reduced and fear they won't be able to pay rent. Having open lines of communication will benefit both parties, Beeler said.
"I don't really believe that any landlord really wants to file to evict tenants from properties. I don't think anyone wants to do that," he said. "Work with your landlord early, be transparent about your situation, and try to get a plan in place."
Roger Lee and Steve Flanagan, who together own 13 rental units near downtown, say they've been trying to work with tenants who have fallen on hard times. The duo has federally backed mortgages on some of their properties, and as such, have been able to apply for forbearance, a break they've been able to pass on to their tenants. But eventually, they will have to make those mortgage payments; they can't simply waive rent payments for April and May.
"It's not forgiven. It's not like you don't own this anymore," Flanagan said. "You can delay your payments, and we'll figure out a plan. I feel like I try to mirror the same type of options we are getting as landlords."
Some tenants have been upfront about their inability to pay and have established plans to get caught up. Others, facing job loss and bills that were piling up, simply moved out without notifying Lee and Flanagan. Since they're breaking the lease, they will still owe money unless Lee and Flanagan can quickly find a new tenant to move in.
"A lot of our tenants, they are not wealthy people. They didn't have a safety net," Lee said.
He told IBJ the real impact on the rental market will likely come in September, saying the stimulus checks and higher unemployment benefits have helped many renters keep up.
"For now, we haven't seen mass vacancy or a global stoppage of rent payments," he said. "It will be an interesting thing to see what happens in the fall."
Peterson, of the apartment association, said eviction is always a last resort, as it's an expensive process and can have prolonged impacts on renters.
Member properties big and small are helping tenants establish payment plans and waiving late fees, she said. But they're also encouraging tenants to pay what they can so they don't fall further behind.
"When people get too far behind, they can't make it up," she said.
The association also encourages tenants who have the ability to pay rent on time and in full to continue doing so, even though the moratoriums would also prevent them from being evicted.
"We don't know what we're going to see if this continues," she said. "Our properties can't operate without people paying their rent."•
Please enable JavaScript to view this content.