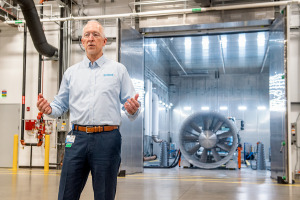 If vehicle transmissions are your company's bread and butter, an electric vehicle can be a scary thing.
That's because electric vehicles don't use the same type of propulsion system as do the gasoline, diesel and compressed natural gas vehicles that currently dominate the highways. In fact, electric vehicles may not need a transmission at all to transfer power from motor to wheels.
That's why Allison Transmission Inc. has invested $335 million over the past four years in product development, strategic acquisitions and new facilities and capabilities, including a new Innovation Center and a separate vehicle testing center at its West 10th Street headquarters campus.
It's a play to keep up with emerging technology so the company isn't left behind as electric vehicles continue to gain traction.
"We're in the biggest period of change in our industry, probably since the move from horse-drawn carriages to internal combustion engines," said Branden Harbin, Allison's executive director of global marketing. "We knew that these investments were required to remain relevant and a market leader in the markets we serve."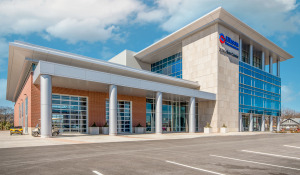 For Indianapolis residents, the most visible sign of these investments is Allison's Innovation Center, a 96,000-square-foot glass-and-brick building that stands on what used to be a ballfield at the corner of West 10th Street and Cossell Road.
The facility, which opened in March, provides a new home for about 300 Allison engineers, designers and others who previously worked at multiple other Allison sites. It also houses an on-site 3D printer those engineers and designers can use in their work—a capability the company had not previously had in-house.
The Innovation Center also features virtual-reality and mixed-reality technology for use by both Allison employees and the company's customers. Using the technology, customers can, for example, get a glimpse inside of a virtual Allison component to better understand how it works and how it might integrate with other vehicle components—a better alternative than physically disassembling the actual component.

Another significant recent addition to Allison's main campus is a testing facility that opened in 2020 as the Vehicle Environmental Test Center. It added additional electric-vehicle testing capabilities last year, rebranded itself and is now known as the Vehicle Electrification and Environmental Test Center.
The 60,000-square-foot test center is designed as a place both where Allison can test its own products and where outside users can book time to test their products. The facility can handle simulated road tests in a range of simulated altitudes and road conditions, in a variety of humidities and in temperatures ranging from negative 54 degrees to 125 degrees.
"If you want to do a New York City bus route, we can program that in," said Dave Proctor, the test center's general manager.
The testing facility also offers emissions testing and thermal testing, as well as high-speed charging for the testing of hybrid, electric and hydrogen-powered vehicles.
"We're trying to look ahead and see, what is the technology and where is it going?" Proctor said.
The facility allows users to test products more quickly and easily, without having to travel to different climates for road testing at different times of the year. Proctor said the testing center can accomplish in five days what might take nine to 12 months with traditional road tests. "It's a major paradigm shift from what testing has been in the past."
About half of the test center's time is devoted to testing Allison's own products. But the rest of the time, it's open to third parties who can book time at the facility.
Outside customers include Nikola Corp., an Arizona company that launched production last month of a battery-powered electric commercial truck. Nikola is currently working on a hydrogen-powered truck that it expects to begin producing next year, and it's testing that truck at Allison.
Allison intends to attract not just existing customers who want to see how an Allison component performs. It also sees the facility as a lure to get potential customers in the door, allowing Allison to build a relationship that might result in additional business down the road, Harbin said.
Focused on innovation
As part of its larger strategy, Allison has also been investing in new products and technologies, notably the eGen line of propulsion systems. In 2020, the company launched both the eGen Flex propulsion system for hybrid vehicles and the eGen Power electric axle.
Allison also acquired London-based Vantage Power and the electric-vehicle-systems division of Detroit-based Axletech in 2019 as part of those efforts.
Electric axles are important for electric vehicles, Harbin said, because they provide a means of propulsion while also serving as a connection point for the various systems in the vehicle, becoming in essence "the brains of the entire vehicle."
Outside observers say Allison generally seems to be making smart moves to remain competitive in a time of technological change—but they also note that, to some extent, the company is investing in a future that remains unclear.
"Allison looks to be doing the right things," said Mohan Tatikonda, professor of operations management at Indiana University's Kelley School of Business at IUPUI. "They are taking the actions that suggest to me that they aim to stay well-positioned."
Tatikonda said he thinks about innovation as something that has several components: innovation in products, innovation in how products are developed, and innovation in the way the products are made. A company might choose to innovate in one, two or all three of these areas, he said.
Allison's innovations seem to be hitting all three: Allison's electric axles are a
new product and the company's Innovation Center and testing facility represent new approaches to product development. And as part of Allison's electric axle investments, the company launched a new production line and testing capabilities late last year at its Auburn Hills, Michigan, facility.
Innovation is necessary for a company that wants to offer differentiated products, Tatikonda said, but it also carries with it some risk. That's because investing in a new technology represents a bet on the future. "Bets can go wrong."
Analyst Rob Wertheimer, director of research at New York City-based Melius Research LLC, said Allison is a market leader when it comes to transmissions—but because electric-vehicle technology is still evolving, it's too soon to say how dominant Allison might be in electric axles.
"Investors don't know who will win, or how long it will take for anybody to win," Wertheimer said.
Which technology will win?
Allison will be competing with startup companies that might be more agile but lack Allison's resources.
But it's also competing with long-established companies like Columbus-based engine maker Cummins Inc. In February, Cummins announced that it plans to acquire Michigan-based Meritor Inc. for $3.7 billion. Meritor specializes in brake and axle technology, including electric axles.
"Cummins believes eAxles will be a critical integration point within hybrid and electric drivetrains," Cummins said in that announcement.
But it's not even certain yet that electric axles will be the dominant propulsion technology for electric vehicles, Wertheimer said.
As an example, he said, Tesla propels its vehicles using a motor on each wheel rather than with an electric axle.
Fred Schlegel, senior lecturer of management and entrepreneurship at Indiana University's Kelley School of Business, also sees a lot of uncertainty when it comes to electric trucks. "The truth is, we don't know enough about the technology and how the technology is going to develop to say, 'This is what it is going to be.'"
That being the case, Schlegel said, Allison is making some smart moves that should allow the company to speed up the pace of innovation for both itself and its customers.
"If you don't know exactly what the future is going to be, you need to be feeling your way toward that future in a timely and cost-effective way," Schlegel said. "More speed and more flexibility put you in a good position."
Another challenge for Allison: While it's investing in its future, the company also needs to continue to support its legacy transmission business.
In general, observers expect electrification to catch on more quickly among passenger vehicles than among commercial vehicles like buses, semis and delivery trucks.
In part, that's because of current constraints on the charging range that batteries can deliver for heavy commercial vehicles and the lack of charging infrastructure to serve commercial fleets.
Years to adapt
Wertheimer, the financial analyst, said it might take "the better part of a decade" before electric trucks outnumber trucks with internal combustion engines.
That means that, while Allison is facing some pivotal challenges now, "they don't need to win the world this year or next year—or in the next three years."
Harbin, Allison's marketing executive, envisions an even longer timeline before electrified commercial vehicles dominate. "We're talking in decades, not years."
Harbin said only about 1% of all commercial vehicles are currently electrified. In a decade, he said, that could grow to between 15% and 25%. The rate of adoption will vary depending on the type of vehicle and the market, because some countries have been early adopters of electric vehicles while others are lagging behind.
Allison is aiming to be the propulsion system of choice, Harbin said, whether that choice is for a traditional diesel vehicle, a hybrid or a pure-electric vehicle. "We're here to help solve problems."•
Please enable JavaScript to view this content.