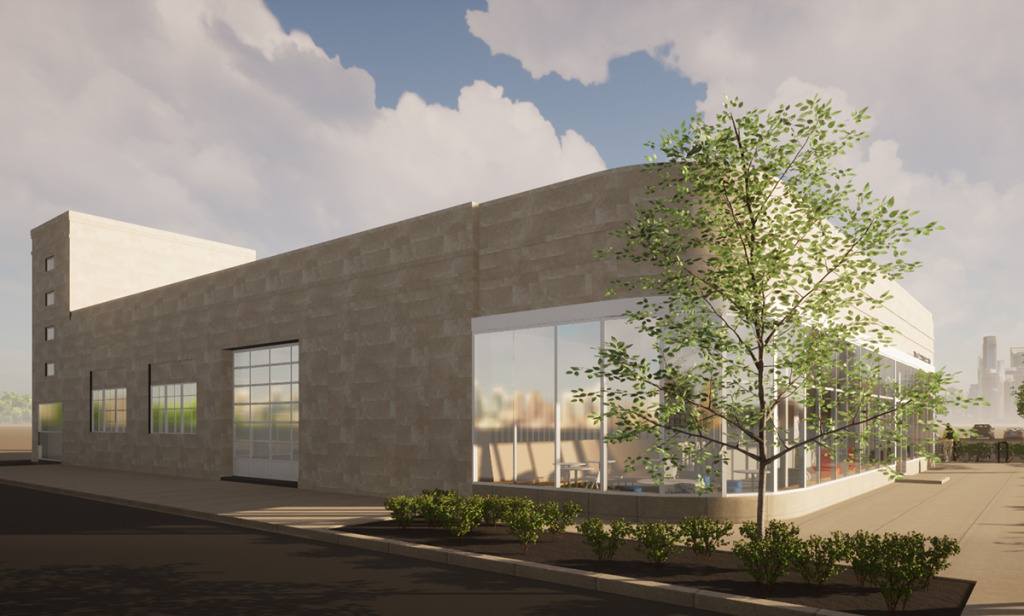 The owners of Indianapolis-based Naptown Fitness are hoping to help revitalize a major commercial hub in Midtown by renovating a classic, 83-year-old edifice and adding a gym, a coffee shop and several community-minded tenants
The 17,176-square-foot building at 3902 N. Illinois St., which includes a full basement, has been vacant since the brewpub Happy Brewing Co. closed in October 2018 after seven months at that location. Prior to that, the building had served as a Double 8 Foods grocery store.
The smooth limestone building with streamlined Moderne design touches (including a rounded corner facing Illinois Street) originally opened in 1938 as the Hoster-Hiser Ford and Lincoln-Zephyr car dealership. It includes an elevator that was used to move cars between a service department in the basement, a first-floor showroom and rooftop storage.
Now, Naptown Fitness owners Jared Byczko and Peter Brasovan, along with Indianapolis builder Michael Boaz of Boaz Construction, are under contract to purchase the property from Midtown Indy Inc., a not-for-profit community development organization.
Midtown Indy affiliate Park West at Maple Crossing purchased the property in December 2017 for $482,000.
Byczko said he and his partners expect to close on the deal by June 2 through their limited liability corporation, Park West Partners. He declined to disclose either the purchase price or the total amount that he and his partners expect to invest in the project.
"It's way more than what we expected, but we believe in the community—and we believe in the community so much that we're willing to take a huge risk," Byczko said of the project costs.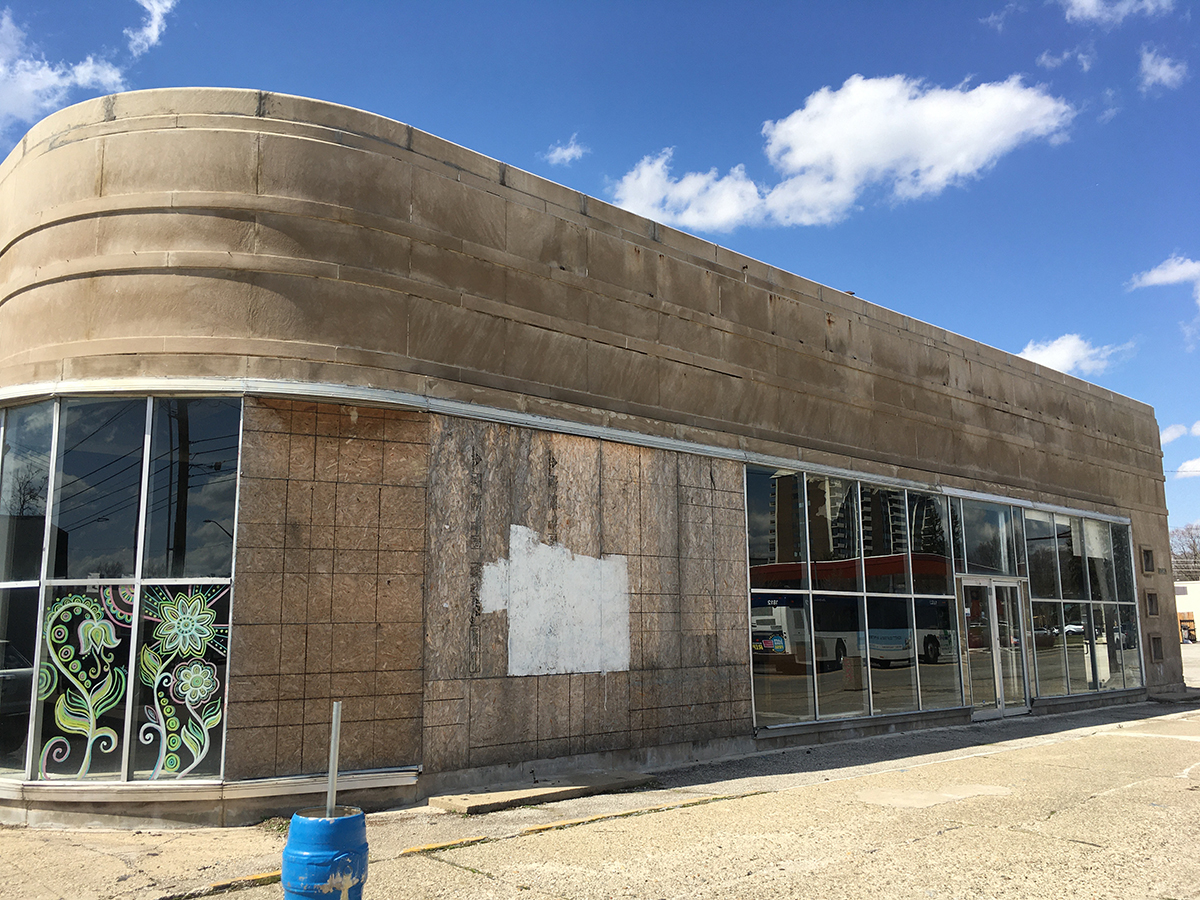 Currently, the partners are finalizing their financing and construction bids, with the goal of beginning construction within the next 30 to 45 days, Byczko said. Based on a spring construction start, the building should be ready for tenants by early 2022.
The partners are pursuing National Historic Landmark status for the building so that they can qualify for tax credits for renovating the structure.
As part of those renovations, an existing mural on the south side of the building will be removed, exposing the building's original limestone surface. The building's original garage doors will be reinstalled, the elevator restored and interior touches such as terrazzo flooring and subway tiles in the bathrooms preserved.
The project architect is One 10 Studio.
Naptown Fitness plans to open a fitness center in about 5,000 square feet of the building's street level, with a 1,000-square-foot yoga studio in the basement.
The fitness center will be a replacement for Naptown's location at 5255 Winthrop Ave. in Meridian-Kessler, which closed late last year due to the pandemic.
Naptown also operates a downtown fitness complex, which includes a gym at 922 N. Capitol Ave., an auxiliary fitness and nutrition studio at 916 N. Capitol Ave. and Practice Indie Yoga at 914 N. Capitol Ave.
In addition to the fitness spaces, the Illinois Street facility will also include a street-level coffee shop of about 2,000 square feet, plus patio seating. Byczko declined to say who will operate the coffee shop because the deal hasn't been signed yet, but he said it will be a locally-based company.
The coffee shop will offer some food items and lower-cost menu options, Byczko said, in acknowledgement that the neighborhood is classified as a food desert because it lacks a grocery store.
"We're trying to be as cognizant as possible of blending and making this space as available as possible to all people," Byczko said.
The partners are still looking for tenants for the remaining 5,000 square feet of basement space. Byczko said tenants could include community groups or not-for-profit groups. He has visions of using the space as a springboard for a number of community partnerships such as a mentorship program for minority youth; and free fitness classes in Tarkington Park, which is directly across Illinois Street.
"This building isn't about Naptown Fitness. It isn't about a coffee shop," Byczko said.
The 38th and Illinois Street commercial hub has been the focus of much attention in recent years with the renovation of Tarkington Park and being named among several neighborhoods targeted for redevelopment support from the Local Initiatives Support Corp.
Please enable JavaScript to view this content.