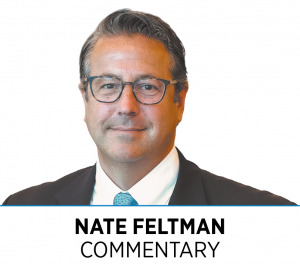 Gov. Holcomb this week delivered his annual State of the State address. He used the opportunity to outline his key priorities for the two-year budget-writing session just getting underway at the Indiana General Assembly. His priorities for the session fall into three areas: (1) building Indiana's economy of the future, (2) improving the health of Hoosiers, and (3) improving Indiana's educational attainment at all levels. He called for major investments in public health, K-12 schools and higher education.
While there are no more important investments than education and public health to help ensure Indiana's long-term economic health, the state must also continue to provide the investment and tools necessary to ensure continued short-term economic development success.
Indiana's economic development team, led by Secretary of Commerce Brad Chambers, had unprecedented success in 2022. The Indiana Economic Development Corp. worked with over 200 companies that collectively committed capital investment totaling $22 billion, nearly three times the previous capital-investment record set in 2006. Nearly one-third of the committed capital ($7 billion) is coming from companies headquartered overseas, setting another IEDC record for foreign investment.
The record capital investment includes 24,000 new-job commitments with an average wage of nearly $35 an hour, almost 40% higher than Indiana's current average wage. Investments are coming to both rural and urban communities across our state, with half of the capital investment committed to rural and mixed rural counties. IEDC investment projects landed in 49 of Indiana's 92 counties.
Many of the new jobs committed last year are in industries of the future—micro-electronics, biosciences, and battery and energy technologies. Companies in these future-focused sectors are making location decisions in record time. Whereas economic development projects in the past could span 18-24 months, deals from start to finish are now happening in less than six months. As a result, the IEDC must have flexible tools beyond traditional tax credits in order to compete against states like Ohio, Michigan, North Carolina and Tennessee, which all have added more flexible tools to their economic development arsenal.
Indiana is often competing against states that have deal-closing funds and shovel-ready sites at their disposal. Creating a statutory deal-closing fund and funding it annually at the $300 million mark would provide the IEDC with an important tool in hotly contested, high-wage opportunities. Separately, the creation of a $150 million site-acquisition fund would enable Indiana to create strategic sites throughout the state for innovative projects like the LEAP Lebanon Innovation and Research District where Eli Lilly and Co. is set to invest $2.1 billion in two new manufacturing sites.
In addition to formalizing those funds, Holcomb's budget calls for re-upping last year's commitment of $500 million for the Regional Economic Acceleration and Development Initiative. READI 2.0 would build on the success of the regional competitive grant program that last year leveraged an additional $7 billion from private, philanthropic and public sources throughout the state. READI projects approved last year include investments in housing developments, quality-of-life projects, and talent-retention and -attraction initiatives.
At a time of record tax collections and a healthy surplus, now is the time to double down on strategic economic development initiatives that will help Indiana retain and attract the high-wage jobs of the future. Under Chambers' leadership, the IEDC is firing on all cylinders. Enhancing the IEDC's toolkit is an important investment in Indiana's future economy.•
__________
Feltman is publisher of IBJ and CEO of IBJ Media. Send comments to nfeltman@ibj.com.
Please enable JavaScript to view this content.