The NCAA has piped in artificial crowd noise for use during most of its games in the Division I Men's Basketball Tournament, to make up for the lower number of fans at each game.
The organization acknowledged Wednesday that each venue was set up so the filler noise could be used inside the bowl, as well as during broadcasts.
"Pending fan attendance, acoustics of the venue and how close the game was, broadcast worked with our vendor to dynamically adjust audio levels for each specific game," David Worlock, director of media coordination and statistics for the NCAA, told IBJ in an email.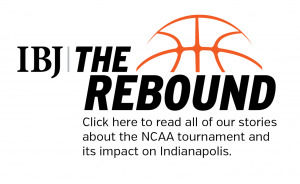 He said the artificial crowd noise works by using audio tracks that mimic typical NCAA crowd reactions, with someone responsible for adjusting the noise based on what happens on the court.
"These tracks are layered on top of each other based on the scenario on the court.," he said. "There is general ambience/murmur, anticipation effects and then responses based on the plays on the court."
The noise is likely to be used for the remainder of the tournament, which resumes Saturday with four games in the Sweet 16.
The use of simulated crowd noise grew in popularity last summer with various professional sports bubbles, including for the NBA's games in Orlando, where no fans were present.
While this year's tournament does have fans, they number far fewer than in years past because of the pandemic, with all venues limited to no more than 22% capacity—and most at far less. IBJ reporting has found the crowds have been far quieter than in typical years, as a result.
Games through the second round have drawn 111,000 people, with an average attendance of 2,180 people per game from Thursday through Monday at seven courts at six venues in Indianapolis, Bloomington and West Lafayette.
Without capacity limits, the figure would likely have been much higher for those games—perhaps exceeding 850,000 total. However, in all other years, the tournament is held across the country (often in larger venues) with multi-game sessions, rather than a single city.
Please enable JavaScript to view this content.