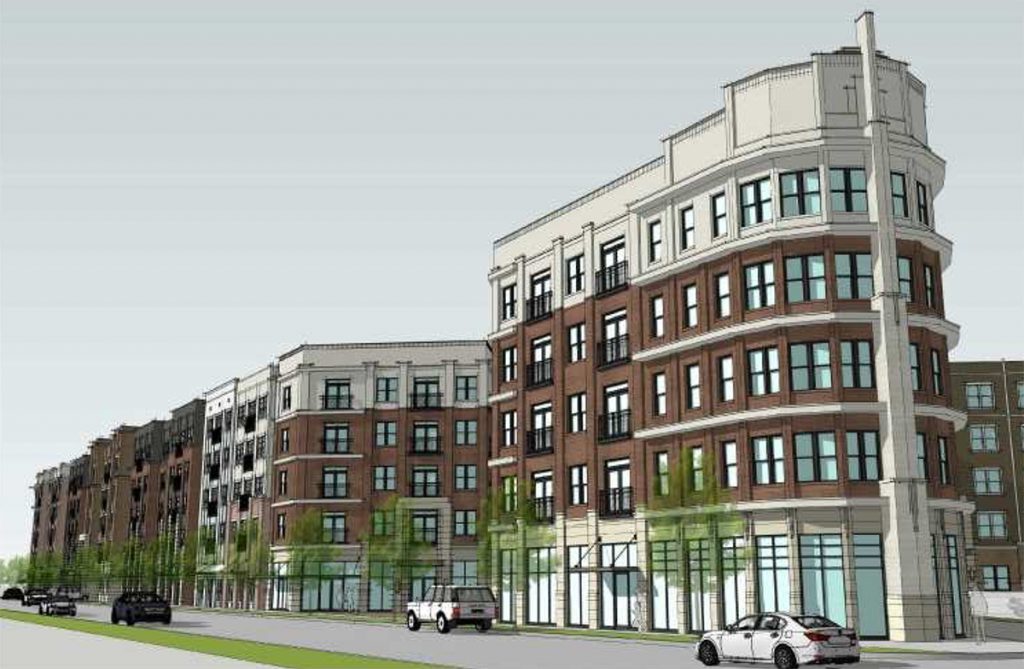 An Indianapolis developer is finalizing plans for a five-story residential and retail project adjacent to the Madam Walker Legacy Center on downtown's northwest side.
Buckingham Cos. this month received approval from the city's Metropolitan Development Commission to rezone 2.6 acres at 719 Indiana Ave., directly northwest of the historic Walker Center.
Buckingham has filed a conceptual site plan for the project with the city but declined to comment for this story.
Plans for the development—which does not yet have a formal name—include dozens of apartment units on each level and an unspecified amount of retail space on part of the ground floor.
City documents show that the apartments would range from studios to three bedrooms, along with a handful of co-dwelling units—apartments that have separate bathroom and bedroom areas for different sets of residents, with a shared living and kitchen area.
The project would have two distinct sections: a long street front on Indiana Avenue, and a thinner portion that bumps out to the northeast to Dr. Martin Luther King Jr. Boulevard.
The Indiana Avenue-facing portion of the development would include an extensive amenities and leasing area, as well as a cafe.
The project would also include about 34 off-street parking spaces, accessible from Indiana Avenue.
Buckingham is the primary developer behind the CityWay project near Bankers Life Fieldhouse and owns and manages a variety of other developments throughout Indianapolis.
The Metropolitan Development Commission approved the firm's request to rezone the Indiana Avenue property from C-S to CBD-2 on July 1, bringing the site into compliance with the city's Regional Center Plan, which calls for a medium-density mixed-use project there.
Two remonstrators asked for a continuance during the MDC meeting—indicating they "were not engaged" in discussions about the project, despite having a vested interest—but the commission opted to move the case forward because it had already been subjected to delays.
"Everybody wants a win-win situation," said Paula Brooks, a remonstrator with the Ransom Place neighborhood, during the meeting. "We're not against development, but we need development that serves the community, especially a community with a lot of longtime residents. And we've been totally ignored [by] the city for decades in terms of planning."
Michelle Roos, rector at St. Philip's Episcopal Church nearby, added she was interested in seeing additional commitments from Buckingham for the property, including easier access to St. Clair Street—behind the proposed project—for emergency vehicles. She said the group is also concerned about the potential height of the building.
The property, which for the most part is currently used for parking, is owned by the Madam Walker Legacy Center, but is under contract for an undisclosed amount by Buckingham. The firm was selected following a request for proposals process for the property.
The project is expected to be considered by the Regional Center Hearing Examiner, which has jurisdiction over design, in coming months.
Please enable JavaScript to view this content.