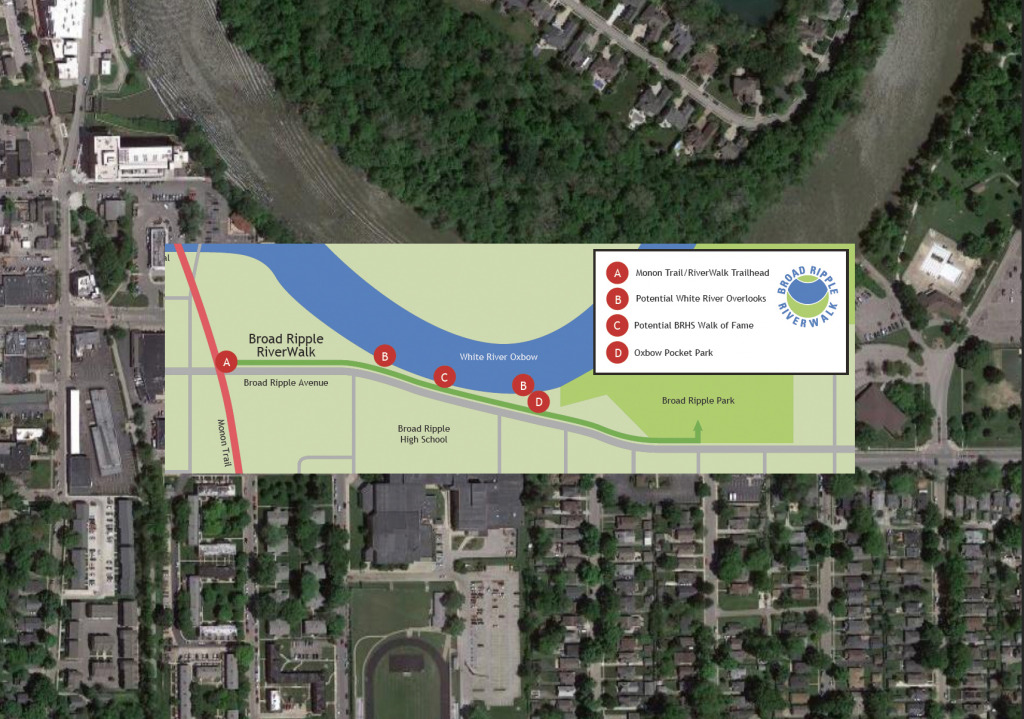 After more than three decades of discussion about creating a multi-use promenade between Broad Ripple Village and Broad Ripple Park, construction of the trail is set to begin early next year.
The city of Indianapolis and the Broad Ripple Village Association expect to spend a combined $1.2 million on the RiverWalk project, which will run along the north side of Broad Ripple Avenue between the street's intersection with the Monon Trail and the entrance to the park—roughly the six blocks between 1000 and 1600 Broad Ripple Avenue.
The RiverWalk will be "more than just the standard asphalt trail," said Joshua John, treasurer of BRVA. Instead, it will be a 12-foot-wide pathway composed of a concrete aggregate, featuring benches, landscaping and other amenities. All the land to be used for the project sits in the public right-of-way.
John said the effort follows more than 30 years of residents and business owners calling for more connectivity between the village and the park, as well as better visibility for the White River directly north.
"As it has gotten cleaned up, and become much more of a community asset, there's a greater emphasis on incorporating the river and river views into our community," he said. "Having this path that goes along the river will go a long way in making that happen here in Broad Ripple."
The RiverWalk is being financed through a 2018 matching grant awarded by the Department of Public Works, with the city and BRVA equally sharing the cost. They expect the price tag to be around $1.2 million once a winning bid for the work is chosen. So far, BRVA has raised $510,000 for its side of the match, with plans to continue fundraising through the fall, John said.
BRVA also plans to raise an additional $200,000 for lighting and benches along the trail, with those efforts expected to run into early 2022.
The project is expected to feature at least two river overlooks, as well as—potentially—a Broad Ripple High School "walk of fame," featuring prominent graduates.
Notable alumni include late-night-TV legend David Letterman, architect Michael Graves, former Mayor Steve Goldsmith, physician Alicia Monroe, Indiana University basketball coach Mike Woodson, actor Abraham Benrubi, NBA player George Hill and NFL players Stacey Toran and Rosevelt Colvin.
Additional phases of construction could include a more rugged, unpaved trail closer to the river, but those plans have not been finalized. 
"We've seen how well-used the Monon Trail is, so this will allow us to just make Broad Ripple that much more accessible," said Summer Keown, executive director of BRVA. "We also recognize the economic impact of adding trails to a community, so it will benefit Broad Ripple in that way as well."
Construction of the initial RiverWalk project will run concurrently with a massive reworking of Broad Ripple Avenue between North College and Primrose avenues, which is scheduled to begin next summer.
Broad Ripple Avenue will receive new sewage infrastructure, traffic signals and at least one intersection realignment at Compton Street.
The initial cost of the RiverWalk was expected to be around $1.5 million, but incorporating the trail with DPW's other project reduced costs, BRVA officials said.
For the length of the RiverWalk, bicycle lanes that run along either side of Broad Ripple Avenue will be removed. The trail will be separated from the avenue by a 5-foot buffer.
The RiverWalk and avenue construction projects are expected to be put out for bid separately in November, with "construction starting in early 2022 and completion by the end of next year," a DPW spokesperson said. The winning bidder will be expected to complete both projects.
A small portion of the trail has already been completed, with developer Zinkan & Barker incorporating the trail into its apartment development called The Ripple that was completed in 2019 at 1430 Broad Ripple Ave. The work was done in consultation with BRVA and DPW to avoid extensive demolition in front of the property.
John said other assistance has been donated by businesses such as Keystone Corp., the owners of Flanner Buchanan funeral homes, the BRICS ice cream shop and Avenue Development, which is developing the new family center at Broad Ripple Park.
Construction on the family center is expected to break ground this summer.
Please enable JavaScript to view this content.