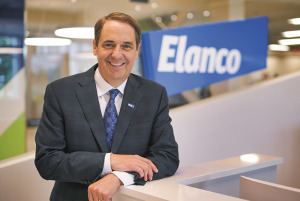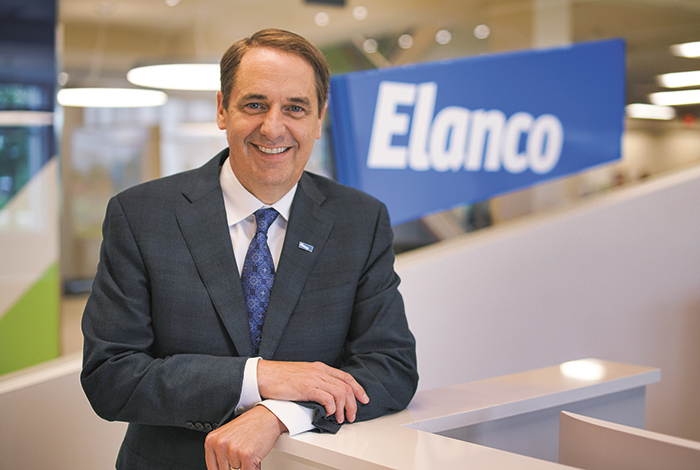 For most of its six decades, Elanco Animal Health operated below the radar, serving as a small division of drugmaker Eli Lilly and Co., with operations spread across rural Hancock County, quietly turning out vaccines and feed additives for livestock.
That was the old Elanco.
With its announcement Friday morning that it will move its headquarters from Greenfield to a $100 million campus that will be built along the White River on the western edge of downtown Indianapolis, the company is undergoing a sweeping transformation. It wants to be as visible and as centrally located as any other multibillion-dollar enterprise.
CEO Jeff Simmons said the headquarters move will allow Elanco to compete better for talent, while building up manufacturing and research and development. But it's also a cultural transformation for a company that has sometimes struggled to make a name for itself.
"What we see as a culture in Indianapolis, what we see we can do on the west side of the river and the western side of Indianapolis, we can be a major player, one of the only players over there," Simmons told IBJ. "That was actually attractive to us."
The move comes on the heels of Elanco's $6.9 billion acquisition of German conglomerate Bayer AG's animal-health division. The deal, which closed in August,  instantly boosted Elanco's worldwide workforce from 5,800 to about 10,000, and pushed its annual revenue from $3.1 billion to $4.6 billion.
We are looking forward to a strong future, right here in the Hoosier State, building a leading #animalhealth company & serving our #Indianapolis community. Thanks to @GovHolcomb @IndyMayorJoe & @Indiana_EDC for the partnership to make this happen. https://t.co/1vaH3p3GwX pic.twitter.com/DncGJAv7ca

— Jeff Simmons (@JeffSimmons2050) December 4, 2020
Prior to Friday's announcement, the company in recent months had been noncommittal whether it would keep its headquarters in Indiana. Simmons declined to say which other cities or states Elanco had considered. He also declined to say how the state and city incentives—which total at least $150 million—compared with other offers. In return for the incentives, Elanco is committing to retain 1,623 Hoosier jobs and create up to 573 high-wage jobs.
Elanco broke out on its own two years ago, when Lilly spun it off in an initial public offering. That triggered a huge restructuring that was still ongoing when the company in August 2019 announced the Bayer deal, which vaulted it from the fourth-largest to second-largest player in the animal health industry.
In September, Elanco said it would cut 900 jobs in 40 countries following the Bayer acquisition. Only a handful of those cuts took place in Indiana, with most of them occurring in Elanco's sprawling sales organization around the world.
The new Elanco, with operations from Brazil to China, will continue to restructure for many months. And part of that process includes making the company headquarters attractive to new and transplanted workers, Simmons said.
"We looked at the kind of talent we're going to need," he said. "There's no question an urban environment of what Indianapolis offers, that will be a factor, and that played into this. We also knew that the facility of the future, the office of the future is going to be different. We're still going to need collaboration. It's it drives innovation and drives capabilities."
Another factor for the move: The Bayer purchase, in addition to adding size, changed Elanco's product mix and the way it does business.
Elanco traditionally was a business-to-business player, selling to veterinarians and livestock farmers through large distributors. But Bayer Animal Health and its parent company are largely direct-to-consumer players, with their famous consumer brands from namesake aspirin and Alka-Seltzer heartburn relief to Miralax laxatives and Bactine disinfectant. Its pet brands include Alenza soft chews and Baytril topical emulsions.
Two decades ago, Elanco did not have any pet products, regarding itself as an agricultural and livestock specialty company. Then it began developing pet medicines, and boosted that in a huge way with the Bayer deal.
"Bayer has changed our profile in a very big way," Simmons said. "We're now 50% pets; we didn't have pets in 2006. We're a leaders now in retail pets."
Simmons said that as he was evaluating potential headquarters sites, he was looking for an "an epicenter, an anchor" that could consolidate the company's footprint, with administrative, manufacturing and research together in new, more competitive location. He also wanted a new type of setup, with smaller space that would allow for more remote working. The Indianapolis site will be 25% smaller than the Greenfield location, which is spread out in five buildings over 20 acres in a location highly visible from Interstate 70.
Elanco has called Hancock County home for most of its existence. A portion of the work has been situated there since its beginning as part of Lilly's Greenfield labs. It moved to Greenfield in the early 2000s and sold its old property, near U.S. 40 and Meridian Road, to drug laboratories Covance Inc. in 2008 for $50 million.
Soon, Elanco will be pull all of its headquarters operations together in a new way.
"It's a smarter, smaller, more agile footprint, that can allow us to globalize and consolidate operations into one city and one location," Simmons said.
He added: "We'll achieve some cost savings, but we'll have a smarter campus to collaborate, innovate, and bring all of these global capabilities together."
Please enable JavaScript to view this content.