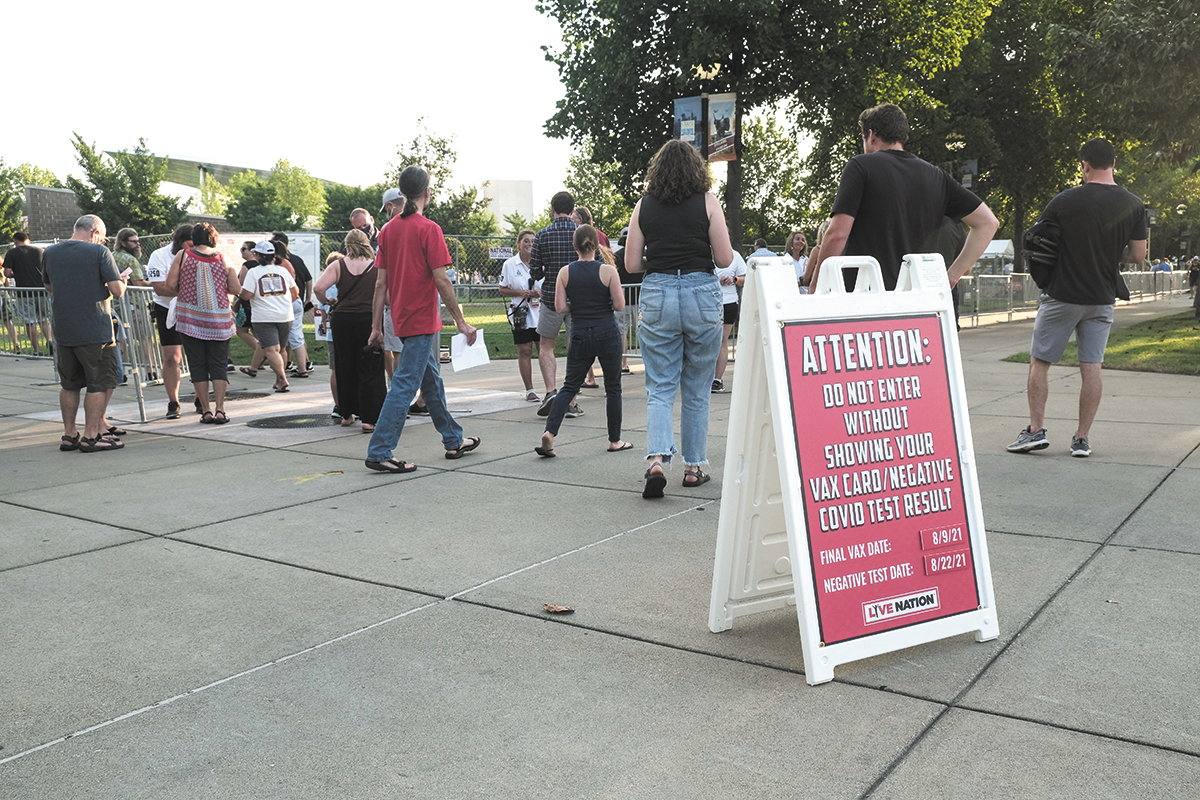 After a disastrous 2020, local arts organizations and event promoters say they're willing to do whatever it takes to keep COVID-19 from ruining another season.
So, as case counts continue to rise in central Indiana, they're using strategies such as vaccination requirements, mask mandates and capacity restrictions in hopes of preserving their ability to hold in-person events.
But what makes the situation trickier for the industry and patrons is that what works for one organization might not work for another—and the dynamic nature of the pandemic means organizations must be prepared to adapt on the fly.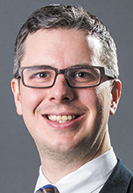 "Without a doubt, this is the question for anybody that's planning arts events—or any event," said Indianapolis Theatre Fringe Festival CEO Justin Brady. "We have thought about it long and hard and pivoted several times."
The organization's annual IndyFringe Festival, which typically includes hundreds of live theater performances, took last year off. This year's event, which includes 250 performances of 50 shows at multiple venues, kicked off Aug. 19 and runs for three consecutive weekends through Sept. 5.
Many arts entities have made it through the pandemic so far with the help of federal, state and local funding from various coronavirus relief programs. Some were able to pivot to online events or come up with other means of generating revenue and engaging with audiences.
But the organizations say another year without live events could spell curtains for them.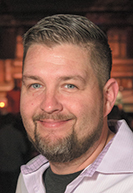 "We're already at the end of our lines," said Josh Baker, CEO of The Hi-Fi Indy, a music venue in Fountain Square. "No business can go two years without revenue. It just can't be done."
Baker is also president of MOKB Presents, a promoter and producer of live music events, and he's executive director of the Indiana Independent Venue Alliance, an organization that formed last year to help music venues around the state weather the pandemic.
The Hi-Fi lost about 90% of its 2020 revenue because musicians canceled their tours. The venue resumed live concerts in April and had a record month in July, with a record number of bookings for both August and September. But as the delta variant of the coronavirus began to surge, Baker started to see his hopes for a solid summer and fall crumble. Over the past two weeks, The Hi-Fi has had 10 shows either cancel or delay because of rising COVID-19 cases. Attendance has dropped 30% to 35%.
In response, starting Sept. 1, customers will have to show proof of COVID-19 vaccination, or a recent negative test. Baker said he doesn't relish being in the position of vaccination enforcer but must keep up with what artists and the larger entertainment industry are doing.
"We work for the band, essentially," he said. "Whatever their teams want to do is essentially what we need to do."
In fact, Baker said, The Hi-Fi has a couple of shows before Sept. 1 at which the artists have requested vaccine requirements. The Hi-Fi was scheduled to host its first vaccination-required show on Wednesday night, a concert with the band Bendigo Fletcher.

Verification by app
Other local shows have already enacted vaccination requirements for audiences, including both the Jason Isbell concert at TCU Amphitheater at White River State Park that took place Tuesday and the Maroon 5 show at Ruoff Music Center in Noblesville on Aug. 21.
Both venues are operated by Los Angeles-based Live Nation Entertainment, which said it will require either proof of vaccination or a negative COVID test for all artists, fans and employees starting Oct. 4. But even before then, a number of other shows will require proof of either vaccination or a negative test, including Phoebe Bridgers on Sept. 8 at the TCU Amphitheater and the Jonas Brothers on Sept. 9 at Ruoff Music Center.
Baker said The Hi-Fi plans to use an app called Bindle to verify vaccine status. Patrons can enter their vaccination information or COVID-19 test results to the app before a show, creating a pass that will give them access.
Earlier this month, the Indiana Independent Venue Association, along with the Arts Council of Indianapolis, announced a partnership with the app's developer, White Plains, New York-based Bindle Systems.
The idea, Baker said, was to encourage venues and event organizers to adopt a single platform for vaccination verification, so fans wouldn't have to download and deal with several apps just to visit local venues and events. "The last thing that we want to do is anything that makes it harder for someone to come to a show."
The local partnership is set up so that venues and organizers that use Bindle pay a $10 monthly fee that includes up to 100 scans a month. Organizations and venues that need more than 100 scans pay up to 10 cents per scan, depending on the number of scans.
In addition, either the arts council or the venue association will receive a revenue share from Bindle of 0.015 cent per pass created. The organizations will reinvest the money in the program, including a planned indyvaxpass.com website and other resources.
Gus Warren, Bindle's co-founder and CEO, said that, as of Aug. 20, Bindle had already signed up "dozens" of Indianapolis-area customers as a result of the arts council/venue alliance partnership here. Bindle launched in June 2020, after the pandemic made it clear that "we would need a way to prove to each other that we were unlikely to get each other sick," Warren said.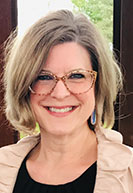 Julie Goodman, president and CEO at the arts council, said Bindle's low cost should make it affordable to organizations of all budgets. She also said the council is exploring a possible funding source for organizations that might need help with Bindle's fees.
'Tricky territory'
Arts organizations are navigating a crucial season, Goodman said. From March to December 2020, the arts council saw more than 30,000 canceled events and temporary venue closures. "We stopped counting after that because it was just so high."
And from March 2020 to now, the cancellations have cost arts groups more than $100 million in revenue, she said. At the same time, the groups have spent an extra $20 million on COVID-19-related safety measures.
"We're in some tricky territory here. We have to recognize that," Goodman said. "We need to do whatever we can to create the confidence that we need to invite our community back into our experiences safely."
"Whatever we can," however, doesn't necessarily mean every event or venue plans to institute vaccine mandates, at least not now.
IndyFringe is requiring that performers be vaccinated, Brady said, but it's not requiring that of audience members.
The organization thought it would be too logistically difficult to require audience vaccinations, he said, especially since some IndyFringe shows are family-oriented or aimed at diverse audiences. Some of those audiences might be either too young or face other barriers to vaccination, he said.
But IndyFringe is requiring that audiences wear masks at all shows. It's also limiting seating capacity to 80%, and it's staging the festival over three weekends. In the past, Brady said, IndyFringe took place in a single, 11-day period. This year, he said, organizers decided having a few days' break between weekends would make it easier to reassess and adjust protocols if the pandemic worsened.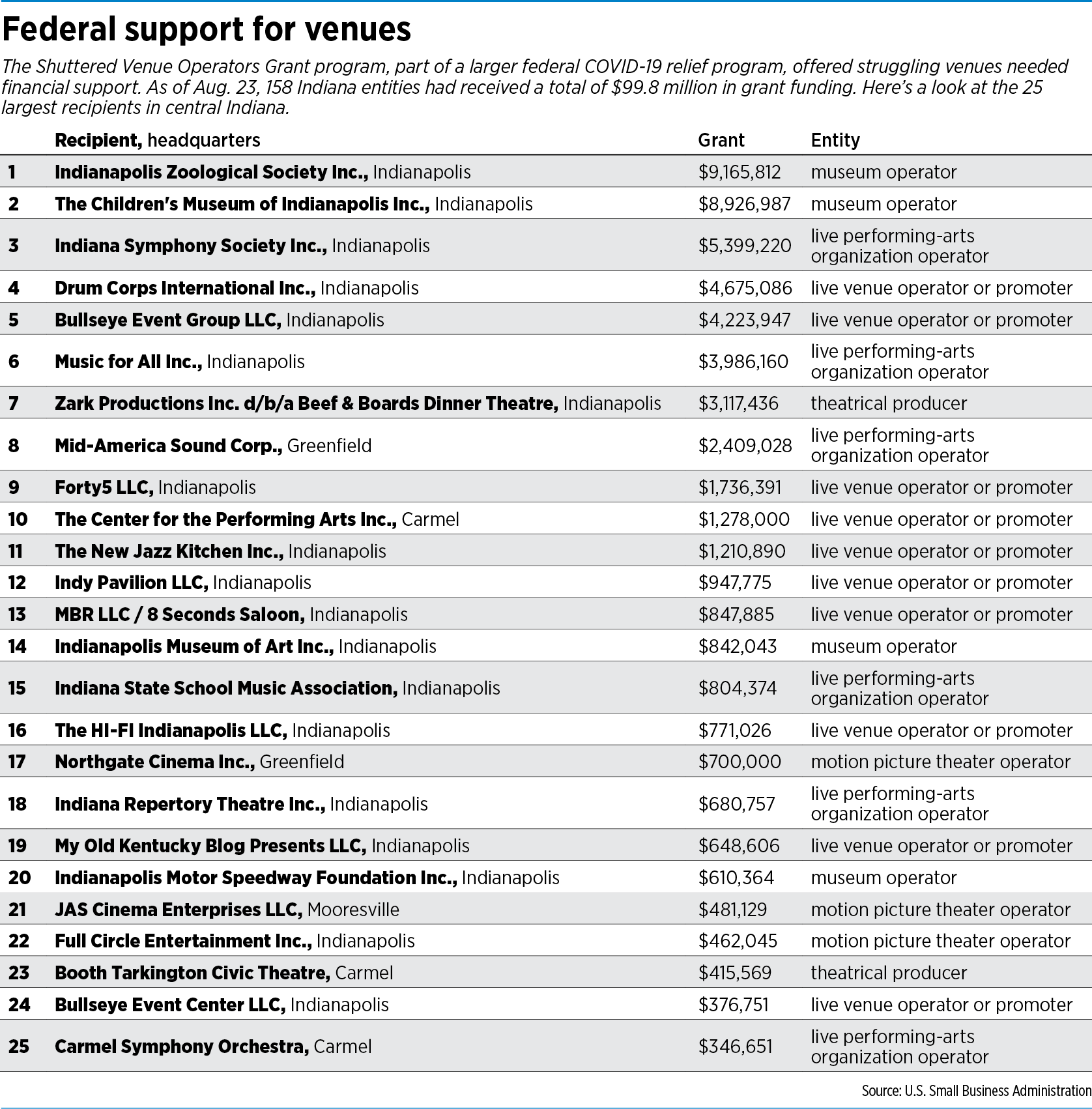 'Tough decision'
The Indiana Repertory Theatre, whose season was entirely virtual last year, is resuming in-person shows when its new season begins Oct. 5.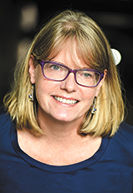 Managing Director Suzanne Sweeney said the organization has been finalizing its COVID-19 safety plans this week. They will include mandatory masks for patrons and mandatory vaccinations for employees and volunteers. But as of Monday, the theater had not instituted a vaccine mandate for patrons.
As with IndyFringe, IRT doesn't want to exclude anyone by mandating vaccinations, Sweeney said. It's also aware that a vaccine mandate might mean some audience members will choose to stay away.
"It's a tough decision," she said.
The overall goal, Sweeney said, is to make sure in-person shows can happen this season. IRT's patrons have been loyal in their support so far, she said, but a longer pause could be perilous. "I think audiences are willing to forgive it for a year, but longer than that and we're looking at a big drop in our loyal-audience people."
Erin O'Rourke, co-chair of Indy Irish Fest, offered a similar view. The outdoor music festival canceled last year's event and plans to return this year with a scaled-down festival Sept. 24-25 in Garfield Park.
At this point, O'Rourke said, the festival is requiring vaccinations and mask-wearing for volunteers. The festival will "highly encourage" but not require guests to wear masks.
O'Rourke said festival organizers are watching coronavirus case counts closely and are prepared to tighten up protocols or even cancel the festival if need be.
But she hopes it won't come to that. If Indy Irish Fest skips two years in a row, she fears the event might lose so much momentum that it would become impossible to recover.
"At this point, most things are on the table to make sure that we can host a good, safe event for everyone who attends," O'Rourke said. "The longer that you're out of the game, the harder it is to get back into it."•
Please enable JavaScript to view this content.