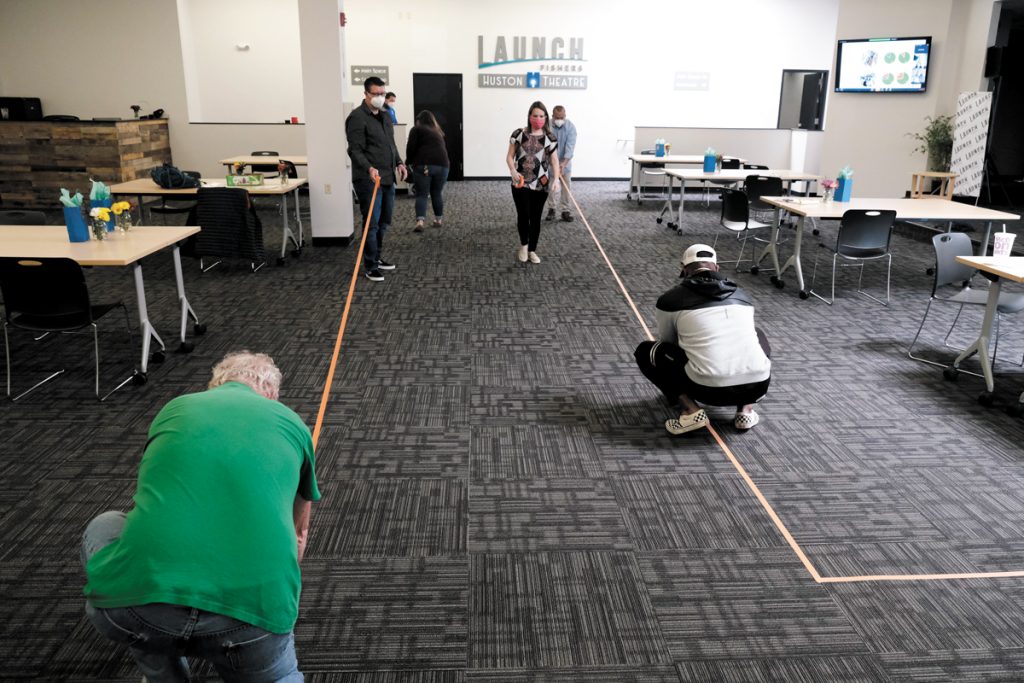 Launch Fishers founder and CEO John Wechsler spends much of his time these days contemplating things like which direction people will be allowed to walk inside the popular co-working space and where he's going to store the couches he's no longer going to allow tenants to sit on.
This week, he and his facilities chief marked floors showing people which way to walk. The answer to that seemingly bizarre question is, counterclockwise. He's also designating hallways and stairways for one-way travel.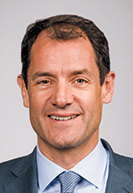 And in a move that just two months ago would have seemed downright creepy—if not an outright invasion of privacy—he has started planning for the placement of video cameras that will alert him if too many people are congregating in one place inside the sprawling facility. Today, that move is seen as a matter of public health.
Wechsler is not alone in his effort to make existing office space work during a pandemic.
Jeremy Johnson, CEO of Carmel-based Protective Insurance Co., is trying to secure 55-gallon barrels of hand sanitizer for clients and contemplating the rearrangement of furniture—including organizing desks in a diagonal formation—to maintain social distancing.
David Liddicoat, the Indianapolis site leader for tech firm Genesys, is contemplating how many of his 800 local employees will be allowed in the bathroom at once. Elevator occupancy is a concern, too. When he headed Genesys' Asia Pacific division, he saw elevators marked with X's showing people where to stand. He wonders if the same will be the case here soon.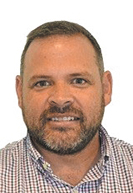 "We're in a new world," Johnson said.
New, indeed.
Issues that workers and bosses will be dealing with in the coming weeks and months when Gov. Eric Holcomb lifts the stay-at-home order that's been in place since March 23, and the economy begins to reopen, are those that most of us left behind in junior high: No touching, keep daylight between you and your friends at all times, no congregating in large groups, walk this direction and not that one, clean up after yourself, and so on.
But this isn't child's play. If Americans have learned one lesson in the last two months, it's to take COVID-19 seriously: It's contagious, costly and deadly.
"The number of new challenges we've had to respond to is extraordinary," Johnson said. "But the cost of not doing so is even higher. Much higher."
Mike Reynolds, CEO of Broad Ripple-based tech firm Innovatemap, said he's spending about three hours a day on reentry challenges. Wechsler said that, for the last 10 to 14 days, "it takes up the better part of my day."
Most firms have just begun to wrestle with what they—and their workers—will face. The stay-at-home order is set to expire May 1. But it's been extended twice, and observers say it will likely be extended again, although in a less restrictive form.
Either way, the new normal will be a heavy load for bosses to manage and a tricky path for employees to traverse.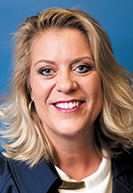 "We're not going to rush back," said Liddicoat, who just landed in Indianapolis in March after three years working in Genesys' Manila office. "We want to do things in a very staged process."
A dozen local executives interviewed for this story agreed the most difficult part of dealing with the pandemic and workplace re-entry is the uncertainty.
"Business leaders are being called upon to make big, important decisions without a huge amount of hard data," Johnson said. "Not only is the data ambiguous, it's constantly changing."
But business leaders agree on one certainty: The changes will not be short-lived.
"I think we have to be prepared to work in a very different way until there's a vaccine," Johnson said.
Cubicle concerns
One immediate challenge for employers is furniture arrangement. Cubicles have been an office staple since the 1970s. But about five years ago, design trends shifted to more open concepts, including dramatically lowering cubicle walls. Barriers that used to stretch nearly 6 feet high are now often less than a foot high.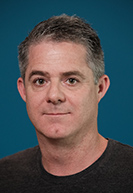 And the standard desk these days is 4 feet wide and a mere 2 feet deep. It's not uncommon for desks to sit face-to-face and touch one another on one side. That has enabled companies to pack far more people onto a single floor.
One office design expert told IBJ some big Indianapolis companies have as many as 400 people working on a single floor.
Another trend that might now be risky is "hoteling," in which workers don't have assigned desks. They can set up in any location, meaning multiple people might work at the same spot throughout a day.
At Launch Fishers, Wechsler and his staff are planning to fastidiously clean open desks and also plan to issue 2-foot-by-3-foot disposable placemats on desks used by multiple people.
Melissa St. John, owner of Indianapolis-based Relocation Strategies, said employers don't "have any idea what's going to be coming to hit them in the face" when their employees come back.
St. John, whose firm helps clients relocate, renovate and reconfigure workspaces, said some employees likely will revolt over conditions that were the norm before the pandemic.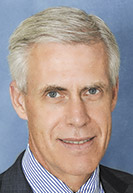 "People will be petrified to work face-to-face with a co-worker just 48 inches apart, with nothing more than a 9-inch barrier between them. Employees won't work the way they did before," St. John said.
"If you don't want to have retention and recruitment issues, you better have an office people are willing to work in."
In recent years, the shift to lower or no cubicles was all about collaboration, production and cost savings.
"It never, ever was a health concern," St. John said. "Now it has to be."
Many firms are hesitant to give up their open concepts. St. John recommends at least "seated-height" privacy walls between workers, which extend about 2 inches above the head of a seated person.
Not everyone agrees.

"It's either caves or campfires. We like campfires," Innovatemap's Reynolds told IBJ this week. "We like a free flow of communication and openness. When thinking about dealing with [the coronavirus], my mind doesn't immediately go to barriers."
Christopher Day, owner of Indianapolis software firm DemandJump, also wants to continue to work in an open concept. DemandJump, on the 19th floor of Market Tower downtown, has 33 employees, and Day said they have plenty of room to spread out.
"I don't think a cubicle is going to make an impact," he said. "Simulations show someone can sneeze at the grocery store and a person an aisle over can be contacted."
'Walking a fine line'
Instead of worrying about cubicles, Day is trying to procure face masks for his employees.
But every challenge seems to lead to more questions.
For instance, one employer with 400 local workers told IBJ it was trying to secure up to 1,500 face masks. But when asked if those would be cloth or disposable, the company official was uncertain.
That matters because—if the company distributes disposable face masks and each employee uses a new one each day, as many medical experts recommend—1,500 wouldn't get through a week. And at this point, masks are in extremely short supply, along with hand sanitizer and a number of other essential items to combat the spread of the virus.
Many employers said they intend to bring workers back slowly, perhaps in waves. But when pressed for details, few were forthcoming. Many are still formulating plans.
A handful of executives said only those who absolutely need to come in will. Others said they will make coming in voluntary, at least through early summer. One executive said as little as 10% of the staff would come into the office in the first month after the stay-at-home order is lifted. Still, most employers expected to have most of their employees back in the office sometime in June—unless the virus rears its ugly head again and the number of cases, and deaths, surges.
Travel is another concern. Several employers said they are considering imposing a quarantine on employees returning from business trips.
"We're walking a fine line," said Greg Feary, president and managing partner for Indianapolis-based law firm Scopelitis Light Garvin Hanson & Feary. "First and foremost, we're trying to keep our employees safe, but we're also trying to keep our firm vital and relevant."
Feary said it's important for top leadership to be involved in coronavirus policies. In early March, Scopelitis, which has 175 employees, including 100 locally, formed a COVID-19 task force composed of nine partners, led by Feary.
"Some of the things we're dealing with might seem like minutiae, but we're talking about things in this day that impact the health of the company and, more importantly, the health of people," Feary said. "At this point, this is top of mind for the people at the very top of this firm."
Matters that were previously so mundane they wouldn't have registered a thought are now serious concerns. For instance, how many people should be allowed in an elevator—and who's going to police that?
One local executive said he would be comfortable riding an elevator with up to six people. But a handful of workers told IBJ they wouldn't get on an elevator with even two or three people. One said she'd rather climb the stairs to her eighth-floor office than risk riding with just one person—especially if that person wasn't wearing a mask.
Heavy-handed?
There's also the issue of companies mandating policies and procedures versus making suggestions. Many firms wrestled with this in early March when they began to compehend the seriousness of the virus.
Companies often started letting employees work from home, followed by suggestions that they do so, then strong suggestions, then—when some workers clung to the routine of coming in—bosses dropped the mandate.
"Eventually, we closed and locked the doors," one executive told IBJ. "We just couldn't afford to leave it up to the employees any longer. The risk was simply too high."
St. John said she didn't hesitate to mandate masks. "Unless your head is down and you're in a cubicle on a Zoom call, your mask is on," she said. "I wear mine everywhere."
Count Wechsler among the most aggressive local executives with respect to coronavirus rules. In addition to Launch Fishers, he operates the Indiana IoT Lab and heads the Indiana Co-Working Task Force.
In addition to taping off lanes for foot traffic, he's eliminating communal meals and governing what goes into the fridge. He's also employing "spatial analytics"—using video cameras to alert the building administrator if too many people are in certain areas at once. Those people will immediately be told to disperse.
"We know some of these things may seem radical—even dictatorial," he said. "But we're willing to lead from the front. I think if people realize we're doing this for the greater good, they'll respond positively."
But many employers and building managers are making suggestions and counting on workers to police themselves.
"The problem with that is," St. John said, "in any workplace, especially a large one with a lot of employees, you're going to have divergent opinions. Not everyone is going to agree what to do for the greater good."
One thing that will not be tolerated, local business operators said, is someone coming to work even the least bit sick.
"I come from a world, like a lot of people, where you rub some dirt on it and tough it out," Wechsler said. "That can no longer be the case. If people come in and they're sick, we're going to have to engage with that person and deal with the situation." He stopped short of saying the person would be removed.
While some companies said they are trying to get COVID-19 tests for employees who want them and others said they would offer temperature checks, few said those would be mandates. Executives agreed offering medical advice could create liability concerns.
"We're not physicians," DemandJump's Day said. "For us to start taking people's temperatures … it would not be prudent for us to opine on that."
The business sector needs to get going, one way or another, he said.
"I've been on numerous calls in the past week, and there's definitely a growing sentiment that we have to move forward," Day said. "The stimulus package is a short-term Band-Aid. We have to find a way to coexist with this situation.
"Yes, we have to be smart and safe, but we also have to be thoughtful of the consequences if we don't keep the world moving forward. As of now, we believe we can bring our employees back to work safely."•
Please enable JavaScript to view this content.