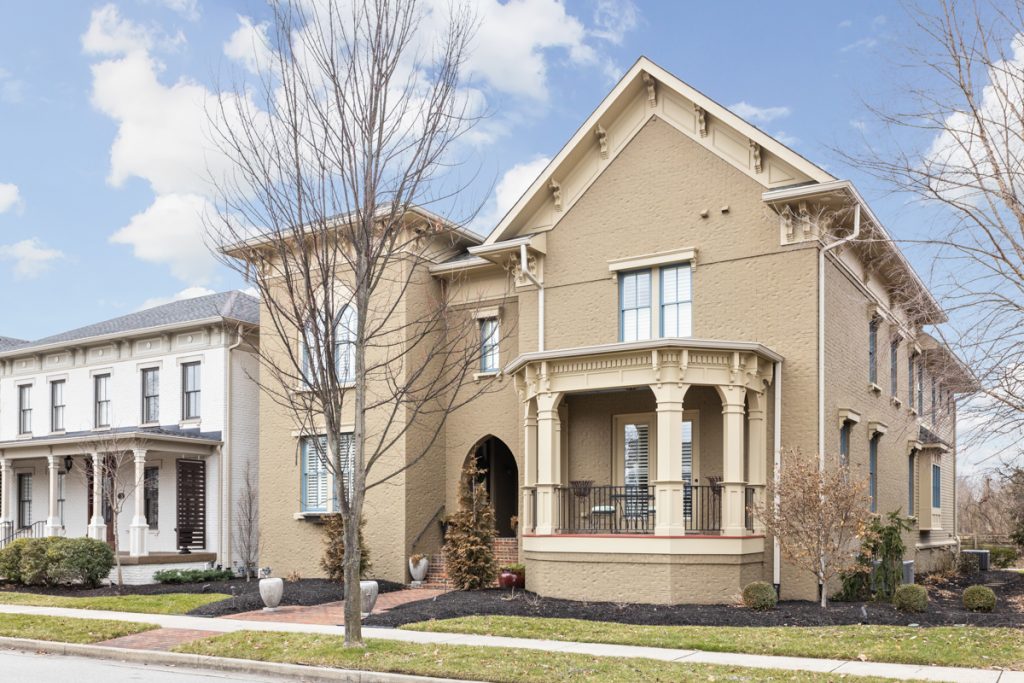 Donald and Leslie Bolinger's vaguely Old World-looking Carmel home seems like it belongs in one of Indianapolis' historic neighborhoods. But nothing could be further from the truth.
The two-story, 5,194-square-foot abode is very much a product of the 21st century. And it sits not in a historic neighborhood, but in The Village of West Clay, a neighborhood that celebrates classic home designs in decidedly modern ways.
The features that make it feel not at all suburban are also the ones that coaxed the Bolingers, particularly Leslie, into buying the house in 2013. Donald practices law in Kokomo, and Leslie manages his office and helps run the couple's nascent event center business in a restored building in Kokomo's downtown.
The home started life as a builder's show house, and it's on the market again, listed for $700,000 by Plat Collective.
The home sports a Tuscany-inspired exterior and floor plan, complete with an outdoor entry portico and a wrought-iron gate that leads to a hidden garden area.
"I loved the way the exterior looked," Leslie Bolinger said. "It reminded me of Italy."
The portico sets the unconventional mood. Instead of sporting a traditional, street-facing front door, the house welcomes visitors through an open archway that leads to a slate-floored sanctum. On the left is a door that opens into a first-floor guest apartment, complete with bedroom, bathroom and kitchenette.
"I've had guests who stayed there for months," Bolinger said.
On the portico's right side is the entrance to the main residence. It opens onto the home's formal dining room—a former den repurposed as an eating area.
"I have a beautiful chandelier in there, and a glass table," she said. "It's a great little getaway place to sit with guests. We use it quite a bit."
The downstairs is also dominated by a two-story great room featuring plenty of wall space on which to display the Bolingers' burgeoning art collection. The room's focal point is a two-sided fireplace, the other side of which accents the massive, cherry-wood-floored kitchen. The food prep area includes a large, granite-topped island, along with a nearby, sun-filled breakfast nook.
The second floor contains four bedrooms, including a master suite that sits above the first-floor guest apartment and contains both a large walk-in closet and a massive bathroom with an old-school pedestal tub. The basement offers a fully equipped wet bar, an exercise area, and an extra bedroom that houses Bolinger's collection of Hello Kitty dolls.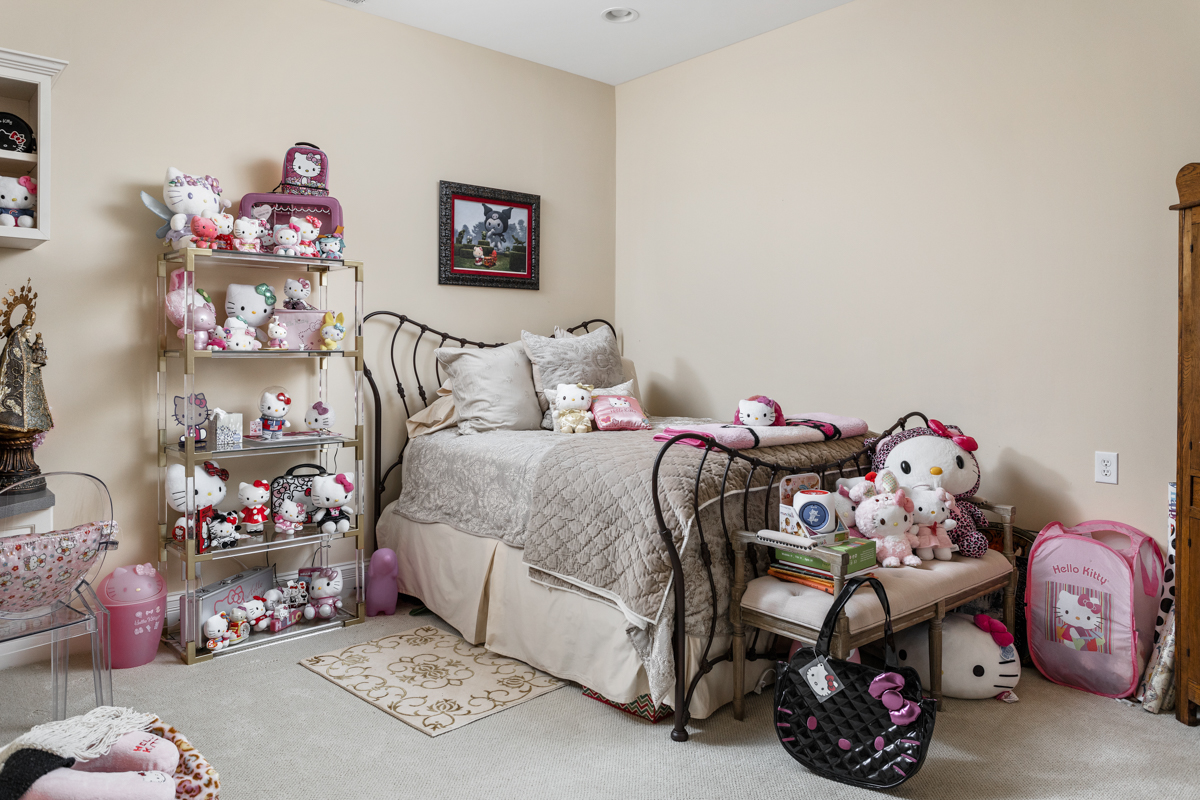 "My granddaughter will get that when I get older," she said.
The exterior is equally attention-grabbing. At the far end of the entry alcove stands an iron gate, beyond which resides a greenery-filled outdoor sanctuary ringed by the house itself. During the warm months, this private spot comes alive with flowers and plantings.
"I call it my secret garden," Bolinger said. "In the summer, it's just gorgeous."
Though the garden layout reminds her of Tuscany, it also includes a distinctly Hoosier touch. The tall, attached, three-car garage doubles (if you remove the vehicles it houses) as a basketball half court, complete with goal.
Like many homes in the Village of West Clay, the lot placement is unconventional for a suburban setting. While most high-end abodes in Hamilton County are ringed by huge moats of lawn, the Bolingers' "yard" is just a tiny strip of green. And the residences on either side are only an arm's length away. But Bolinger couldn't be happier with the arrangement.
"It's nice to be cozy with your neighbors," she said. "With some of these huge houses with giant yards, you don't even know your neighbor's name."
It's not as if the space feels claustrophobic. The front of the house opens onto a large park that's maintained by the neighborhood. It's like having a gigantic front lawn you don't have to care for.
"I don't have to mow that yard," Bolinger said. "The homeowners' association does it."•
Please enable JavaScript to view this content.