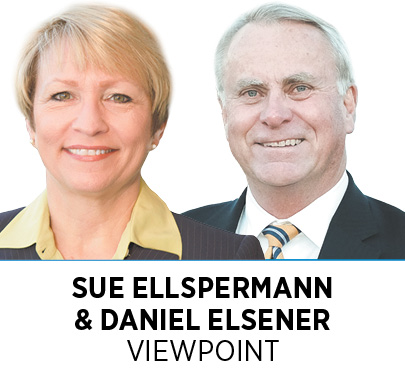 Highly effective teachers are indispensable to boosting the student-achievement and educational-proficiency levels in Indiana. Colleges and universities in the Hoosier state must be creative while presenting impactful and affordable opportunities for students who want to dedicate their lives to the teaching profession
Earlier this month, the Fred S. Klipsch Educators College at Marian University and Ivy Tech Community College announced we are teaming up to offer a dual-admissions program aimed at recruiting and preparing more teachers with diverse backgrounds to lead Indiana's classrooms and to reduce higher education expenses.
Students who complete the program will earn three degrees—associate, bachelor's and master's—for a total of $45,000 (a figure that could be reduced considerably through available financial aid). In fact, students could earn their first year free while in high school through Ivy Tech dual credit, earning a technical certificate in education within the Next Level Programs of Study.
As part of the cadet teaching program, students—while still in high school—will begin earning an associate degree at Ivy Tech, before transitioning to the Klipsch Educators College, where they will earn a bachelor's in education with a teacher certification. To complete the program, students will then pursue a master's degree at no cost and participate in a one-year paid clinical residency in an Indiana classroom.
We are all aware of the significant teacher shortage plaguing our state. It is incumbent upon our universities, both public and private, to aggressively recruit highly qualified and talented individuals to lead Hoosier classrooms. Sadly, this shortage is even more acute when it comes to graduating a diverse cohort of prospective teachers.
While 40% of today's school population is students of color, the teacher population is unfortunately not reflective of this. But by working together, Ivy Tech and Marian are going to change this number.
We know students of color benefit when they learn from educators who look like them. Indiana's most recent data show fewer than 15% of educators graduating from college come from a minority population. There's a clear disconnect between the classroom need and our current pipeline of educators coming out of college.
The Marian-Ivy Tech initiative is an innovative opportunity to break down barriers and continue moving toward Indiana's goal of having a diverse teaching corps, which is to the benefit of all Hoosier students.
Ivy Tech is the most inclusive higher education institution in the state, serving 42% of Indiana's college students of color and more than 50% of Indiana's Black college students. As such, Marian University is partnering with six Ivy Tech campuses: Indianapolis, South Bend, Fort Wayne, Evansville, Lafayette and Lake County.
The initiative will begin as a pilot program of 100 students this fall, with a goal of 50% of the participants being students of color. By 2025, our goal is an enrollment of 500 students.
We join our state's public- and private-sector leadership in our commitment to elevate the purposeful, difference-making profession of teaching, including attracting exceptional candidates to serve Indiana's more than 1.1 million students. By combining our efforts, and in partnership with K-12 schools, we will allow students to go from high school, to college, to teaching in Indiana's classrooms through a seamless and affordable pathway option.
It is incumbent on us to tackle the critical education and workforce challenges affecting our state. The Marian and Ivy Tech collaboration inaugurates a new era in bringing diverse, highly talented and well-prepared teachers to every classroom in Indiana.•
__________
Ellspermann is president of Ivy Tech Community College. Elsener is president of Marian University.
Please enable JavaScript to view this content.