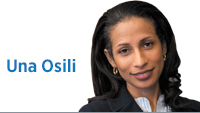 July 20 marks the 50th anniversary of the Apollo 11 moon landing. Taking on such a feat—putting a human on the moon—required entrepreneurship, great teamwork, new technologies, daring and forward thinking.
Today, the social sector could benefit from a similar infusion of innovation, partnership, resolve and bold ideas to meet another challenge much closer to home here in Indiana. I'm thinking specifically about the high rate of incarceration, which imposes a substantial burden—both fiscal and social.
The data is striking. With 716 people in prison per 100,000 residents, the United States has the highest incarceration rate in the world.
Indiana's rate is even higher than the national average: 751 per 100,000 residents. Our incarceration rate is the 18th-highest in the nation.
Indiana's rate of jail overcrowding is also among the highest. The costs of new jail construction are estimated at $1.5 billion, or an average of $30 million spent per county.
Although the expansion of mental health coverage and criminal justice reform have seen gains, we need to catalyze new approaches to reintegrate individuals who are transitioning from prison to rejoin their families and communities.
A national initiative, The Bail Project, has recently expanded to Indianapolis. This not-for-profit uses a revolving nationwide bail fund to provide individuals who have limited financial resources with bail assistance, wraparound services and transportation.
Three other areas could greatly benefit from an infusion of new research and approaches to reduce recidivism: education, housing and employment.
First, several studies show that participation in comprehensive education and employment readiness during incarceration is a priority. A 2013 report from California-based researcher RAND Corp. found that inmates who received an education while in prison were 43% less likely to become repeat offenders.
Second, upon release, returning citizens face significant barriers in access to employment. We need to strengthen the linkages between potential employers and returning citizens both during and after release.
Third, housing is a key factor for successful re-entry. Service providers who are willing to partner with housing agencies can work with prisons to assist with re-entry planning and support. This kind of collaboration can improve outcomes during critical transition periods.
Currently, only a limited number of organizations (for-profits, government agencies and not-for-profits) are working to pioneer new, scalable approaches to achieve efficiency and improve effectiveness in re-entry.
One promising way to tackle tough problems is prize competitions. Competitions act as incubators for fresh approaches to problems. They engage broader communities and attract investors, as well as provide incentives for innovation. Prizes have the unique ability to allow us to stretch our collective vision by expanding the available universe of likely "solvers." They increase the number of minds tackling a problem, and thus our perspective. The goal here is to elevate what works, so local and state governments can replicate or adapt proven solutions.
The phrase "moonshot" has been widely used to mean reaching for a lofty goal. At first, the aim might seem to be a long shot. But by taking the bold steps toward improving access to employment, housing and educational opportunities for returning citizens, we can create access to opportunities for ex-offenders to rebuild their lives.
We need a moonshot approach to improve the re-entry process. We will thus ensure that ex-offenders can contribute to their families and communities and ultimately Indiana's well-being and vitality.•
__________
Osili is professor of economics and associate dean for research and international programs at Indiana University Lilly Family School of Philanthropy. Send comments to ibjedit@ibj.com.

Click here for more Forefront columns.
Please enable JavaScript to view this content.