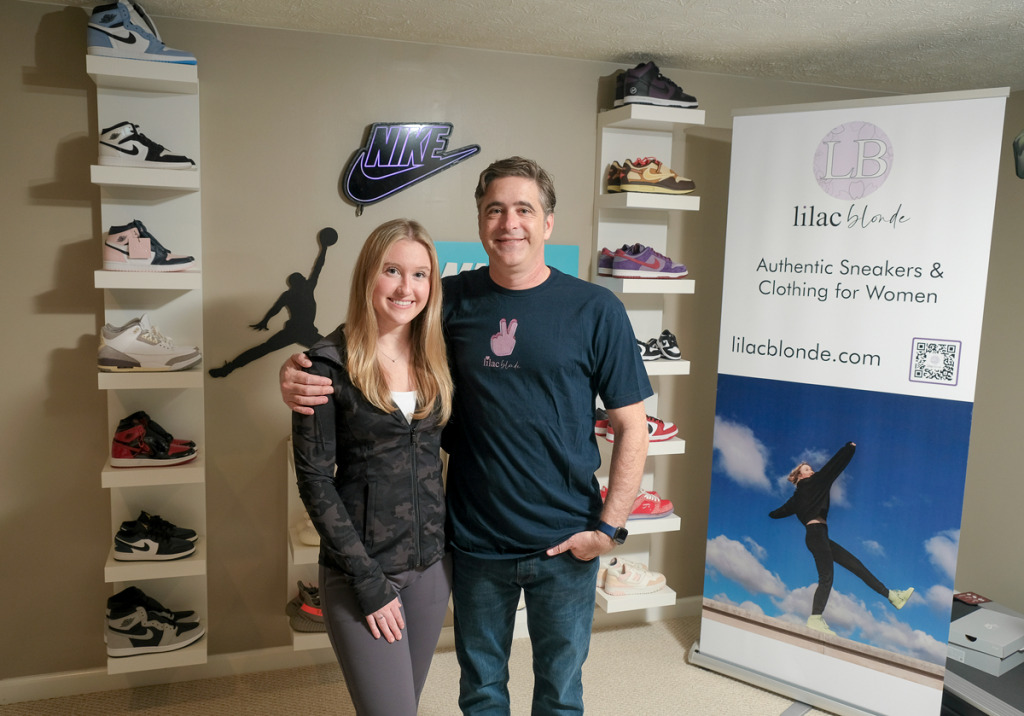 Abby Vitale searched and searched, but she couldn't find sneakers she liked in a woman's size 7 last year at a shoe resellers' convention in Crown Point. Whether it was a pair of Jordans, Nike Dunks or Adidas Yeezy's, all the shoes were geared toward men.
That struggle led to an idea that, in just more than a year, has developed into a growing e-commerce business for the 21-year-old Indiana University student and her father. It also has  established an online community for female sneakerheads.
Abby and Andrew Vitale launched Lilac Blonde in July 2021 from their family home in Fishers. It's an online shop primarily aimed at women ages 18 to 35—a demographic the Vitales say often feels shut out of the world of "hype"—or trendy—sneakers.
Fans spend big bucks on whatever sneakers are hype at the moment, and they wait in long lines—at shoe conventions and also at retail outlets when new styles are released—to buy them. Abby Vitale said shoe resellers usually go for men's sizes, which means women are often frustrated when looking for the right fit.
The hype sneaker industry "is very male-dominated. It is primarily men that it caters to," Andrew Vitale said. "And Abby and I were walking around trying to find stuff she likes at this big sneaker convention where people sell shoes, and it was hard to find her size."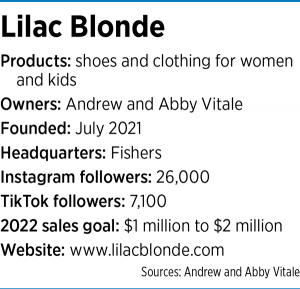 Lilac Blonde's inventory includes shoes and clothing, such as athleisure wear, sports bras and biker shorts. And it recently introduced expanded options for children.
"It started with sneakers," Andrew said. But the pair realized women wanted an entire look. "The outfit was really important."
Andrew manages the financial side of the business and uses his expertise in digital marketing and website creation—he's a partner and digital-marketing lead with Indianapolis-based Peak XV Marketing. Abby puts her social media savvy and sneaker knowledge to work.
They're also focused on branding and making the Lilac Blonde brand personal. The name is a nod to Abby's favorite color—purple—and her hair color.
"We thought it would be a great thing to start a website, one place where women can go where they can easily find their sizes," Abby said. "Because I know that I love shoes, I know my friends love shoes, and they felt left out of the sneaker community because there wasn't a size range available for them."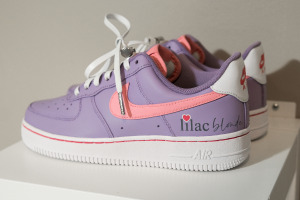 Andrew, 50, said his love of sneakers developed in 1985 when Nike released its iconic Air Jordan 1 model. He passed his passion on to his daughter at a young age, and they have regularly traveled to shoe conventions over the years.
Over time, Abby has amassed about 40 pairs of shoes, while Andrew's collection numbers more than 100.
"Something that has really helped is that we love shoes, so we love to see the new drops, and the new shoes and inventory," Abby said. "And it doesn't really feel like a job."
The Lilac Blonde website took a little time to get off the ground and was initially shelved due to inventory problems, Andrew said. However, he and his daughter got to work after they attended yet another sneaker convention last year.
"I thought it would be a great thing for Abby to basically learn about business, apply a lot of things she's doing in school, and we would work on it together," Andrew said.
Fighting for space
Lilac Blonde has expanded over the past year, from carrying 100 products to more than 500.
The site recorded $250,000 in sales in the second half of 2021 following its launch. Andrew said the company is on pace for $1 million to $2 million in sales this year and has set a goal of $3 million to $5 million for 2023.
"I think that's an unusual level of success considering that it's been [just over a year] that they've been in business, so I think that's pretty spectacular," said John Talbott, director for the Center for Education and Research in Retail at IU's Kelley School of Business.
"It's grown way faster than we expected," Abby said. "We've made some interesting moves this year. We're bringing out a lot more product inventory, and it has gotten a lot bigger than we anticipated."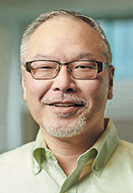 Jim Okamura, a partner at Chicago-based retail consultant McMillanDoolittle, said the increasing popularity of e-commerce "has provided tailwinds to a lot of e-commerce businesses of all shapes and sizes. It certainly has dialed up the competitive intensity."
But he said startup retailers face plenty of challenges. "One of the primary challenges is how they can compete when there's so many others vying for the same eyeballs and clicks and—ultimately—dollars that they're seeking," he said.
Abby and Andrew emphasized the importance of being strategic in a crowded market.
They work to peel customers away from large online shoe resellers such as Detroit-based StockX, New York-based Stadium Goods and Culver City, California-based GOAT. They're fighting in the clothing marketplace space against such brands as Vancouver, Canada-based Lululemon and China-based Shein.
Andrew determines pricing by watching trends in the marketplace. He and Abby analyze each aspect of their business with a goal of increasing the return-customer rate. A rewards program initiated by Abby launched earlier this year.
To select products, Andrew will send Abby a pair of shoes and ask if she and her friends would like them. That determines the majority of what the online shop carries, Abby said.
"We also carry some shoes that I love to see but wouldn't wear," she said. "I don't [own] any green shoes, but we have a lot of green shoes on our website because we know what our customers want from talking to them."
Andrew said the biggest challenge is to gain customers' trust when so many counterfeit items are floating around on the internet.
Lilac Blonde's products are shipped from its home base in Fishers and from reselling partners in Chicago (The Highest Sneaker Store) and Miami (Sauced Sneaks). Products arrive in Lilac Blonde packaging with a thank you card from Abby.
Their partners "list their inventory on our site and everything the customer sees is sold by Lilac Blonde," Andrew said. "When an order comes in for their inventory, they use our packaging and ship directly to the customer as Lilac Blonde."
Growth through social media
Lilac Blonde's marketing is focused on Instagram and TikTok.
To curate the company's Instagram feed for its 26,000 followers, Abby posts videos and livestreams, while Andrew takes photos. The Lilac Blonde TikTok account has more than 7,100 followers, and the Vitales hope to grow that number in the next year.
Social media has helped Lilac Blonde create its own little sneaker community within the larger sneaker community, she added.
"Through Instagram and TikTok, we've connected with so many women, whether it's grandmothers, mothers, younger girls getting their first pair of Jordans, and even some boyfriends and dads getting shoes for their daughters, girlfriends and wives," Abby said.
Okamura said small startups like Lilac Blonde should be nimble in their marketing. Challenges for e-commerce companies include having the marketing skill sets, technology and budgets to build awareness, drive traffic and convert website visitors to customers. Data is crucial to success, he said.
"Obviously, social can be a great equalizer, but social is also where all of the big brands have now shifted most of their marketing as well," Okamura said. "'How do we get initial awareness of our brand that eventually leads to actual paying customers?' And all of those are kind of their own distinct ceilings to push through."
He also cited customer experience and authenticity as major keys.
Katelyn Marando of Fishers, who found Lilac Blonde through Instagram, said she used the company to purchase Nike Dunks and Jordans for herself, her 3-year-old daughter and her 6-year-old son.
"It's awesome that they cater to women's sizes, because a lot of times, different sneakers that I would really want, I would only be able to find them in larger men's sizes, and it's so great that you can go to one spot and they most likely will have your size, and now they have kids' sizes," Marando said. "And so that's been fun to shop for them as well."
Marando added that she's willing to pay a premium through Lilac Blonde to find the shoes she wants because she knows they are available. Buying women's shoes through Nike usually meant getting lucky on her timing.
"You might have to pay a little bit more, but at least you know if it's a pair you are obsessed with and love, you can find them on their site," she said. "I never, like, feel bad paying a little more to get exactly what I want and to support a local small family business."•
Please enable JavaScript to view this content.