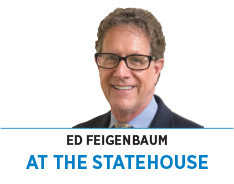 Perhaps the biggest legislative enigma this session has been HB 1414, the measure that, in pertinent part, effectively imposes a multiyear moratorium on a public utility's closing a "legacy generation resource," affording a reprieve of sorts to coal-fired power plants.
House Utilities, Energy and Telecommunications Committee Chairman Ed Soliday, R-Valparaiso, has complained since he introduced the bill in 2019 that opponents have grossly oversimplified its intent and distorted its impact. However, the growing coalition seeking to kill the measure continues to contend HB 1414 is focused on propping up the state's legacy coal industry at the expense of consumers (residential and business), the environment and market forces.
Republican legislative leaders are already under fire for "nanny-state" intrusion into personal lives (bans on hand-held cell phone use by drivers and certain types of vaping, for example). So, allowing state government to override the free market in utility resourcing—when strong, cheap supplies of natural gas proliferate and renewable resources gain widespread public support—seems anachronistic to many Hoosiers.
In 2019, when Soliday first sought to advance the moratorium concept, Rep. Matt Pierce, D-Bloomington, a strong environmental and consumer advocate in the utility realm, was as surprised as any when a floor amendment he offered was backed by enough Republicans to put the kibosh on the concept.
With no market changes to favor Soliday's position (save some timely coal mining layoffs in southwestern Indiana early this year), the bill's targets were optimistic it had no legs this year.
The Indiana Chamber of Commerce, Indiana Manufacturers Association, Indiana Industrial Energy Consumers, Hoosier Environmental Council, Citizens Action Coalition and the NAACP were among the groups teaming up in an unlikely alliance to defeat the measure.
However, the coal industry initiated targeted digital ads asking Hoosiers to call upon their—specifically designated—lawmakers to support the bill, and House Speaker Brian Bosma, R-Indianapolis, quietly started twisting arms on the bill after largely scoffing at it last year.
Reluctant committee members advanced it to the floor for amendment, and after a coal-miner retraining component was added to help the small cadre of recently laid-off Hoosiers—and thus get the bill over the hump—HB 1414 passed the House 52-41.
It now heads to the Senate Utilities Committee, chaired by Senate Majority Caucus Chairman Jim Merritt, R-Indianapolis. HB 1414 is sponsored by Senate Majority Floor Leader Mark Messmer, R-Jasper, and Sens. Eric Koch, R-Bedford; Erin Houchin, R-Salem; and Chris Garten, R-Charlestown.
Merritt hasn't tipped his hand yet on the bill, but Messmer hails from a district that is home to some of the most active coal mining in the state (Sen. Eric Bassler, R-Washington, also has a plethora of coal mining operations in his District 39 but is believed to be much more equivocal about HB 1414).
The Koch imprimatur is important because he formerly chaired the House Utilities Committee and is viewed as a future Senate utilities panel chairman. Houchin and Garten are both said to be eyeing the 9th Congressional District seat in 2024 when U.S. Rep. Trey Hollingsworth, a Republican, plans to step aside. They have to be concerned about rising consumer prices flowing from implementation.
Opposition to HB 1414 has been at high levels in cracker-barrel sessions, local chamber of commerce legislative breakfasts and lunches, and town hall forums featuring lawmakers. One senator says calls and emails from constituents have outnumbered contacts on any other bill this session.
Utilities are readily able to purchase cleaner and cheaper—but not necessarily uninterruptible—inputs. Solve the mystery of how HB 1414 was revived this year in spite of continued strong opposition and you'll be able to discern whether it heads to the governor's desk.•
__________
Feigenbaum publishes Indiana Legislative Insight for Hannah News Service. He can be reached at EDF@hannah-in.com.
Please enable JavaScript to view this content.