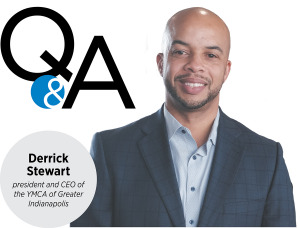 The pandemic has been rough on the YMCA of Greater Indianapolis.
The organization has an annual budget of $60 million, operates 12 fitness centers, and offers child care and other programs at 120 sites. Its 2020 revenue plunged about 40%, largely because it lost so many members.
Pre-pandemic, the YMCA had 118,000 members. Today, it's 85,000. The YMCA also reduced its staff by about a third, from 2,750 employees to 1,800.
President and CEO Derrick Stewart, 43, came to Indianapolis in 2019 from a similar position with the YMCA of Southwestern Indiana in his hometown of Evansville.
Have all 12 fitness centers reopened?
The only one that hasn't reopened is the YMCA at City Market.
Will it reopen?
With our capacity limits being what they are, that's already a relatively small facility. … There's not really a functional way to operate it. Add that to the fact that demand for facility activity in our Y today is tremendously less than what it [was] pre-COVID. … At this point, we don't think demand supports reopening the City Market. In the longer term, we'll just have to see what the next few months look like.
How has the pandemic changed your organization?
We can't do everything that we did as an organization prior to the pandemic. … Our staff out in our centers are having to make real-time decisions about programs and services, what to bring back when. There are some things that won't come back at all, some things that will come back in the future, and some things that we know are the real core of who we are.
Will membership rebound?
We anticipate that, the latter part of this year as things begin to pick up, that membership activity at the Y will recover pretty strong. It's hard to say what that means relative to pre-pandemic or post-pandemic. We know that there are a lot of people under a lot of economic stress. … Our commitment as a Y is to make financial assistance available, to ensure that people that want to be part of the Y can be part of the Y. But even then … the challenges may still be there. I absolutely expect that, within the next couple of years, that we will bounce back beyond where we were prior to the pandemic.
What have you learned from the last 10 months?
I gained so much respect for the team that I get the pleasure to work with here in Indianapolis. … Back in the spring, our staff made over 18,000 phone calls to senior members. … We knew that there are seniors that don't have family that are close by, that the Y is where their social life is as much as it is where they exercise. It was taken away from them. This isolation and loneliness that would develop was a real thing. People needed to know that and do something about it. … As crazy and as hard as 2020 was, it helped me to see the real value of being a part of this team.
What's your fitness routine?
I've never been big into group classes or things like that. I tend to be one that does circuit training in the weight room, tries to squeeze in some cardio. If I can get myself doing that three times a week, I feel pretty good about myself. If I go beyond three, I'm really excited.•
Please enable JavaScript to view this content.