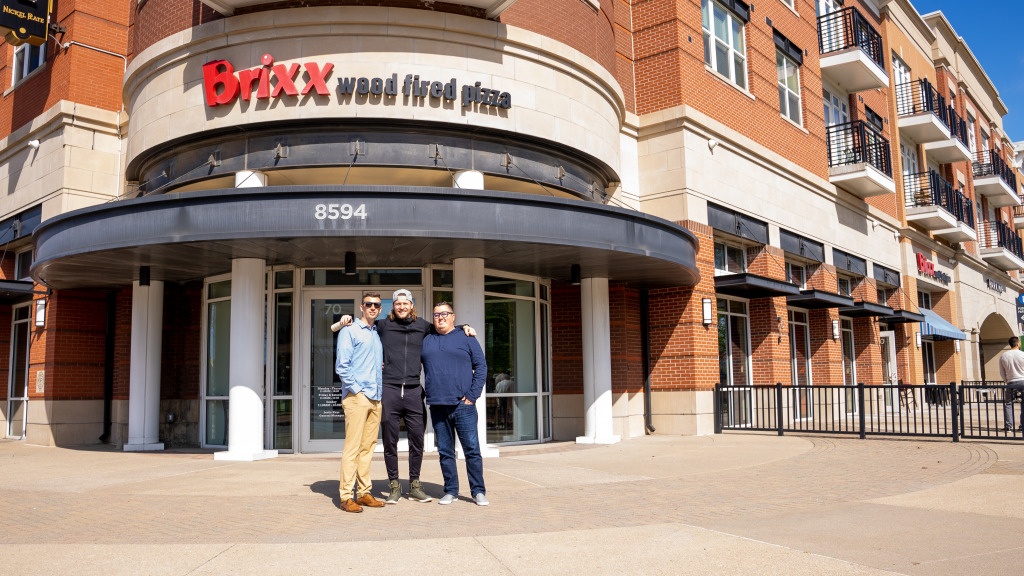 A new sports bar and restaurant, Parks Place Pub, is slated to take over a prominent spot in downtown Fishers  later this summer, and its ambitious owners are hoping to bring new energy to the location.
Fishers residents Matt Schlueter and Remington Ramsey, along with Matt Whitlow of Westfield, plan to open the business in the former Brixx Wood Fired Pizza space at 8594 E. 116th St. by the end of July. Brixx closed in February after more than five years in the space.
All three work in the area, near the roughly 3,800-square-foot corner space in the Depot at Nickel Plate building.
Despite their proximity, Schlueter said co-owning Parks Place Pub will be new ground for three finance and real estate guys who have never operated a restaurant.
"Coming out of COVID, we can bring a new and refreshing view of the restaurant industry to Parks Place Pub and downtown Fishers," Schlueter said. "While many people are running out of the industry, we're contrarians. We want to learn about it."
Schlueter said he's confident the ownership group can handle opening a restaurant without industry experience. He and Whitlow work at Magnolia Bank and Ramsey is the publisher of the "Indy Real Producers" real estate magazine.
"We've all started at the bottom, and none of the three of us has ever been handed anything," he said. "What we've learned along the way is how important it is to trust and believe in the people you're working for. When you have employees that love their jobs, everything else takes care of itself."
Parks Place Pub—named after the city's first bar, Parks Place Saloon—will offer traditional bar food, with rotating entrees, burgers, pizza, appetizers and nachos.
Schlueter is most excited about the pub's Hoosier Horseshoe, which is based on the horseshoe sandwich that's popular in central Illinois. The open-faced sandwich has fries and melted cheese on top and replaces a hamburger patty with a pork tenderloin.
Meals are likely to range from $10 and $20, and there will be weekly specials. The restaurant will have room for about 135 guests inside and roughly 60 patrons on the patio. Schlueter said they're hiring 53 employees so the restaurant can be open for lunch and dinner during the week, with additional brunches on weekends.
Above all, Schlueter said he wanted to create an energetic place to watch sports and eat great food.
"It's going to be one of those places you drive by, you see people sitting on the patio, you see the game on the Jumbotron, you hear the loud music and you want to be there," he said.
The pub's current design includes 46 televisions and an electronic ticker with the scores from different games running across the ceiling. Workers are replacing windows on east side of building with garage doors so the live music can reach the patio.
"Honestly, I was kind of lukewarm on the idea," Schlueter said. "But after I talked about it to people in the community, their excitement about it fueled my fire," he said. "That place doesn't exist in Fishers. You have some late-night stuff, you have some places with great food, you have some places to watch a game—but you don't have a place that has all three."
Please enable JavaScript to view this content.