Patch Development plans to build 24 acres near the Indianapolis Metropolitan Airport in Fishers to build about 143,000 square feet of flex space and move its headquarters into the city.
The Indianapolis Airport Authority's board of directors voted Friday to sell Westfield-based Patch Development LLC 24 acres of undeveloped land near the Indianapolis Metropolitan Airport in Fishers for nearly $2.7 million, paving the way for Patch to build three buildings that can be used by office, laboratory and light industrial tenants.
Patch CEO Pat Chittenden said he's talking to potential tenants for the estimated $22 million-$27 million project at the northwest corner of Master Road and 96th Street, but none are ready to announce their plans to move there just yet.
The developer plans to work with Fishers officials and the airport authority to develop three flex buildings on the property ranging from 30,000 square feet to 75,000 square feet each.
If Patch receives the necessary approvals from the city, Chittenden said construction could start as soon as 2022.
"Fishers is looking to bring, like all the communities on the north side, quality companies and jobs to the area," Chittenden said. "Mayor [Scott] Fadness does a nice job of landing those types of companies and he wants to land more of them, whether they're in life sciences or manufacturing or engineering."
The airport authority has worked with Fishers since 2015 to market roughly 211 acres of undeveloped land around the Indianapolis Metropolitan Airport for research, development and light industrial development, calling it Fishers Metro Park.
Last December, Indianapolis-based Scannell Properties filed plans to purchase 38 acres in Metro Park for $4.2 million to pave the way for a new distribution facility. With the Patch sale approved, Metro Park has just 149 of its 211 acres available for sale.
Patch's plan calls for a mixed-used business development with office, innovation, lab, industrial, and manufacturing companies.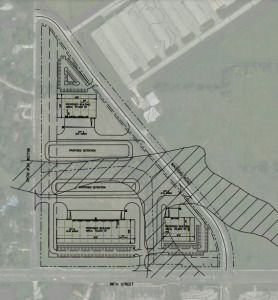 While the conceptual layout may change, site plans submitted to the airport authority show a proposed 37,500-square-foot building on the site's northernmost 8 acres; a 75,000-square-foot building on a 10-acre lot near Willow View Road; and a 30,000-square-foot building on a 4-acre lot to the southeast, along 96th Street.
"The Scannell deal and the Patch deal, and the ones to come in the future, are attributable to the airport authority and the city," said Eric Anderson, director of properties for authority. "I think that's a pretty special relationship, two governmental entities partnering to make things happen."
The project also represents a shift for Patch. The company plans to move its headquarters from 400 Alpha Drive in Westfield to one of those buildings. Chittenden said he didn't have a clear idea of how much the company's footprint will increase, but he anticipates growing his seven-person firm in the larger offices over the next couple of years.
"It's a good location for us, too," Chittenden said. "It seems to fit our company from where people live and ease of access. We're excited to work with Fishers."
Please enable JavaScript to view this content.