Pedcor Community Development Corp. is planning a $700 million mixed-use development at East 111th Street and North Pennsylvania Avenue in Carmel that city officials say will be "transformative."
The project would be built on 38.5 acres of vacant land just east of U.S. 31. It would include 912 multi-family units, 58 for-sale townhouses, 430,000 square feet of retail and office space, two public parking garages and a public park/plaza.
"It's generational," Carmel Redevelopment Commission Executive Director Henry Mestetsky told IBJ. "It's taking a field and it is providing a walkable, vibrant community anchored by a public space."
Mestetsky compared the project to Carmel's Midtown Plaza.
He said he expects the project would begin a transformation of the area along Pennsylvania Street and the U.S. 31 corridor from "suburban-style office parks into a truly walkable environment."
Pedcor said it is too early in the process to predict when construction would begin on the development.
"We want to build a dynamic new hub in a high-growth area of Carmel, and we are thrilled to have this opportunity," Ali Birge, Senior Vice President of Pedcor Community Development Corp., said in written remarks.
About 12.5% of the multi-family units would be intended as workforce housing. Workforce housing is priced at a reduced rate for households who make 50% of the area median income relative to the Indianapolis-Carmel-Anderson metropolitan statistical area. Median household income in the MSA is $63,545, according to 2020 Census statistics.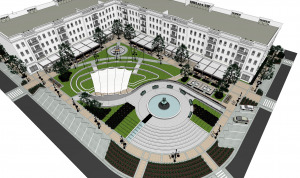 The 111th and Pennsylvania project will be introduced Monday at the Carmel City Council's meeting. The council will consider an ordinance for about $76.5 million in developer-backed tax-increment financing bonds.
Mestetsky said Carmel-based Pedcor hosted a public meeting with area residents on Tuesday and received positive feedback.
"I think it was clear to everybody the effect that this would have on adjacent property values, and that it would only increase it," he said.
Pedcor has been responsible for many of the city's signature developments in recent decades, including the $300 million Carmel City Center that is nearing completion.
City Center is home to the Palladium, Booth Tarkington Civic Theatre, Hotel Carmichael, downtown living options, restaurants and shops. During the holiday season, the open space—called Carter Green—just south of the Palladium hosts Christkindlmarkt.
"[Pedcor has] expertise in building developments like this across the country, and it's just nice to see local developers that are nationwide continuing to invest here," Mestetsky said. "The quality that they put into their buildings and the care at City Center, and we see evidence of what they do across the city."
Please enable JavaScript to view this content.