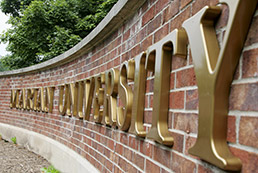 White House officials visiting Indianapolis on Friday said it's imperative students return to school this fall and encouraged decision-makers to consider all aspects of a child's health.
Vice President Mike Pence, Secretary of Education Betsy Devos and Dr. Deborah Birx, a leader of the White House Coronavirus Task Force, joined Indiana Gov. Eric Holcomb and leaders of Marian University for a discussion about how to safely reopen K-12 schools and and universities. The roundtable was held in Indianapolis at Marian University, which plans to reopen for on campus classes this fall.
Pence, Indiana's former governor, commended Holcomb and Hoosiers for the work they've done to try to combat the coronavirus, then emphasized the importance of open schools.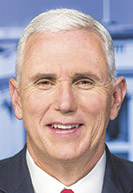 "The truth is to open up America again, we have to open up America's schools," Pence said. "It's important to remember the risk of coronavirus to healthy children is very low. It's also important to remember that there are real costs far beyond academics to our kids if they're not in school."
Many students rely on schools for meals or to receive special education services that can't be delivered online, Pence said. And students need the social interaction that school brings, DeVos said.
Pence said online learning is no substitute for learning in a classroom, pointing to a study that found the average student was 50% behind on math and 30% behind on reading after spending the last quarter learning from home.
He said the federal government will continue to provide resources to ensure schools can safely reopen this fall. The White House has already requested that Congress include $105 billion to help K-12 schools and higher education institutions reopen in the next coronavirus relief package being debated now.
The White House, he said, doesn't want finances or federal recommendations to be a barrier to reopening schools.
"It's the best interest to kids, best interest to working families, and best interest to the country to open up our schools again and open them up again this fall."
DeVos said it's important families are able to choose education options that work for them, and funding should be available for that, especially if a student's public school isn't meeting their needs.
A bill, called the School Choice Now Act, has been introduced in Congress that would offer emergency funding that would help parents pay for home-schooling or private school.
"Education funding really should ultimately … follow the student no matter what the school setting or the education setting is," she said. "If a student's assigned school doesn't meet a family's needs in reopening, families should have the opportunity to take that funding set aside for their child's education and find an alternative that will educate their child full-time."
Birx called on Hoosiers to wear a mask, continue social distancing and avoid places such as bars where they could potentially be exposed to coronavirus to slow the pandemic and ensure students and teachers can return to school safely.
She didn't mention a call she reportedly had Wednesday with state and local leaders in which she warned that 11 major cities, including Indianapolis, are seeing increases in the percentage of tests coming back positive for COVID-19 and should take "aggressive" steps to mitigate their outbreaks.
Pence said the number of COVID-19 tests in Indiana that return positive remains low, although some counties are seeing increases. He said the White House would help ensure the state has the resources it needs to keep fighting the virus.
He encouraged Hoosiers to follow local and state guidelines, including wearing a mask.
"We all have a role to play," he said. "Wearing a mask is how we stay open, and wearing a mask is how we open schools."
Please enable JavaScript to view this content.